Patna/Singapore: The Singapore and Bihar Chapter of Indian Institute of Mass Communication Alumni Association (IIMCAA) organised Connections 2018 –the annual alumni meet of the institute recently.
IIMCCA Connections, Singapore
The Singapore Chapter held its maiden meet at Estoria Park Club House. General Secretary Saurav Chaturvedi presided over the meeting. Aradhana Jha was elected the new treasurer. Former central committee vice-chairperson Prasad Sanyal and central committee member Rashi Bisaria represented the central committee from India at the IIMC Singapore Connections. Senior alumni Gaurav Raghuvanshi, Sameer Mahendru, Shweta Agarwal, Kaveri Ghosh and Smriti Singh also attended the meet.
IIMCCA Connections, Bihar
A range of topics were discussed during the event whose primary objective is to establish connect between people who have studied at the prestigious IIMC. At the Bihar Chapter, IIMC Director General KG Suresh announced IIMC will very soon start a new media course. He said that readers are giving a lot of prominence to local news in regional language which is strengthening the vernacular media.
Keeping in mind the growing popularity of regional media, the institute had begun courses in Marathi and Malayalam language.
He also said that efforts were on so that alumni could put in another year of study at the institute and earn a degree instead of a diploma. IIFCO IIMCAA award went to Utkarsh Singh for agriculture reporting. He also added that efforts were being made so that the institute can open a PG course where senior IIMC students could study for another one year and get a degree instead of a diploma.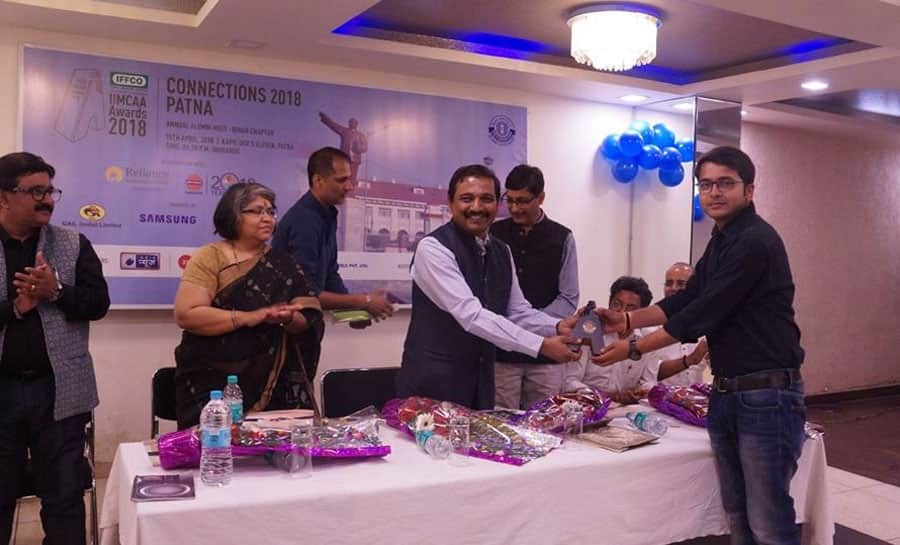 Utkarsh Kumar Singh of ABP News got the IIFCO IIMCA award for Agricultural reporting.  The awards – which recognize the achievements and contribution of IIMCians – are given for reporting, production and advertising and public relations. The award includes a trophy, a cash prize of Rs 51,000 and a Samsung Galaxy Tablet along with a certificate.
IIMCAA Connections 2018 was launched in Delhi on February 18. The final event is scheduled in Chandigarh on April 22.
With the motto of communicating through its annual meet, the IIMC Alumni Association emphasizes on creating a bond between the ex-students, current batch and the faculty.