Nitish Kumar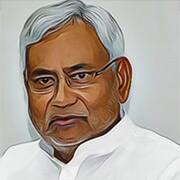 An age-old warrior in Indian politics, Nitish Kumar has been a key face of Bihar politics for several decades.
Born in Bakhtipur on March 1 of 1951, Nitish had a humble upbringing and went on to getting a degree in mechanical engineering. Soon after getting a job though, Nitish felt that his real calling was in politics and soon became associated with key political figures of 1970s like JP Narayan, Ram Manohar Lohia and VP Singh. He would later establish the Samta Party with George Fernandes in 1994 and become the Bihar CM for all of eight days in 2000. Three years later, Samta Party would merge with Janata Dal to form the Janata Dal (United).
By this time, Nitish had achieved major milestones in his political career – having served as CM and as the union minister for railways in the Atal Bihari government in 1998-99. Although he would resign following the Gaisal train mishap, Nitish returned to the post in 2001.
Nitish would serve a full term as CM of Bihar in 2005 and won again in 2010 with the support of BJP. He would, however, resign from the post in 2014 after JDU's poor showing in the Lok Sabha election that year.
A year later, Nitish joined hands with arch-rivals from RJD and fought the Bihar Assembly election for the Grand Alliance or Mahagathbandhan to fend off BJP. While RJD emerged as the largest party, Nitish became the CM and Tejashwi Yadav was sworn in as his deputy.
There are no permanent friends or enemies in politics. It is perhaps with this that Nitish would part ways from the RJD after corruption charges against Tejashwi. Long lauded for his clean image, Nitish would resign as CM – effectively ending the Mahagathbandhan. In a dramatic turn of events, he would join the NDA and return as CM a day after his resignation.
While he may have fair share of critics – most of whom call him a political turncoat, Nitish has also been lauded for his drive against corruption and his work at the grassroot level. As CM, he turned Bihar into a no-alcohol state and has cracked down on crime. He has also taken cues from his early socialist ethos to enact several welfare policies. In the 2019 Lok Sabha election, his role, vision and experience could be of crucial significance.