Rahul Gandhi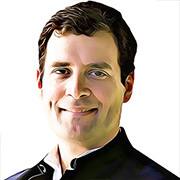 Being born into a family which has given India three Prime Ministers comes with its share of boons and burdens, and not many would know both sides like Rahul Gandhi. Many believe that Rahul was always destined to lead the country's oldest political party while others say it is a responsibility shoved on him due to his surname.
Either way, Rahul has been actively leading the Congress charge in the Indian political sphere for several years now and his performance has been a matter of intense scrutiny.
Born on June 19 of 1970, Rahul is projected as a young political leader who is in tune with what the youth in the country aspires for. He was all of 34 when he made his political debut in 2004 and managed to win the general elections that year from Amethi. The General Secretary of Indian Youth Congress would retain the seat in the 2009 election and was promoted to the post of Congress General Secretary.
Things took a downward for both Rahul and Congress in the next few years. Despite his numerous rallies before the Uttar Pradesh Assembly election, Congress finished a poor fourth in 2012.
The absolute worst was yet to come.
With calls from party leaders and workers for an even greater role for Rahul, he was made the Congress Vice President in 2013. He led the Congress campaign and while the party did not officially name a PM candidate, Rahul was the de facto choice. Congress, however, would suffer its worst-ever defeat and could only secure 44 seats – down from 206 in 2009. Rahul managed to win from Amethi but the margin was a lot less in comparison to the previous two Lok Sabha elections.
Even though his critics said – and still maintain – that Rahul has done more harm than good to Congress' fortunes, the party stands firmly behind him. He was made the party president in December of 2017 when Sonia Gandhi vacated the post.
The alumni of St Stephens College (Delhi), Harvard University, Rollins College and Trinity College has since upped his political game and has attacked the NDA government on a number of issues ranging from agricultural and economic matters to the Rafale jet controversy.
For the 2019 Lok Sabha election, Rahul leads Congress in the hopes of bringing down the Narendra Modi-led NDA even as he tries to bring all rival parties under one political banner. Whether he manages to secure their trust and confidence remains to be seen. Also what remains to be seen would be how Rahul is able to prove that there is more to his political acumen than what his surname seeks to outline.