Mithila Mehta walks into this world and explores some outlandish luxury offerings
What do you do when you have just too much money and aren't quite sure how to spend it? Sure, you could keep yourself occupied for some time by buying the world's most expensive clothing, the most exclusive perfumes and holidaying in the most exotic locations. But after a point, it will all seem too mundane. That's when luxury starts pushing all boundaries and veering towards outlandish territories. Here's a look at some of the most bizarre luxury items the world's richest individuals are splashing out on.
Automobiles to Art: Bling, bling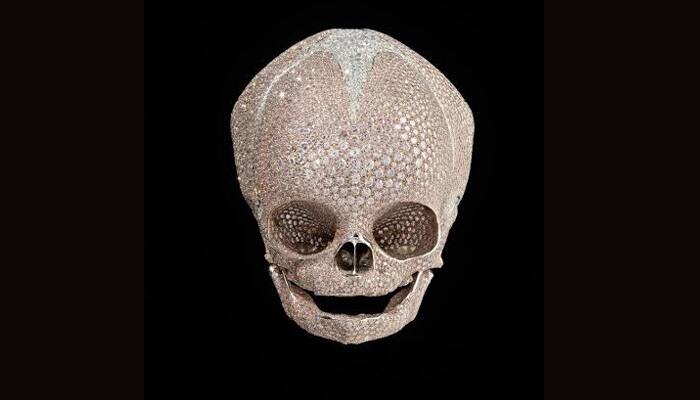 Welcome to the world of luxury where all that glitters is gold—or as expensive. Be inspired by Saudi Alwaleed Bin Talal who decorated his Mercedes-Benz SL 600 with 300,000 diamonds. It was rumoured that people were willing to pay up to US$ 1,000 just to touch the car! If this is too much for you and your wallet to handle, play it down by only opting for crystal-encrusted tyres. In 2011, Cooper Tire celebrated the diamond anniversary of Formula 3 racing in Britain by creating a set of jewel-encrusted tyres. The tyres were made by London jeweller, Freddie Keeble at FK Diamonds, using both diamonds for the 60th anniversary, and Swarovski crystals. Taking creativity to a whole new level of outlandishness, sculptor Damien Hirst (known best for his shocking and controversial works of art) made headlines with his sculpture 'For Heaven's Sake'—where an actual infant's skull was covered with 8,100 diamonds. For those with a slightly less edgy taste, sculptor Jason Arasheben of Beverley Hills released a limited edition art collection titled 'J. Molinari'—which included a special range of diamond-encrusted syringes.
The Pets have it Good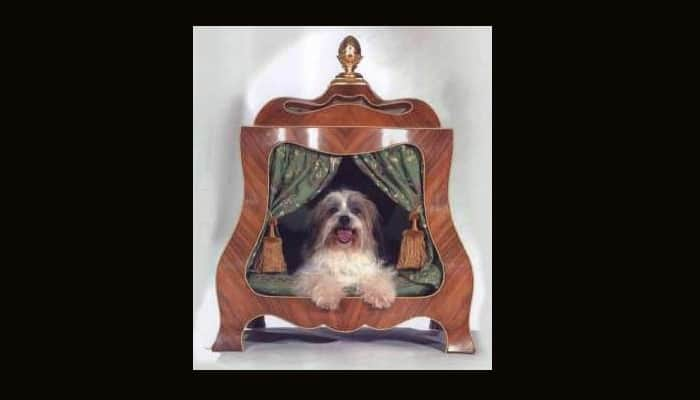 If you are the pet of a multimillionaire, life will surely be very good. Consider the fabulous Louis XV pet pavilion and doghouse—priced at a whopping US$ 410,000, which comes equipped with a pet spa and a plasma television. For those with truly deep pockets, a jeweller in Los Angeles has designed a special diamond-encrusted dog collar, which will set you back a cool US$ 3.2 million.
Bathed in Luxury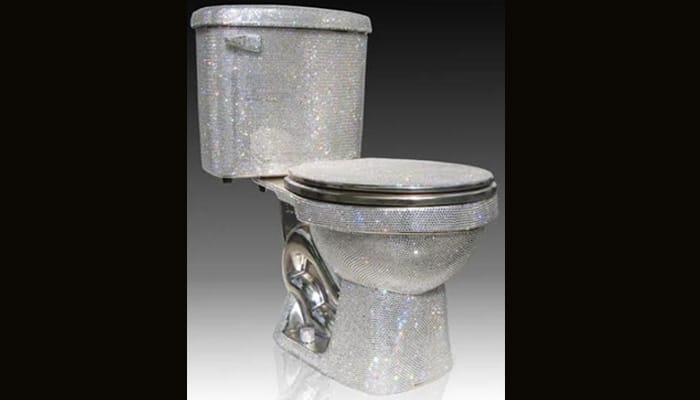 There's no ignoring the world of bizarre luxury which exists hidden in the bathrooms of beautiful luxury homes. The rich and famous are going that extra mile to spoil themselves with bathrooms that spell opulence and excessiveness in equal measure. Architect Sheena Borkar says, "There's something very private and exclusive about the bathroom area, which is why they often become dens of unimaginable and extravagant luxury. It is here that the individual can spoil him/herself while staying safely out of the public eye".
In Hong Kong, on display at the Hang Fung Gold Technology showroom is a solid gold toilet (with a state-of-the-art flushing system). The piece is worth more than US$ 29 million today. However, it is for display only and not for sale. For those on a budget, slightly more affordable is the US$ 100,000 crystal-encrusted toilet created by Japanese company INAX. The toilet was created from 72,000 precious crystal pieces.
Other Bizarre Luxury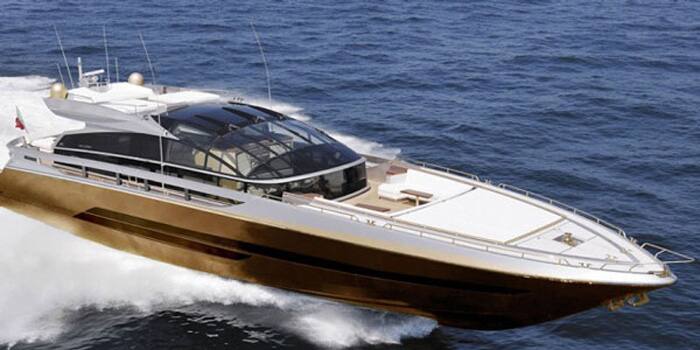 The most expensive yacht in the world—named Yo Ho Ho and owned by a businessman in Malaysia—comes with a price tag of US$ 4.5 billion. If that sounds a tad high, remember that the outside of the yacht is covered in 220,000 pounds of platinum and gold. Apart from the usual amenities, the yacht comes replete with a statue made from the bones of a Tyrannosaurus Rex along with various pieces of meteors.
The world of fashion isn't far behind either. Designer Meeta Jhaveri recalls, "Just last year, an Antwerp-based luxury fashion label A.F. Vandevorst created a global stir by designing a pair of diamond ankle boots valued at US$ 3.2 million. The piece was jewelled with close to 40,000 diamonds. Bizarre luxury designs lend the fashion label and designer enormous clout and buzz value, pushing them into the limelight at an international level".
Watching television is no ordinary experience if you own the ultra-luxurious Prestige HD Supreme Rose Edition TV by Stuart Hughes. Made from 18 carat rose gold and bejewelled with 72 diamonds, it is a truly special piece. For those who love to go fishing in style, MacDaddy has created a special jewelled fishing rod. Covered with gold and platinum along with 100 carats of rubies and diamonds, the fishing rod costs upwards of US$ 1million. Quite an extraordinary catch, we say! There's really no saying where the next move in bizarre luxury lies!