PATNA: The Congress on Sunday released the name of its candidate for the upcoming biennial election to the Legislative Council of Bihar to be elected by the Members of the Legislative Council. The party president Rahul Gandhi approved the candidature of Prem Chandra Mishra.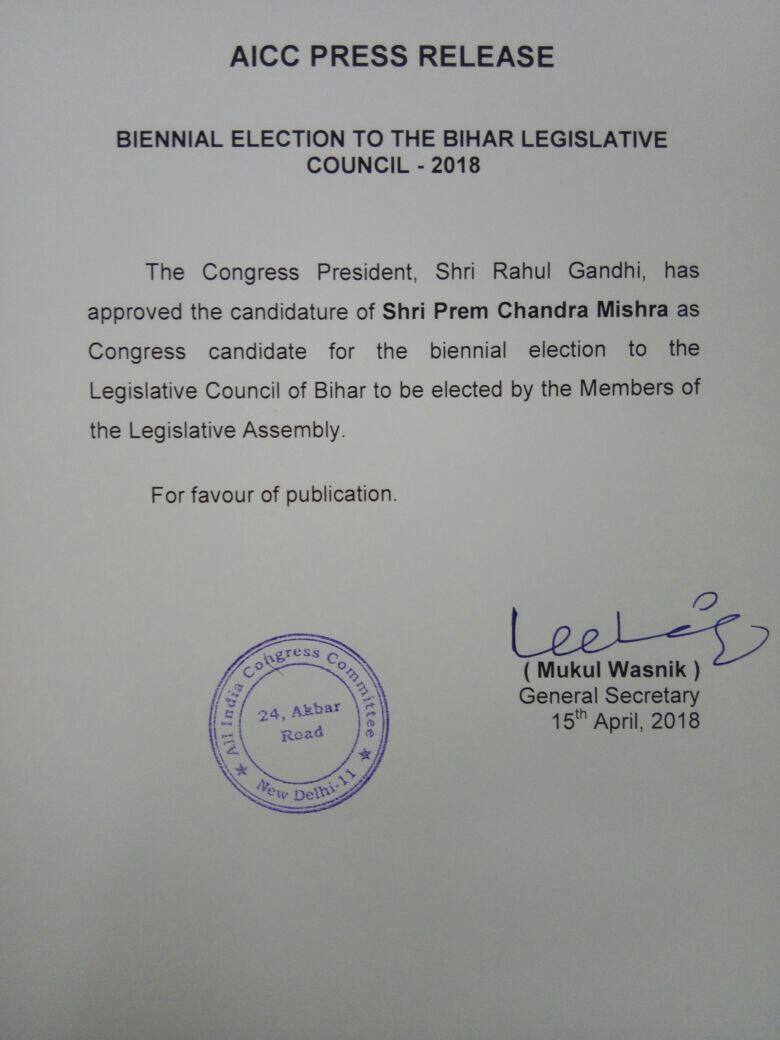 Last week, the Election Commission had declared dates for biennial election to 11 seats of the Bihar Legislative Council falling vacant on May 6. The last date of filing nomination papers is April 16. Polling would be held on April 26.
Terms of 10 members are ending on May 6 while one seat had fallen vacant earlier following the disqualification of senior leader Narendra Singh on January 6, 2016, whose term was up to May 6, 2018.
Other prominent members whose terms are to expire on May 6 are a Chief Minister Nitish Kumar, Deputy Chief Minister Sushil Kumar Modi, Rabri Devi and Health Minister Mangal Pandey.
On April 13, the opposition Grand Alliance announced names of four candidates, including RJD leader and former Chief Minister Rabri Devi and Santosh Manjhi, son of former Chief Minister Jitan Ram Manjhi, the chief of Hindustani Awam Morcha (HAM) for the Bihar Legislative Council polls.
The other two Grand Alliance candidates are Rashtriya Janata Dal (RJD) state president Ram Chander Purve and Mohsin Qadir. Grand Alliance comprises the RJD, Congress and the HAM.