NEW DELHI: All the frontal heads of Indian National Congress on Saturday observed  'Vishwasghat Diwas' (Betrayal Day) in protest against the Narendra Modi government's four years in power at the Centre.
Members of the Indian Youth Congress, All India Mahila Congress, Seva Dal and NSUI jointly led the protest to mark the ''painful completion'' of four years of the Modi government at 5, Raisina Road here.
The protest march began with all the frontal heads addressing the gathering on various challenging issues being faced by the country. They guided protestors by showcasing the roadmap for a healthy, constructive, democratic and secular government in 2019.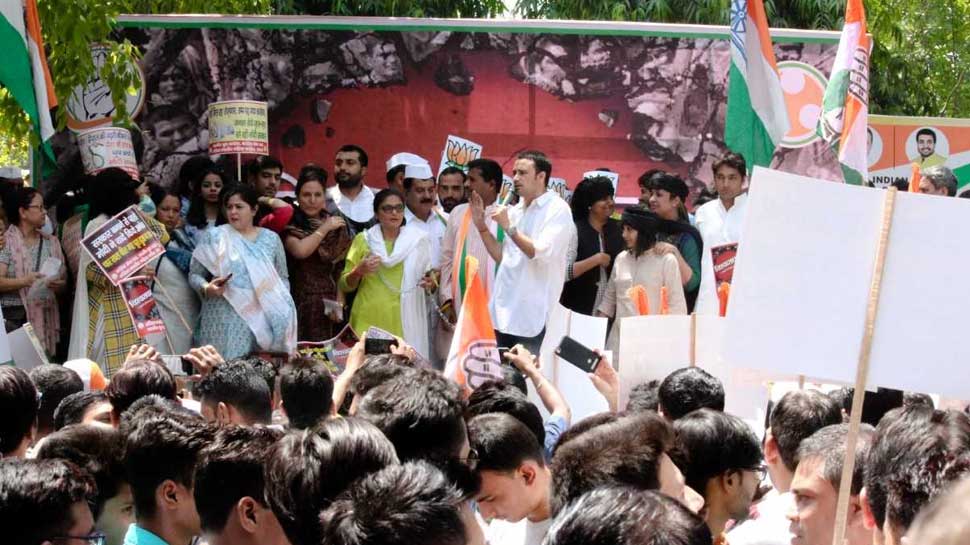 The IYC protest march began from its national office at 5, Raisina Road and was forcefully stopped on the way towards the PMO. IYC president Keshav Chand Yadav, All India Mahila Congress president Sushmita Dev, IYC vice-president Shrinivas BV and head of the Minority Department, Nadeem Javed were detained during the protest along with hundreds of protesting members and national office Bearers.
They were detained and taken to Parliament Street Police Station. They protesters alleged that the police used forceful measures to stop the march and detained heads.
''With the completion of 4th continuous painful year of numerous horrifying experiences, Modi government has proved to be a terrible failure on fundamental issues of unemployment, inflation, Farmer's Distress, Atrocities against Dalits and Women,'' the protesters said in a joint statement.
''Unemployment has reached an all-time high with school, college and research scholars hitting streets with protest after protest. Student community has been found protesting at various avenues more often than not, rather than being found at educational institutes. In addition to the stress of unemployed youth in the country, instances of paper leaks during various National-Level examinations has been noticed across the country. Institutions have become completely unaccountable with private companies and local contractors playing unimaginable roles during examinations, the most recent being the SSC Exam Scam,'' the joint press release said.
As part of its nationwide programme, the Congress party and all its affiliated bodies are holding protest rallies in different parts of the country to observe the "Vishwasghat Divas" on the 4th anniversary of the Narendra Modi-led BJP government.