'Congress Must Behave Like Elder Brother': Mehbooba Mufti Stresses On Opposition Unity Against BJP
Mufti further added that she was happy to see the Opposition unite on the issue of the disqualification of Congress leader Rahul Gandhi from the Parliament.
Mehbooba Mufti has called for the unity of Opposition against the BJP
Mufti urged the Congress to be an "elder brother" to all other Opposition parties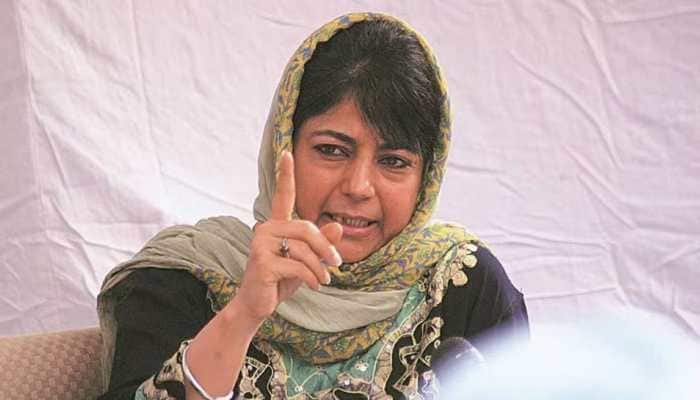 Srinagar: Former Chief Minister of Jammu and Kashmir and People's Democratic Party (PDP) chief, Mehbooba Mufti has called for Opposition unity against the ruling Bharatiya Janata Party (BJP). Mehbooba Mufti alleged that the right-wing party is "eroding India's democracy" and that it's high time for all opposition parties in the country to unite and fight together against the BJP.
Mehbooba was talking to reporters in her party office in Srinagar on Wednesday (March 29). She said, "attack on democracy by the right-wing party started in 2018 when PDP along with National Conference (NC) and Congress intended to form a coalition government in Jammu and Kashmir but BJP didn't allow this to happen. It was the first attack on democracy by BJP and unfortunately, the rest of the opposition in the country didn't react to it as they should have reacted.''
She also said that Congress needs to take on the role of an "elder brother" to other Opposition parties. She said, "Congress will have to behave like an elder brother. It should not choke space, it should create space for other opposition parties, which have been its alliance partners in the past, to save the democracy in the country."
She further added that she is happy to see the Opposition coming together on the issue of the disqualification of Congress leader Rahul Gandhi from the Parliament.
''Muslims are the first target. Ultimately, it's going to be BJP Vs All. It won't stop at Muslims only; it will go further. Rahul Gandhi is not a Muslim, Manish Sisodia is not a Muslim. This is going to be BJP rashtra vs all others, one by one everyone would be affected, from Muslims to Dalits to all. I am glad all opposition is coming together with Congress. If there is a way to save democracy, the opposition parties must get together to mobilise the people,'' said Mufti.
Congress leader Salman Khurshid who is in Srinagar for a visit also held a press interaction on Wednesday and spoke in length about Rahul Gandhi's disqualification. He said that neither Rahul nor the party will be scared by this. Furthermore, he claimed Prime Minister Narendra Modi is "willing to destroy democracy" in order to save his "Param Mitr" Adani.
"The Congress will not get scared. During the Bharat Jodo Yatra, we went directly to the people and heard their concerns – price rise, unemployment, social inequality, and the capture of institutions. We will continue to raise these issues of the people and continue to send our message directly to the people."
Khurshid also spoke about the allegations of stock manipulation against Adani Enterprises and the alleged link between Prime Minister Narendra Modi and Adani. He expressed that the Congress is of the view that Rahul Gandhi's speech in Lok Sabha on the alleged Adani scam led to the revival of the 2019 defamation case against him.