NEW DELHI: Adding a personal touch to his Twitter account, Congress president Rahul Gandhi changed his handle from @OfficeofRG to @RahulGandhi on Saturday. The change comes at a time when Rahul is addressing the ongoing three-day plenary session of the Congress for the first time as the party president.
Rahul has been extremely active on the microblogging site of late. On multiple instances, he has attacked Prime Minister Narendra Modi and his government on various policies through his Twitter handle. In the run-up to the Gujarat elections, he had also started a series on Twitter where he posted a question to the Prime Minister on a daily basis. He named the series: 22 saalon ka hisaab, Gujarat maange jawab.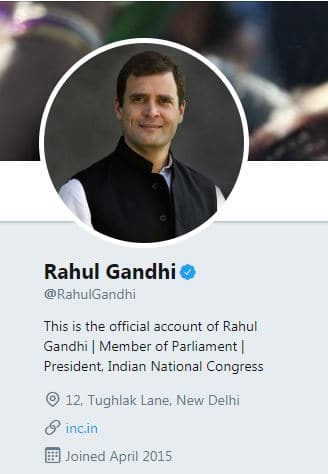 He had also added a bit of humour to his Twitter handle by remarks like 'Pidi tweets for me' when he was continuously asked about the secret of his increasing popularity on Twitter. "People (have) been asking who tweets for this guy…I'm coming clean…it's me…Pidi…I'm way smarter than him. Look what I can do with a tweet..oops..treat! (sic)," he had tweeted.
He has over 6.19 million followers on Twitter. Realising the importance of social media after how the Bharatiya Janata Party (BJP) has been using it to its advantage, the Congress has been working on stepping up its social media game. Rahul's Facebook page was also verified in 2017.
During his fortnight-long visit to the United States in September 2017, where he held multiple interactions at universities and held seberal meetings in the political and social circuit.
Rahul had said that he has a small team which manages his Twitter handle. "Actually, whatever is to be said, if it is well thought out, can be said in a few words. I reflect and give suggestions to my communication team and we tweet after fine-tuning them," he had once said when he was asked about his social media account.