Holding back tears, Pulwama martyr Major VS Dhoundiyal's wife bids him final goodbye
Major Vibhuti Shankar Dhoundiyal's wife was seen looking on into the coffin, murmuring the last few endearing words to her husband.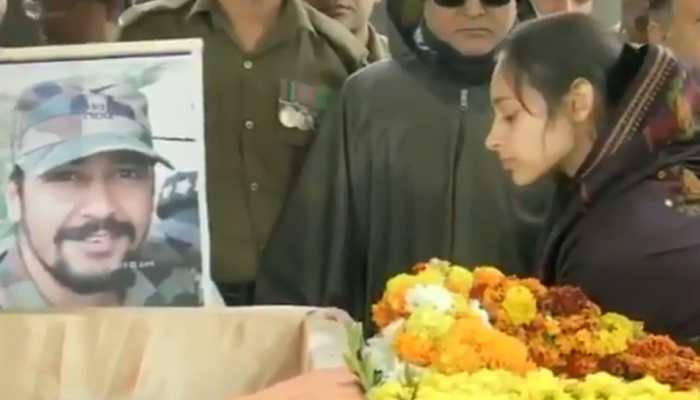 DEHRADUN: Thousands had on Tuesday gathered in Dehradun to pay their last respects to Major Vibhuti Shankar Dhoundiyal, who died fighting terrorists in Pulwama in Jammu and Kashmir. Among the photos of the funeral were some striking images of the family who seemed inconsolable in the moment of grief.
As Major Dhoundiyal's coffin was kept wrapped in the Tricolour at his residence, his wife Nikita Kaul, whom he had married less than a year ago, stood right next to it. Trying to hold back her tears, she looked on into the coffin, murmuring the last few endearing words to her husband, in disbelief. Becoming a pillar of support for the family, she was also seen holding on to his mother Saroj, a cardiac patient, who could not contain her tears looking at her son's body.
#WATCH Wife of Major VS Dhoundiyal (who lost his life in an encounter in Pulwama yesterday) by his mortal remains. #Dehradun #Uttarakhand pic.twitter.com/5HWD6RXwnO

— ANI (@ANI) February 19, 2019
A host of relatives and friends were seen remembering Major Dhoundiyal amid cries of "Shaheed Dhoundiyal Amar Rahein" and "Vande Mataram". The extent of reverence for the fallen soldier could be seen with the images that showed people who had climbed on rooftops and waited on either side of the road which led to the officer's residence.
Uttarakhand Chief Minister Trivendra Singh Rawat who was also present for the funeral, placed a wreath on the coffin. Others who came to pay their last respects included state cabinet minister Satpal Maharaj, ex-MP Tarun Vijay, state assembly Speaker Premchand Agarwal, BJP MLA Ganesh Joshi and Dehradun Mayor Sunil Uniyal Gama.
His body was brought home late on Monday night and the funeral will be done with full military honours in Haridwar later in the day.
Major Dhoundiyal along with three other soldiers lost his lives in the encounter between security forces and terrorists in Pulwama on Monday. The Indian Army identified the martyrs as Major Vibhuti Shankar Dhoundiyal, Havaldar Sheo Ram, Sepoy Ajay Kumar and Sepoy Hari Singh.
Live Tv