India focuses on Afghanistan at first India Central Asia dialogue
Hitting out at the scourge of terrorism, Swaraj said, "We need to ask that who these terrorists are, who funds them, how do they find sustenance, who protects and sponsors them."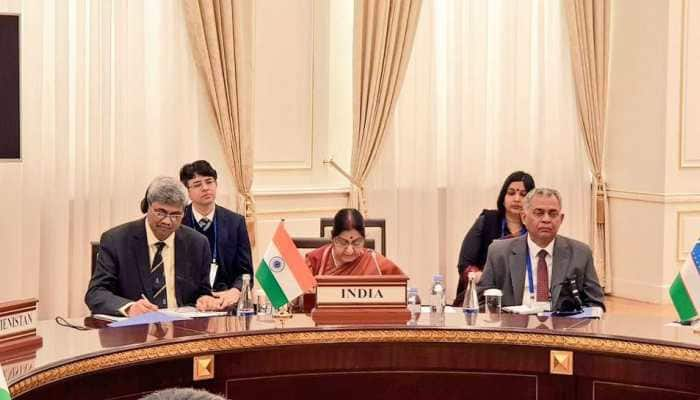 NEW DELHI: Peace and stability in Afghanistan was the main focus of India at the first India Central Asia dialogue in Samarkand, Uzbekistan. The Indian delegation was led by External Affairs Minister Sushma Swaraj. Speaking at the dialogue, the Minister said: "peaceful and stable Afghanistan, which lies at the Heart of Asia, can be a bridge to connect Central Asia with South Asia."
Afghanistan's Foreign Minister Salahuddin Rabbani was also present at the dialogue.
Hitting out at the scourge of terrorism, Swaraj said, "We need to ask that who these terrorists are, who funds them, how do they find sustenance, who protects and sponsors them."
Emphasising on the perils of terrorism, she said that it erodes all development possibilities in the country where it is spread. "For almost two decades now, these are the people who would not let Afghanistan return to peace and normalcy. Terrorism seriously erodes all avenues of development which a country can have. No business development, no investment can take place in a country suffering from terrorism," she said.
Reiterating India's official stand on the Afghan peace process, the minister said: "India supports all efforts for peace and reconciliation in Afghanistan which are inclusive and Afghan-led, Afghan-owned and Afghan-controlled." She added that the violence and terror imposed on Afghan people should end.
New Delhi has been a major development partner of Afghanistan and has extended assistance worth over US$ 3 billion to the country. Under the 'New Development Partnership' launched in September 2017, new projects are being taken up which include the Shahtoot Dam which is a drinking water project for Kabul city, low-cost housing in Nangarhar province, 116 High Impact Community Development Projects. Over 3500 Afghan nationals are trained and receive education in India every year. India built the Afghan Parliament and the India Afghanistan friendship dam in Herat which were inaugurated by PM Narendra Modi who has been to the country twice.
Swaraj also focussed on promoting connectivity for better trade prospects in the region. "While geographically Afghanistan and Central Asia are landlocked, there are several ways in which India, Afghanistan and the Central Asian countries can join hands to work on promoting connectivity in the region so that trade and commerce may flow between us and our people to people exchanges may prosper," she said.
India has two projects to connect Afghanistan with India. The Chabahar port and the India Afghanistan air corridor. India has partially taken over Chabahar port, which has been built with New Delhi's help and will provide a viable and operational trade route to connect to Afghanistan and Central Asia. New Delhi is also looking at developing the Chabahar-Zahedan railway link which would bring it closer to the Zaranj-Delaram road link which India has already built in Afghanistan.
Central Asian countries are also increasing connectivity with Afghanistan. Uzbekistan has built a rail link between Hairatan to Mazar-i-Sharif and reports suggest that it might be further extended to Heart.
During the dialogue, India also announced a 2-week training course for 8 diplomats from each of the five Central Asian countries at the Foreign Service Institute in New Delhi.
PM Modi had visited all the five Central Asian countries in 2015 and India has been focusing on increasing ties with the region.