Indian Navy's latest sword arm INS Kohassa commissioned in Andaman and Nicobar Islands
INS Kohassa was commissioned by Indian Navy Chief Admiral Sunil Lanba.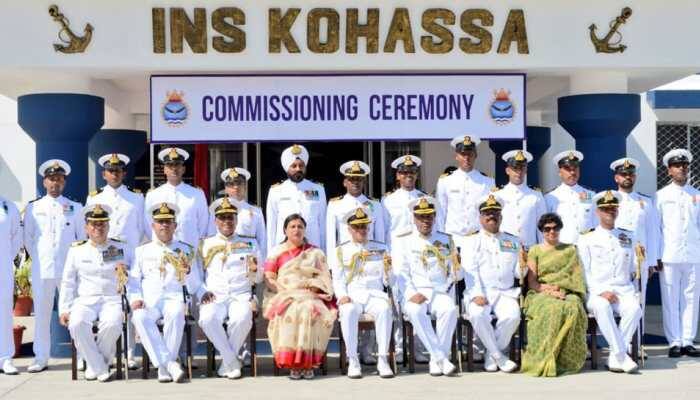 The Indian Navy on Thursday commissioned the Naval Air Station (NAS) Shibpur as INS Kohassa in Diglipur, making it the third air base in the far-off Andaman and Nicobar islands. INS Kohassa was commissioned by Indian Navy Chief Admiral Sunil Lanba and the grand ceremony was attended by many dignitaries and senior officials.
A runway strip has been upgraded and converted into a full-fledged air base in the northern part of the Andaman and Nicobar Islands and it has been named INS Kohassa. Indian Navy will have full command over the new air base, which will play an important role in strengthening the monitoring capabilities of the Indian Navy in this part of the Indian Ocean. It is noted that this region of the Indian Ocean is very critical because it has been witnessing a lot of muscle-flexing by China.
INS Kohassa, about 300 km (180 miles) north of the archipelago's capital, Port Blair has been named after a White-Bellied Sea Eagle, which is a large bird of prey, endemic to Andaman and Nicobar islands.
NAS Shibpur was established in 2001 as a Forward Operating Air Base (FOAB) for enhanced surveillance in North Andaman. The close proximity of Coco Islands (Myanmar) and wide expanse of Indian Exclusive Economic Zone (EEZ) makes the base a very vital asset. The airfield provides sustained detached operations of Indian Navy, Indian Air Force and Coast Guard aircraft.
The Indian Navy decided to set-up a full-fledged naval air base in this region because all the existing air bases are far away from the North Andaman Islands. The new and extended runway will also help play an important role in improving domestic air connectivity under the Udaan scheme launched by the Narendra Modi-led government at the Centre.
NAS Shibpur had been used by Dornier aircraft and Chetak helicopters to conduct surveillance and monitoring operations in the North Andaman Islands region.
The facility, the third in the islands, will have a 1,000-metre runway for helicopters and Dornier surveillance aircraft. But eventually the plan is for the runway to be extended to 3,000 metres to support fighter aircraft and longer-range reconnaissance aircraft, navy spokesman Captain DK Sharma had said.
The Air Station presently operates Short Range Maritime Reconnaissance (SRMR) aircraft and helicopters. These aircraft undertake EEZ Surveillance, Anti-Poaching Missions, Search and Rescue (SAR) and Humanitarian Aid and Disaster Relief (HADR) missions within the ANC Area of Responsibility.
As a point of interest, during the search operations of the Malaysian Airlines Flight 370, Dornier DO 228s of the Navy and Coast Guard operated from this very base.
NAS Shibpur was identified by NITI Aayog as one of the 'Early Bird' project as part of holistic island development. Towards this, the Navy has been ready in all respects to facilitate civil flight operations from NAS Shibpur. The runway extension to 10,000 ft is also planned in the near future to facilitate operations of wide-bodied aircraft.
Located in the region close to the opening of the Straits of Malacca, INS Kohassa is just 90 km from Indonesia, 45 km from Myanmar and 550 km from Thailand. It is interesting to note that around 80 per cent of all cargo going to and from China passes through the Malacca.
China, historically never a naval power worth mention, has identified the Malacca Strait as a pressure point against it, and has stepped up its presence in the Indian Ocean Region. So, India is increasingly using its military presence on the Andaman and Nicobar Islands to monitor China's naval activity.