Has a fatwa been issued against the latest Indian viral sensation, Malayalam actress Priya Prakash Varrier? Hours after reports of a group of youth approaching Hyderabad police against Malayalam film Oru Adaar Love's song Manikya Malaraya Poovi, there were reports of one Maulana Atif Qadri issuing a fatwa against Priya.
Reports in some publications quoted him as saying that since the song video went viral, whenever they close their eyes to offer namaz, they see Priya's face. He was also quoted as saying that their sentiments are being hurt with this.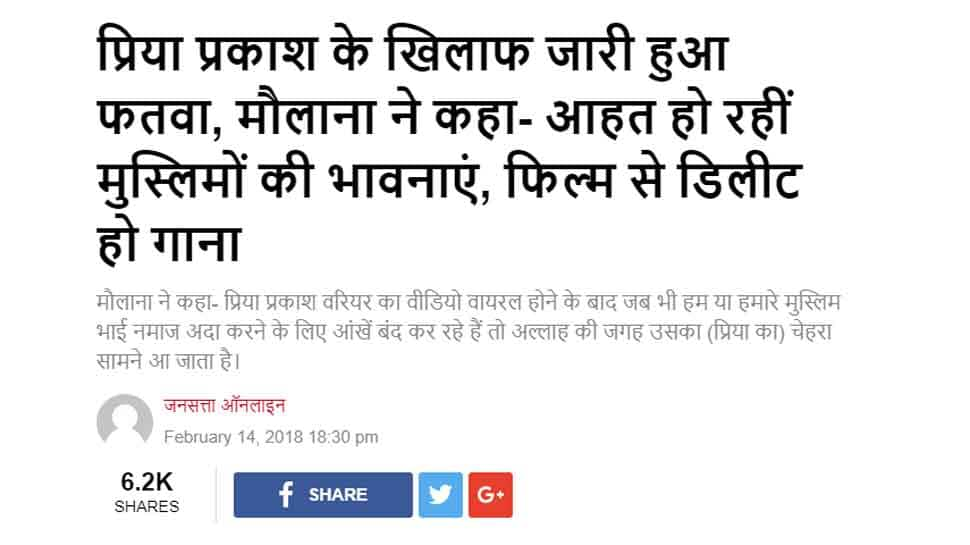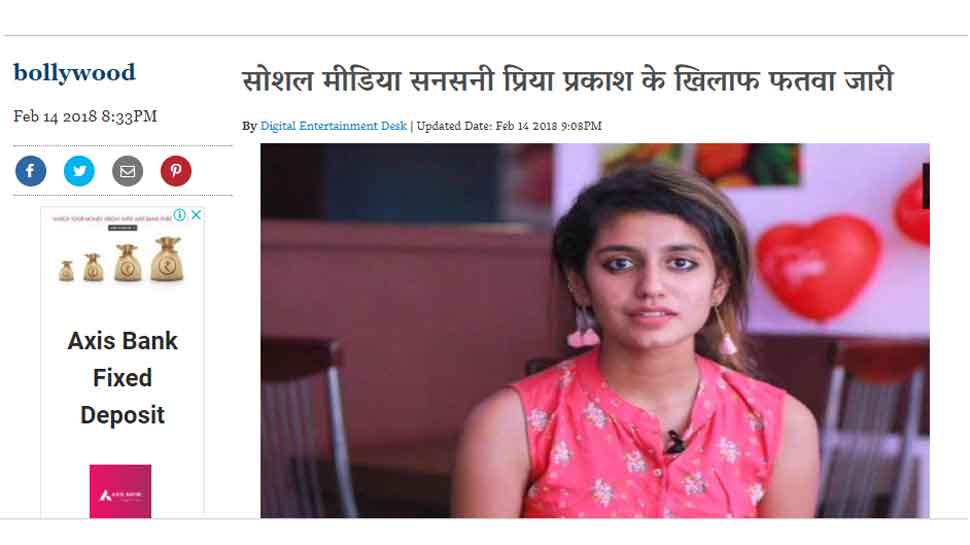 But when we tried to look for the story, we discovered that a parody account of a television channel had tweeted fake quote of Maulana Qadri. There is no truth about the fatwa.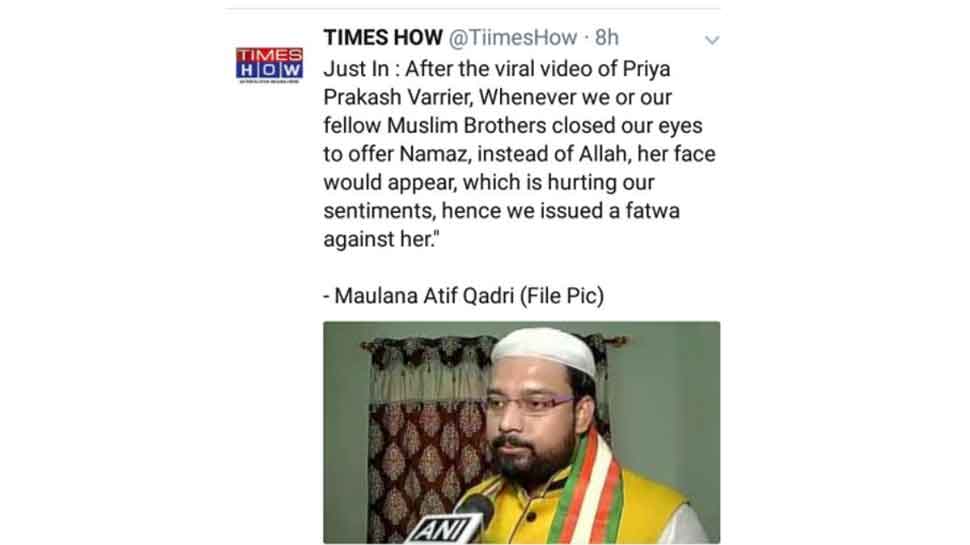 Earlier, there were reports of FIR being registered in Hyderabad against Oru Adaar Love's viral song. However, the police confirmed that though they were being approached, no FIR had been filed in the case.
According to a report in ANI, Syed Faiyaz, ACP Falaknuma said, "We received complaint from a few men that upcoming movie Manikya Malaraya Poovi's viral song's lyrics is hurting sentiments of Muslims. They haven't submitted a video proof & we asked them to provide us the same. No FIR registered yet."
Priya became a celebrity overnight after a short clip from the song Manikya Malaraya Poovi from Omar Lulu's upcoming Malayalam movie Oru Adaar Love went viral on social media. The song sung by Vineeth Sreenivasan and composed by Shaan Rahman became popular but it was Priya who stole the show.
In the video, we can see Priya making adorable expressions and winking to grab her crush's attention. And in another video – the Valentine's Day special teaser of the movie – Priya stole the show again as it got equally popular.
The eighteen-year-old girl from Thrisshur in Kerala made netizens go crazy over her mesmerising expressions in a viral video. She has reportedly broken a record and guess what, she gained about 606K followers within a day!
The queen of expressions has thus become the third "celebrity" to attain such a feat and has now joined the league consisting of American model -TV personality Kylie Jenner and legendary footballer Cristiano Ronaldo! They are the only two celebrities ahead of her to gain such mammoth following in just one day.
With 1.7 million users now, the actress who is a B.Com student has become India's latest internet sensation. Interestingly, her Instagram handle has the precious blue tick mark meaning, it has been verified.