NEW DELHI: The Aligarh Muslim University (AMU) vice-chancellor issued a notice to the varsity students on Tuesday, saying that a section of media channels are responsible for spreading lies. The statement comes in the wake of the ongoing controversy over a portrait of Muhammad Ali Jinnah on the campus.
Requesting the students to not fall for such information, VC Tariq Mansoor advised them to focus on the examinations.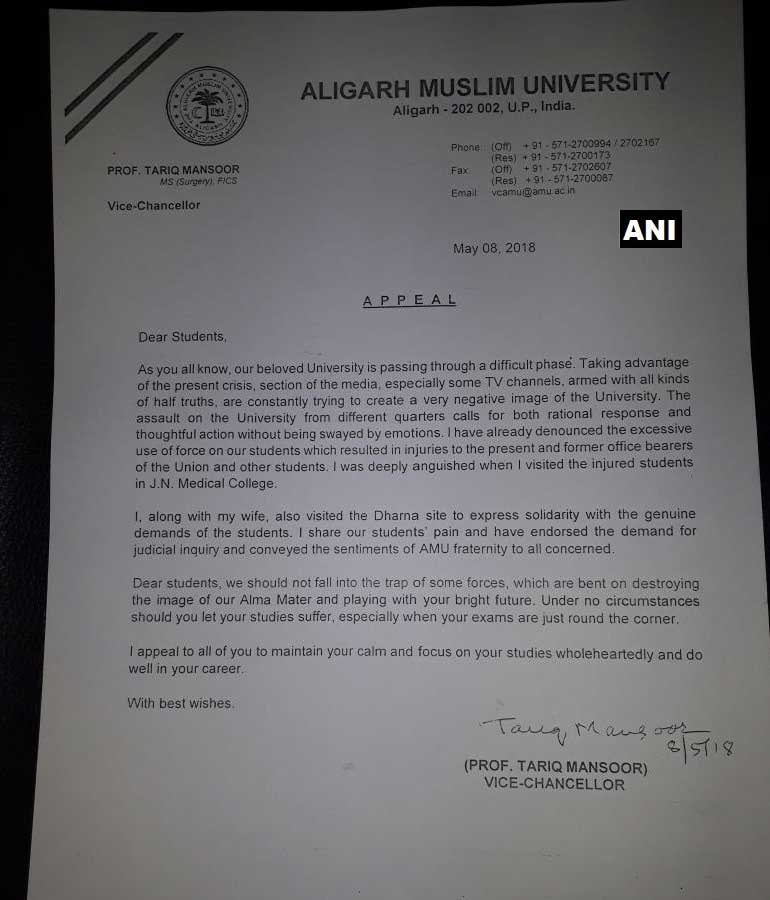 Accusing a section of television channels, the university authority said, "As you all know, our beloved university is passing through a difficult phase, taking advantage of the present crisis, section of media especially some TV channels, armed with all kinds of half-truths, are constantly trying to create a very negative image of the university."
The statement further added, "Dear students, we should not fall into the trap of some forces, which are bent on destroying the image of our Alma Mater and playing with your bright future."
On Monday, the varsity examinations were deferred to be held on May 12.
Students of the university have been agitating for the past few days, demanding action against the right-wing protesters, who entered the campus and demanded the removal of Jinnah's portrait from the student union's office. The row started after local BJP MP Satish Gautam wrote to AMU, raising objections to the portrait.
The BJP has also hit out at those who opposed the call to remove Jinnah's portrait in AMU, saying those standing with Jinnah also stood for terrorist Afzal Guru. BJP spokesperson Sudanshu Trivedi said that those who are standing for Pakistan founder Muhammad Ali Jinnah also stood for terrorists like Afzal Guru.