21 June 2019, 11:17 AM
On International Day of Yoga best wishes to all practitioners of yoga across the world. Yoga is India's gift to humanity; it holds the key to healthy living and to that fine balance between mind and body. Do become a part of the celebration of yoga: President Ram Nath Kovind
On #InternationalDayofYoga best wishes to all practitioners of yoga across the world. Yoga is India's gift to humanity; it holds the key to healthy living and to that fine balance between mind and body. Do become a part of the celebration of yoga #PresidentKovind pic.twitter.com/5ecObY4dC1

— President of India (@rashtrapatibhvn) June 21, 2019
21 June 2019, 11:14 AM
Vice President M Venkaiah Naidu performs yoga at an event organised at the Red Fort in the national capital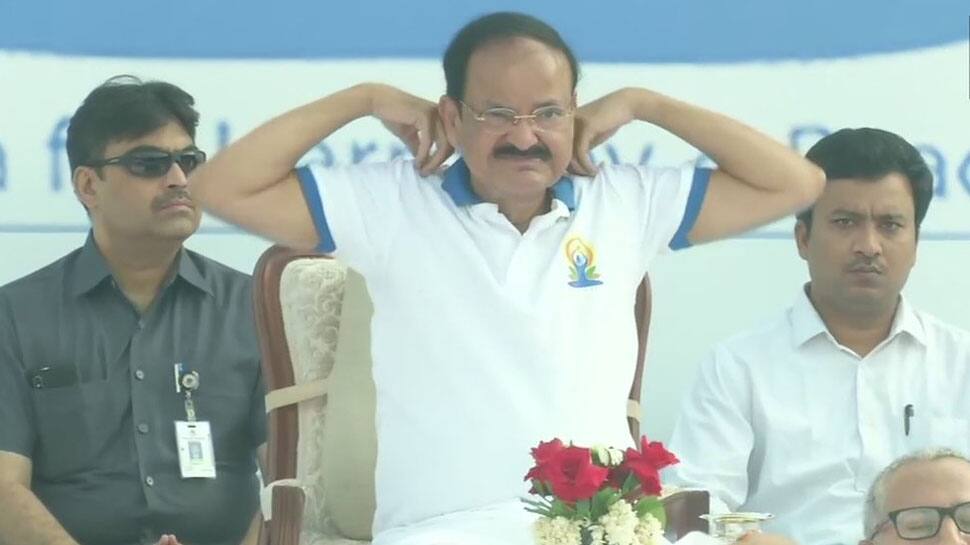 21 June 2019, 11:11 AM
CRPF 74 Battalion performs yoga in Naxal-affected Dornapal area in Sukma district of Chhattisgarh
Chhattisgarh: CRPF 74 Battalion performs yoga in naxal-affected Dornapal area in Sukma on the occasion of 5th #YogaDay pic.twitter.com/AlDTl7OAGE

— ANI (@ANI) June 21, 2019
21 June 2019, 11:09 AM
ITBP personnel performed yoga at the Indo-China border in Kinnaur district of Himachal Pradesh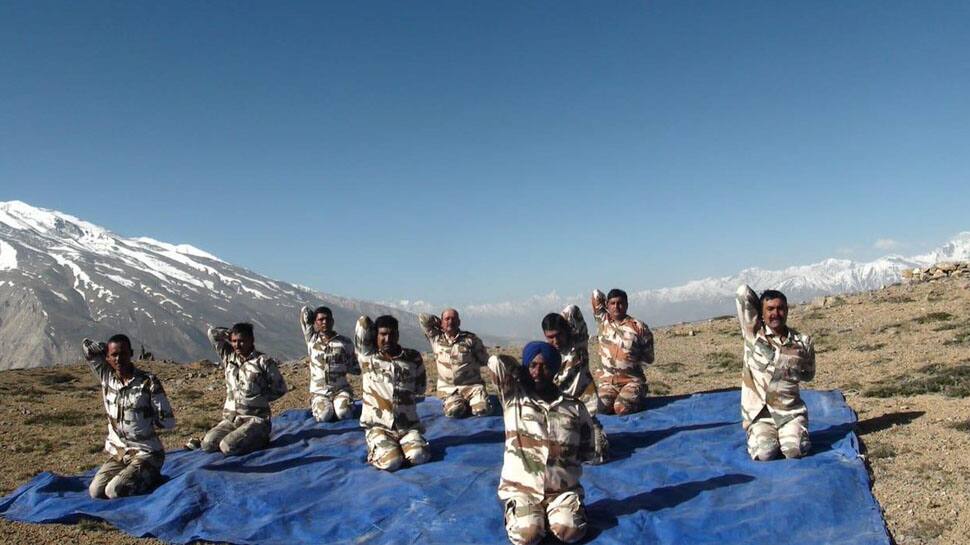 21 June 2019, 11:08 AM
Kerala CM Pinarayi Vijayan at a yoga event in Trivandrum said, "Lifestyle diseases are affecting us. Yoga is providing us all kind of exercises for our body. Anyone can practice yoga; everyone irrespective of religion and caste should practice this. Some people are deliberately trying to mislead others regarding yoga. As if this is something religious, some people have even made such remarks. In fact, none of the postures being performed as part of yoga has any connection with any religion."
21 June 2019, 11:05 AM
Union Ministers Piyush Goyal, Ravi Shankar Prasad and Jayant Sinha at a yoga event organised in the national capital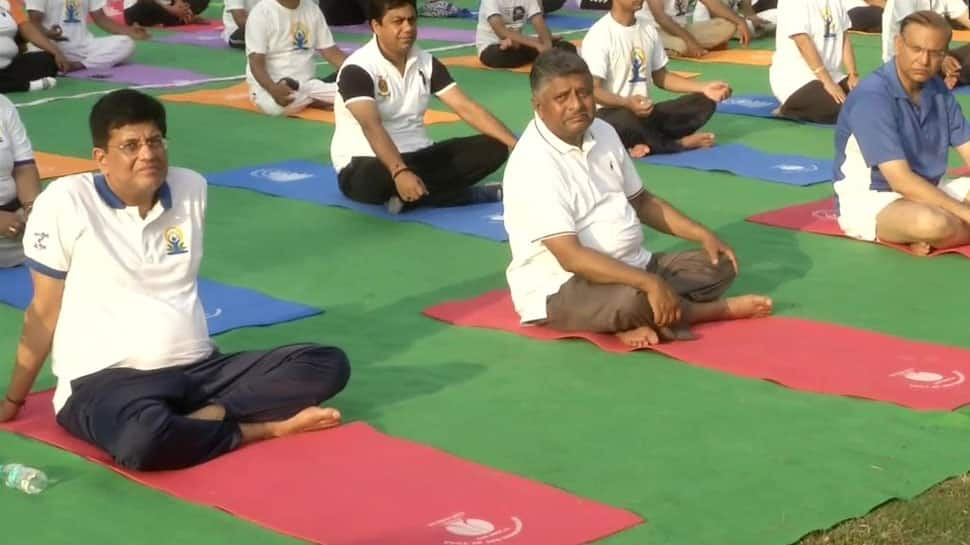 21 June 2019, 10:58 AM
French Ambassador to India, Alexandre Ziegler, said, "We had more than 100 yoga practitioners this morning. We have yoga lessons almost every day at the Embassy. Yoga is becoming popular among the French people now. It helps to stay fit both physically and mentally."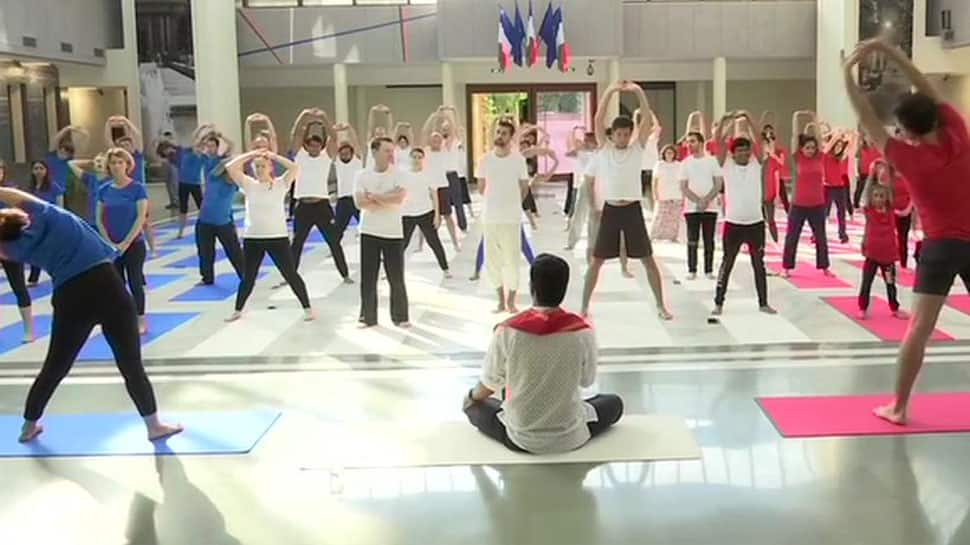 21 June 2019, 10:25 AM
I wish your state govt also celebrated yoga day so that in Kerala you can have peace. Today people of Kerala are forced to go on the streets to save their tradition: BJP National General Secretary, Ram Madhav, in Trivandrum
21 June 2019, 10:16 AM
Taking a jibe at the Kerala government, he said, "For them, every tradition in this country is to be dismissed, hated, whether it is Sabarimala or Yoga, they hate it. India is based on a tradition and they hate it. We gave a new mantra to the world for peace. This tradition is going to save the world.
21 June 2019, 10:12 AM
After Narendra Modi became PM, we realised the value of ancient wisdom. This should have been done after independence: BJP National General Secretary, Ram Madhav, in Trivandrum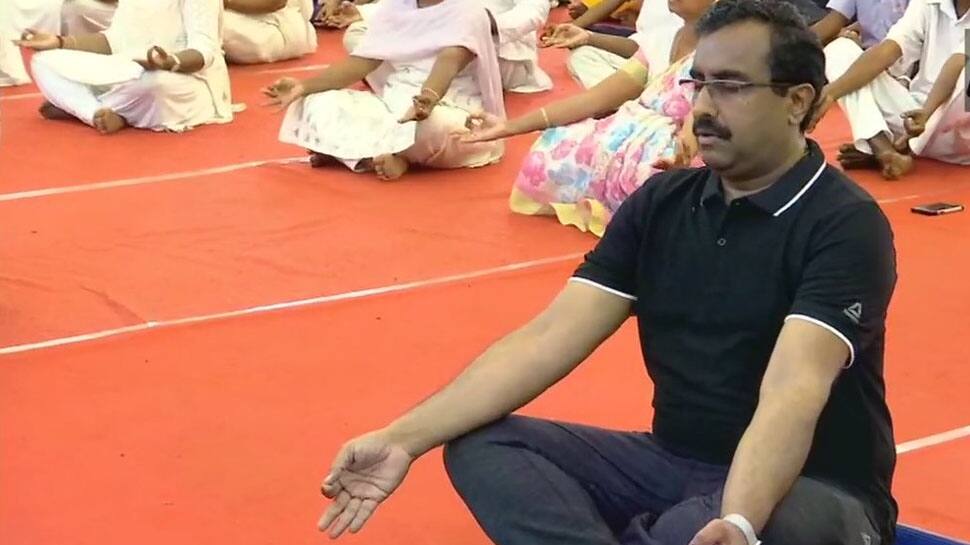 21 June 2019, 09:55 AM
Yoga is a practice that teaches world how to control ourselves. Yoga is not only for balancing the body, its also about the balance of mind. PM gave a call to the world, 'Come let us practice yoga' so that we can overcome all conflicts and the world will be a beautiful place: BJP National General Secretary, Ram Madhav, in Trivandrum
21 June 2019, 09:48 AM
Yoga being performed at the Embassy of the United States of America in the national capital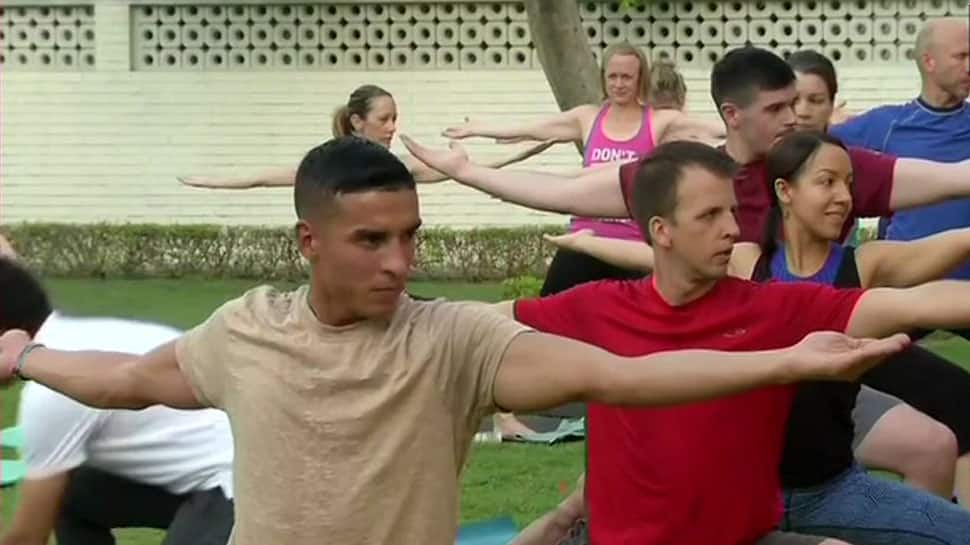 21 June 2019, 09:39 AM
Union Transport Minister Nitin Gadkari led an event in Nagpur with several thousand doing various yoga exercises with him. He said that it is wonderful that yoga is getting recognition from the whole world. He added that yoga is a symbol of India's rich culture and history.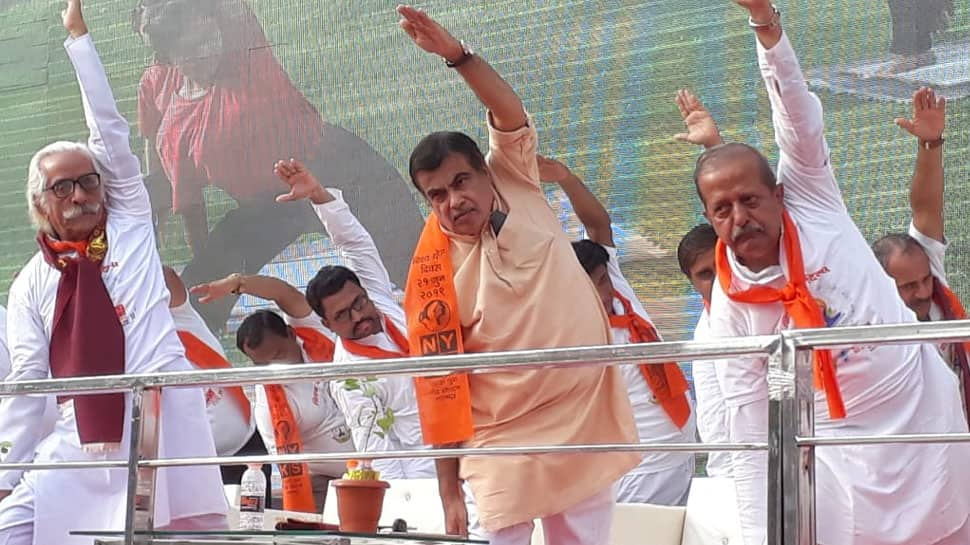 21 June 2019, 08:55 AM
At the United Nations, Indian envoy Syed Akbaruddin and Deputy Nagaraj Naidu lead the charge. Yoga was celebrated with the theme Yoga for climate change. Syed Akbaruddin said, "The UN has a special place in the remarkable growth of Yoga in our lifetimes. It was here that an ancient practice was transformed into an annual global observance. Hence we always observe the occasion with zest and fervour at the UN."
21 June 2019, 08:20 AM
DRDO Chief Dr G Satheesh Reddy performs Yoga at DRDO facility in the national capital.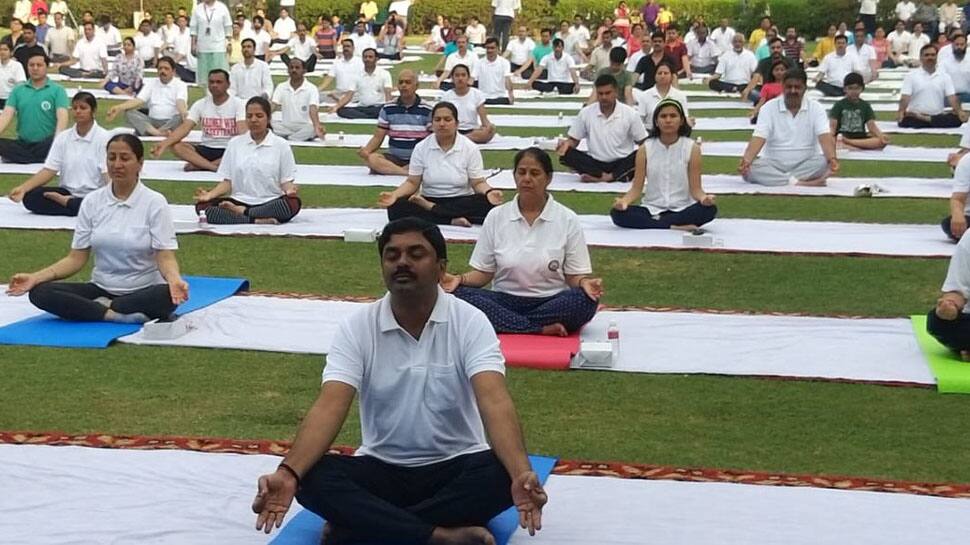 21 June 2019, 08:17 AM
Defence Minister Rajnath Singh and Union Minister Prakash Javadekar perform Yoga at Rajpath in the national capital.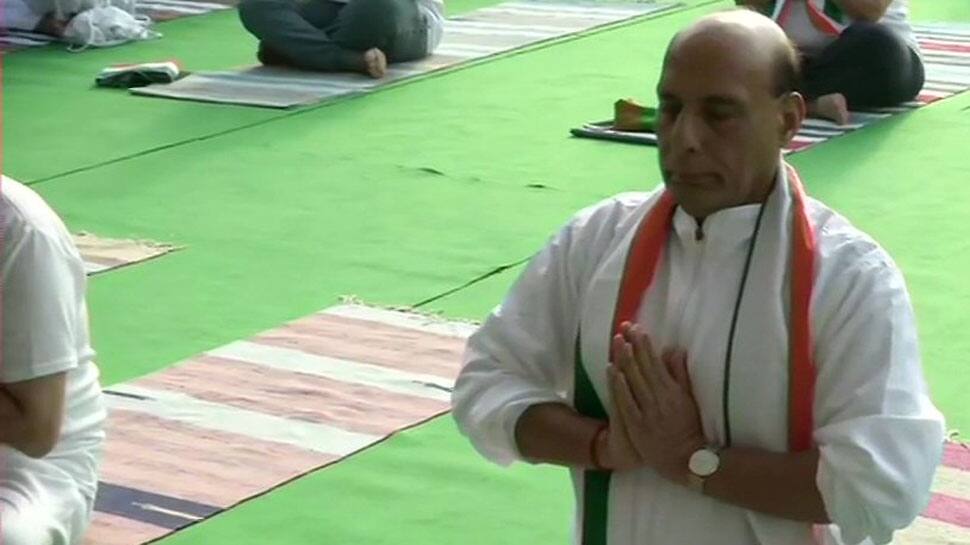 21 June 2019, 08:10 AM
Knowledge of yoga is for the welfare of the whole world. On International Yoga Day, I express my gratitude to Prime Minister Narendra Modi that he has worked for giving yoga a global form: Amit Shah in Rohtak, Haryana
21 June 2019, 08:07 AM
BJP National Working President JP Nadda and National General Secretary (Organisation) Ram Lal perform Yoga at Deen Dayal Upadhayay Park in the national capital.
21 June 2019, 07:55 AM
After practicing yoga, Prime Minister greets and interacts with the public gathered at the Prabhat Tara ground.
Jharkhand: Prime Minister Narendra Modi interacts with people after performing yoga at Prabhat Tara ground in Ranchi on #InternationalDayofYoga pic.twitter.com/Ny0Ksd0A2Z

— ANI (@ANI) June 21, 2019
21 June 2019, 07:54 AM
Lok Sabha Speaker Om Birla along with parliamentarians and parliament staff practice Yoga in the national capital.
21 June 2019, 07:51 AM
The Chinar Corps of the Indian Army took to Twitter saying that they celebrated the event. They tweeted, "Separated by thousands of Kms; Motivated by a single goal. Indian Army striving for healthy mind, body and soul. Against all odds celebrated Yoga Day 2019."
21 June 2019, 07:48 AM
Union Home Minister Amit Shah and Haryana Chief Minister ML Khattar perform Yoga in Haryana's Rohtak
21 June 2019, 07:18 AM
In today`s changing times, our focus must be on Wellness as well as protection from Illness. That is the power we get with Yoga, that is the feeling of Yoga and the ancient Indian philosophy: PM Modi
21 June 2019, 07:17 AM
Now, I have to take the journey of modern yoga from the cities to the villages, to the poor and tribal`s house. I have to make yoga an integral part of the life of poor and tribal. Because it is poor who gets the most pain due to illness: PM Modi
21 June 2019, 07:09 AM
I thank people across the world for joining Yoga Day celebrations. World over the first rays of the sun are being welcomed by dedicated yoga practitioners, it is a beautiful sight. I urge you all to embrace yoga and make it an integral part of your daily routine: PM Modi
21 June 2019, 07:06 AM
We all know the importance of Yoga very well. It has always been an important part of our culture. But now we all have to take the practice of Yoga to another level: PM Modi addresses the gathering at the  Prabhat Tara ground
21 June 2019, 07:03 AM
I extend my good wishes to all of you, in India and across the globe, on the occasion of International Yoga Day. Today, lakhs of people have gathered in different parts of the world to celebrate Yoga Day: PM Modi
21 June 2019, 06:59 AM
The PM shared the stage with Jharkhand Chief Minister Raghubar Das, Governor Droupadi Murmu, Union Minister of state (Independent) for AYUSH Shripad Yesso Naik and Jharkhand Health Minister Ramchandra Chandravanshi.
21 June 2019, 06:59 AM
Prime Minister Narendra Modi reaches the Prabhat Tara ground to take part in the celebrations.
21 June 2019, 06:56 AM
Yoga guru Ramdev performs yoga along with his followers in Nanded. Maharashtra Chief Minister Devendra Fadnavis also present.