By-poll results for 51 assembly, two lok sabha seats declared, BJP wins 17 assembly seats
The assembly by-election was spread across 17 states. and the results were declared on Thrusday. BJP won nearly 17 Assembly seats in the by-polls whereas Congress bagged 11 seats.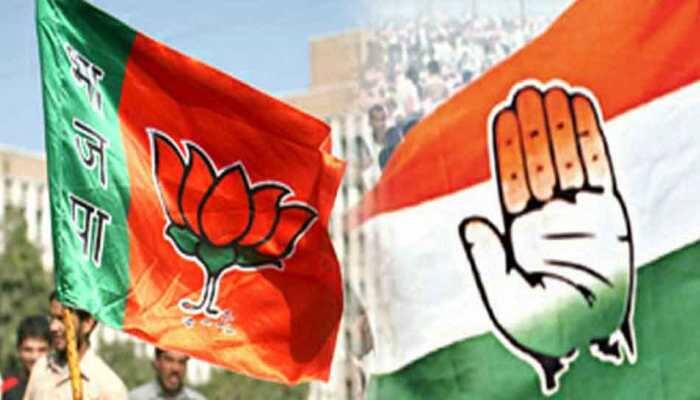 LIVE Blog
Counting of votes in 51 assembly seats and two Lok Sabha by-polls ends on Thursday, October 24. The assembly by-election was spread across 17 states. The elections were held on October 21.
BJP won nearly 17 Assembly seats in the by-polls whereas Congress bagged 11 seats.
In Uttar Pradesh, BJP and allies won 8 seats and Samajwadi Party won in three constituencies.
In Bihar, RJD won two seats, JDU and AIMIM`s emerged victorious in one each. An independent candidate also won from Daraundha.
BJP and Congress both won three seats each in Gujarat.
In Assam, BJO won three seats All India United Democratic Front emerged victorious in one.
BJP bagged two seats in Sikkim while the Sikkim Krantikari Morcha bagged one.
In Himachal Pradesh, BJP bagged both the seats in which by-polls were held on Monday.
Arunachal Pradesh an Independent candidate won the by-polls elections.
Congress secured victory in three out of the four seats in Punjab and Shiromani Akali Dal also managed to secure one seat.
In Rajasthan, Congress won Mandawa seat and the Khinwsar seat was bagged by Rashtriya Loktantrik Party.
In Chhattisgarh`s Chitrakot seat Rajman Venjam of Congress registered a victory.
Congress Kantilal Bhuria won from Madhya Pradesh`s Jhabua constituency were he defeated BJP`s Bhanu Bhuria.
Coming to southern India, Congress won two of the five seats in Kerala, Indian Union Muslim League emerged victorious on one. Communist Party of India-Marxist secured victory in two seats.
Meghalaya`s Shella seat was taken over by United Democratic Party and Biju Janata Dal retained Odisha`s Bijepur constituency.
In Puducherry Congress registered its win
AIADMK`s won two seats in Tamil Nadu and Telangana Rashtra Samithi emerged victorious in Huzurnagar constituency.
Here are the highlights of the counting of by-polls for 51 Assembly, two Lok Sabha seats.
Thank you for staying with us.
20:32 PM
Telangana by-poll: Telangana Rashtra Samithi's Saidi Reddy Shanampudi emerged victorious from Huzurnagar constituency defeating Congress's Nalamada Reddy with 43358 votes. 
20:28 PM
Sikkim by-poll: BJP wins from Martam-Rumtek and Gangtok constituncy of Sikkim, Prem Singh Tamang of Sikkim Krantikari Morcha emerged victorious from Poklok-Kamrang. 
20:23 PM
Rajasthan by-poll: Rita Choudhary of Congress wins from Mandawa defeating Sushila Sigra of BJP. Narayan Beniwal of Rashtriya Loktantrik Party emerged victorious from Khinwsar constituency. 
20:18 PM
Pujab by-polls: Bharatiya Janata Party wins from Phagwara and Mukerian constituency of Punjab, Congress wins from Dakha and Shiromani Akali Dal emerges victorious from Jalalabad.
20:07 PM
Puducherry by-polls: A. Johnkumar of Indian National Congress wins from Kamaraj Nagar constituency with margin of 7170 votes. 
20:05 PM
Odisha by-poll: Rita Sahu of Biju Janata Dal wins from Bijepur constituency with margin of 97990 votes. 
20:01 PM
Meghalaya by-poll: Balajied Kupar Syndrem of United Democratic Party wins from Shella constituency defeating independent candidate Grace Mary Kharpuri. 
19:57 PM
Kerala: Congress wins three seats in Kerala constituency, Communist Party of India bags two seats in by-poll.
19:52 PM
Bihar by-poll 2019: Janata Dal (United) wins in Simri Bakhtiarpur, Daraundha, Belhar constituency of Bihar, BJP's Qamrul Hoda wins from Kishanganj constituency.
19:46 PM
Assam by-polls: BJP wins three seats in Assam by-poll in Ratabari, Rangapara and Sonari constituency. All India United Democratic Front managed to emerged victorious in Jania constituency of Assam.
19:37 PM
Arunachal Pradesh by-polls: Independent candidate Smt. Chakat Aboh wins from Khonsa West defeating Shri Azet Homtok by 1887 votes.  
18:55 PM
Kantilal Bhuria of Indian National Congress wins Jhabua by-polls, defeating Bhanu Bhuriya of BJP by 27804 votes. 
18:27 PM
Nationalist Congress Party candidate Shriniwas Dadasaheb Patil wins Satara Lok Sabha by-election by margin of 85689 votes. Defeats Shrimant Chh. Udyanraje Pratapsinhmaharaj Bhonsle of BJP. 
18:17 PM
Lok Jan Shakti Party candidate Prince Raj wins Bihar's Samastipur Lok Sabha by-election, defeats Dr. Ashok Kumar of Congress by 102090 votes.
17:47 PM
BJP and its allies wins 8 out of 11 seats in Uttar Pradesh. CM Yogi Adityanath congratulated all the candidates who have won today. 
17:47 PM
#HaryanaAssemblyPolls : As per the official trends by the Election Commission, BJP has won 26 seats and is leading on 14 taking a total lead on 40 seats. Congress has won 20 seats and is leading on 11, taking a total lead on 31 seats. Jannayak Janata Party (JJP) has won 10 seats. pic.twitter.com/OiCyoqnIYD

— ANI (@ANI) October 24, 2019
16:26 PM
UP bypoll results: Lucknow Cantt seat won by Suresh Chandra Tiwari of BJP with a margin of 35,428 votes; Kirat Singh of BJP wins Gangoh with a margin of 5,419 votes.
15:11 PM
All three Bye election results declared for Sikkim...Gangtok (BL) seat won by Yong Tshering Lepcha of BJP. BJP bags 2seats and Sikkim Krantikari Morcha one seat pic.twitter.com/buHjE6ejDx

— Sheyphali Sharan (@SpokespersonECI) October 24, 2019
14:59 PM
Odisha Assembly bypolls: BJD's Rita Sahu wins Bijepur seat by record margin of over 97,000 votes. The victory margin is the highest in the history of Odisha assembly elections. She was against BJP's Sanat Kumar Gartia.
14:58 PM
Result declared for by-election to Bijepur seat of Odisha. Biju Janata Dal (BJD) party wins the lone seat for which by-polls were held in the state.
13:14 PM
AIADMK leads in Tamil Nadu Assembly by-polls, supporters celebrate.
12:55 PM
#Kerala: Result declared for By-election Konni, Kerala, Adv. K U Jenish Kumarof Communist Party of India (Marxist) won the seat with a margin of 9953 votes. Counting underway for other 4 By-elections held at Manjeshwar, Eranakulam, Aroor and Vattiyoorkavu

— ANI (@ANI) October 24, 2019
12:48 PM
Bihar bypolls: LJP leading in Samastipur Lok Sabha seat, AIMIM in 1 Assembly seat.
LJP's Prince Singh is leading in the Samastipur Lok Sabha seat. NDA is leading in two of the five Assembly seats - Simri Bakhtiyarpur and Nathnagar.
The RJD is leading in Belhar and in Kishenganj, BJP candidate Sweety Singh is trailing behind AIMIM candidate Kamrul Hoda.
In Daraundha Assembly seat Independent candidate Karanjit Singh is leading.
12:46 PM
Kerala: CPI-M candidate and Thiruvananthapuram Mayor VK Prasanth won theVatiyoorkavu Assembly constituency by a margin of 14,251 votes.
12:36 PM
Arunachal Pradesh bypoll results:
(Image Courtesy: ECI)
12:34 PM
Arunachal Pradesh assembly by-poll: Independent candidate from Khonsa West constituency, Chakat Aboh (wife of NPP leader Tirong Aboh who was shot dead in May) wins.

— ANI (@ANI) October 24, 2019
12:10 PM
Gujarat: BJP's Alpesh Khodaji Thakor trailing by 6,522 votes in Radhanpur. 
12:10 PM
Sikkim: Status known for 2 out of 3 constituencies. 
12:07 PM
Khonsa West (ST) Arunachal Pradesh: Chakat Aboh beats Azet Homtok, both are independent candidates. Results declared!
11:55 AM
Sikkim Assembly by-elections: BJP wins on Martam-Rumtek (BL) seat.
11:19 AM
Dharamshala, Himachal Pradesh: Vishal Nehria of BJP wins by 6,758 votes, beats independent candidate Rakesh Kumar.
11:03 AM
Congress' A Johnkumar wins Kamaraj Nagar Assembly byelection in Puducherry.
11:00 AM
Bakhtiarpur, Bihar: Arun Kumar of JD(U) ahead of RJD's Zafar Alam
Daraundha, Bihar: Karnjeet Singh alias Vyas Singh ahead of Shailendra Kumar Yadav. Both are independent candidates.
Nathnagar, Bihar: Lakshmikant Mandal of JD(U) leads, is ahead of Rabiya Khatun of RJD. 
Belhar, Bihar: RJD's Ramdeo Yadav races ahead of Laldhari Yadav of JD(U).
11:00 AM
Bypoll results in Bihar: In Kishanganj, Kamrul Hoda of AIMIM edges past BJP candidate Sweety Singh by 1,552 votes.
10:42 AM
Lok Sabha election result from Samastipur (SC): Prince Raj of Lok Jan Shakti Party leading by 22549 votes, ahead of Ashok Kumar of Congress. 
10:38 AM
Gujarat Assembly by-elections: Indian National Congress is leading in 3 constituencies, while BJP is leading in 2 constituencies.
10:37 AM
UP Assembly By-elections: As per official trends from Election Commission, BJP-5, BSP- 2, SP- 2 and INC-1
10:37 AM
Himachal Pradesh Assembly bypoll: BJP leading on Dharamshala and Pachhad seats, according to official EC trends.
10:19 AM
Uttar Pradesh Assembly By-elections: Tazeen Fatima, Samajwadi Party candidate from Rampur assembly constituency is leading with 6364 votes after second round of counting. (File pic) pic.twitter.com/BsnYGnGm0R

— ANI UP (@ANINewsUP) October 24, 2019
10:12 AM
Punjab Assembly By-elections: Indian National Congress leading in 3 constituencies, while Shiromani Akali Dal is leading in 1 constituency.
10:06 AM
Rajasthan bypoll results, Round 5: Congress leads by 21,164 votes in Kheenvsar and 9,857votes in Mandawa.
09:52 AM
BJP candidate Udayanraje Bhosale trails in Satara, NCP's Shriniwas Patil, party patriarch Sharad Pawar's close aide, leads. 
09:51 AM
Gujarat bypoll results early trends: BJP leads from Tharad, Lunawada, Kheralu while Congress takes lead from Bayad and Radhanpur.
09:10 AM
Kerala Assembly by-poll: As per official trends from EC, Bharatiya Janata Party leading on 1 seat, Indian National Congress leading on 1 and Indian Union Muslim League leading on 1 seat; Total 5 seats
09:05 AM
Uttar Pradesh Assembly By-elections: As per official trends from Election Commission, Bahujan Samaj Party leading in 1 constituency & Samajwadi Party leading in 2 constituencies.
08:53 AM
Samajwadi Party (SP) leader Tanjeen Fatima leads from Rampur.
08:52 AM
BJP's Suresh Tiwari leads from Lucknow Cantt area.
08:20 AM
The results of bypolls to Satara and Samastipur Lok Sabha seats will also be declared soon.
08:19 AM
Counting of ballots to the four Assembly seats that went to by-polls in the Congress-ruled Punjab began amidst heavy security arrangements.