Parliament live updates: Aadhaar Bill tabled in Lok Sabha, Left objects
The DNA Technology Regulation Bill was passed in the Lok Sabha in January, but lapsed as it could not be cleared in the Rajya Sabha due to lack of support from the opposition.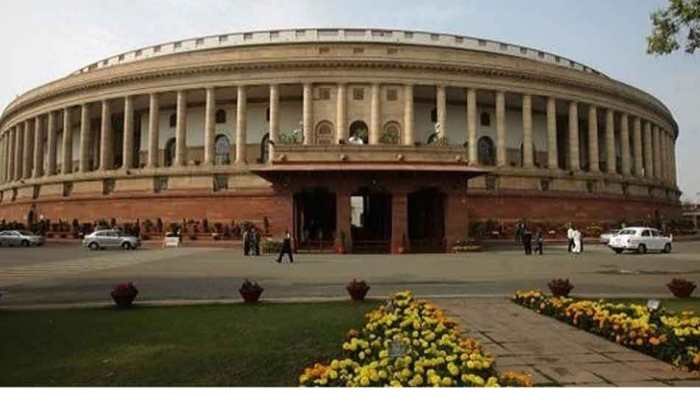 LIVE Blog
Home Minister Amit Shah will on Monday introduce Jammu and Kashmir Reservation Amendment Bill in the Lok Sabha. This is the first legislative business by the Home Minister after his election to the lower house following the massive victory in the general election. He will also give a statement giving reasons for the immediate legislation by the promulgation of the Jammu and Kashmir Reservation (Amendment) Ordinance, 2019.
The DNA Technology Regulation Bill, which seeks to control the use of DNA technology for establishing the identity of a person, is also likely to come up before the Cabinet on Monday. The bill was passed in the Lok Sabha in January, but lapsed as it could not be cleared in the Rajya Sabha due to lack of support from the opposition. Following the clearance from the Cabinet, the bill is likely to be reintroduced in Parliament for passage.
Stay with us for the live updates from Parliament:
16:56 PM
Congress leader, Adhir Ranjan Chowdhury: A BJP MP compared Swami Vivekananda with PM due to a similarity in their names & put them on same pedestal, it hurts sentiments of Bengal. That's why I said 'you're provoking me, if you continue I'll say you're comparing Ganga with naali'.
16:56 PM
Congress leader, Adhir Ranjan Chowdhury on his remark in Lok Sabha: It is a misunderstanding, I didn't say 'naali', if PM is upset with it I'm sorry. I had no intention to hurt him. If PM is hurt I'll personally apologise to him. My hindi is not good, by 'naali' I meant channel.
16:08 PM
Ghulam Nabi Azad, leader of Opposition in Rajya Sabha: Jharkhand has become a factory of lynching and violence. Dalits and Muslims are killed there every week. Prime Minister, we are with you in the fight of 'Sabka saath sabka vikas' but it should be there for people to see it. We can't see it anywhere.
15:35 PM
Congress leader Adhir Ranjan Chowdhury questioned the government over inaction in the 2G spectrum and coal scams.
15:35 PM
Congress leader in the Lok Sabha Adhir Ranjan Chowdhury said the BJP came back to power as Prime Minister Narendra Modi is a "very big salesman" while the Congress failed to do proper marketing of its product.
13:10 PM
The planned privatisation of five airports in the country with the Adani Group as their operator was opposed in the Rajya Sabha today with a CPI(M) MP saying the Kerala government is willing to operate the Thiruvananthapuram airport. Raising the issue through a Zero Hour mention, KK Ragesh (CPI-M) said the Adani Group has emerged as the winner in privatisation bid of five airports at Lucknow, Jaipur, Thiruvananthapuram, Mangaluru and Ahmedabad.
 
13:09 PM
Trinamool Congress (TMC) MPs staged a demonstration in Parliament complex against the use of Electronic Voting Machines in the elections. TMC parliamentarians gathered in front of Mahatma Gandhi`s statue with placards reading 'No EVM, We want paper ballot' written in English, Hindi and Bangla.
12:46 PM
Union Minister Ravi Shankar Prasad tables Aadhaar Bill in Lok Sabha. The bill has been opposed by Left leader Premchandran.
10:16 AM
The Union Cabinet will today take a call to introduce a fresh bill in Parliament to extend the facility of proxy voting to overseas Indians. A similar bill had lapsed following the dissolution of the 16th Lok Sabha last month. Sources in the government had on Sunday told PTI that the union cabinet will consider introducing the bill in Parliament. The bill proposes that overseas Indians, who are entitled to vote in India, can appoint a proxy voter to cast the ballot on their behalf. As of now, overseas Indians are free to cast their votes in constituencies they are registered. The Bill seeks to give them the option of proxy voting, which is as of now available to service personnel only.
10:14 AM
Union Minister Ravi Shankar Prasad is expected to introduce a Bill to amend the Aadhaar (Targeted Delivery of Financial and Other Subsidies, Benefits and Services) Act, 2016 and further to amend the Indian Telegraph Act, 1885 and the Prevention of Money-laundering Act, 2002. He will also explain the reasons for promulgation of the Aadhaar and Other Laws (Amendment) Ordinance, 2019.
10:12 AM
Aam Aadmi Party Rajya Sabha MP Sanjay Singh has given a Zero Hour Notice in Rajya Sabha over increasing crime in the national capital. The notice comes after Delhi CM Arvind Kejriwal had on Sunday tweeted that there has been a rise in crime claiming that there have been nine murders in one day across the city. However, the Delhi Police responded to the CM's allegations and gave statistics to prove that the claims made by Kejriwal were not true. "No such increase in crime in Delhi. Overall heinous crimes down by 10% this year compared to 2018. Similarly heinous crime committed against senior citizens also down by 22% due to preventive efforts of Delhi police," the police tweeted.