Minutes before the Election Commission announced the dates of Karnataka Assembly elections, Bharatiya Janata Party's (BJP) IT cell chief Amit Malviya tweeted about the poll and result dates. The incident sparked an outrage.
But it was not just the BJP social head who tweeted about it. 
Karnataka Congress' social head media in-charge Srivatsa also tweeted about the same dates at exactly the same time - 11:08 am.
The tweet, now deleted, predicted that the polls will be held on May 12 and counting will be held on May 18.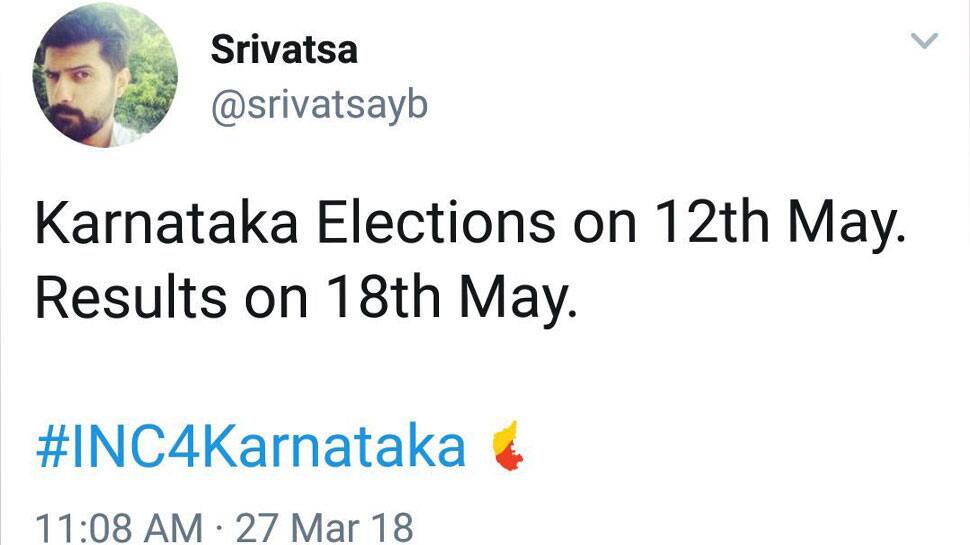 Both Srivatsa and Malviya were right about the single-phase poll date, but wrong about the election result date. 
"For those asking me about my tweet on the poll dates, wasn't listening to the EC presser, saw local and national media flashing the dates and thought that it has been announced. Simple as that," tweeted Srivatsa later.
Defending party colleague's tweet, BJP minister Mukhtar Abbas Naqvi said, "Amit Malviya's tweet was based on a TV channel's source. It had no intention to undermine the stature of EC. A Karnataka Congress leader had also tweeted the same thing. We agree that he (Malviya) shouldn't have tweeted it."
The tweets have put the Election Commission on the backfoot.
Chief Election Commissioner OP Rawat termed it as a serious issue and assured that action would be taken if the body finds any wrongdoing. "Certain things may have leaked for which Election Commission will take appropriate action. It will be investigated. Be assured that actions legally and administratively befitting will be taken," he said.
On Monday, the poll panel announced the schedule of Karnataka Assembly elections 2018. The state will go to poll in a single phase on May 12 with the counting of votes and results scheduled on May 15. The last date of filing nomination is April 24, and the last date of withdrawal of candidature is April 27.