Pakistan MP meets PM Modi, Sushma Swaraj; says if there's evidence Islamabad will act on terrorism
Vankwani was present at an event in Delhi where PM Modi and Swaraj addressed delegates from 182 countries who had come for the Kumbh Mela in Uttar Pradesh's Prayagraj.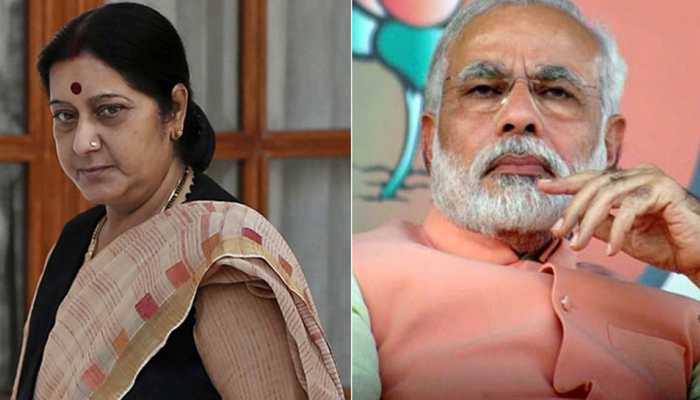 New Delhi: Member of National Assembly of Pakistan and member of the ruling party Pakistan Tehreek-e-Insaf, Dr Ramesh Vankwani, who was in India for the Kumbh Mela, met Prime Minister Narendra Modi and External Affairs Minister (EAM) Sushma Swaraj during his visit. The Pakistani leader called both the countries to develop faith and sit for dialogue.
" World is moving towards peace. We have to develop faith over each other and if we do not have faith on other each other our will would weaken. Negative people are present on both sides of the border. We have to sideline them. Right now people of both the countries want peace," he said.
Dr Ramesh Vankwani is from the minority Hindu community of Pakistan. On meeting the PM Modi and Swaraj, he said, "Once France and Germany were enemies. But today no one asks if u stay in France or Germany. Even south and north Korea moving in a positive trajectory. US President Abraham Lincoln once said - Do I not destroy my enemies when I make them my friends?"
Vankwani was present at an event on in Delhi were PM Modi and Swaraj addressed delegates from 182 countries who had come for the Kumbh in Uttar Pradesh's Prayagraj.
Asked about Pakistan's involvement in Pulwama terror attack on 14th February whose responsibility was claimed by Pakistan based Jaish-e-Mohammad, Vankwani said, "Not at all. Don't even think Pakistan will ever allow its territory to be used against India. If there is evidence we will act. Whether Jaish is saying to take credit or if in fact, Jaish has done, you will see action by our govt."
He added, "Time has moved, we now take action. Our biggest religion should be humanity. Loss due to terror is a loss for all on both sides of the border."
Vankwani said that he met Swaraj for 20 minutes and was with the minister of state in the ministry of external affairs General VK Singh last week during the Kumbh Mela visit along with people of other countries.

He said that he will brief Pakistan Prime Minister Imran Khan about his meetings in Delhi and tell about the "grievances and what could be the solution". He also requested media from both the sides of the border to talk in a positive manner for the sake of peace in the region.
Vankwani is the head of the Pakistan Hindu council which is the representative body of all Hindus in Pakistan.
His presence in India comes even as New Delhi is asking Islamabad to act on terror groups on its territory in the aftermath of Pulwama attack. The Pulwama attack which took place on 14th February is the worst attack on Indian armed forces in the last two decades and killed more than 40 paramilitary forces.
Live Tv