Pulwama attack was originally planned for February 9, on Afzal Guru's death anniversary: Sources
Due to heavy snowfall in the valley, the terror outfit had to shift their plan to February 14, to launch the deadly attack on CRPF convoy.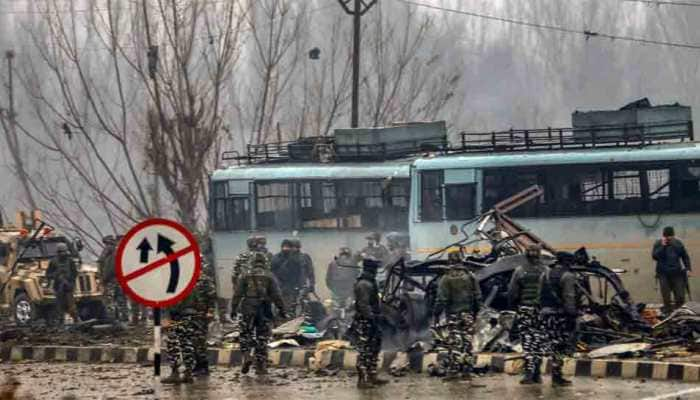 (Story by Amit Bansal)
New Delhi: In a major revelation on Pulwama terror attack in which at least 40 CRPF personnel lost their lives, sources informed that Pakistan-based Jaish-e-Mohammed terrorists had originally planned to execute the attack on February 9, the death anniversary of Afzal Guru.
As per sources, the JeM terrorists had also considered February 11, the death anniversary of Maqbool Bhat, founder of the militant organisation National Liberation Front. However, due to heavy snowfall in the valley, the terror outfit could not execute the attack and they later chose February 14 as the day.
As per the sources, 20-year-old Adil Ahmad Dar, who was chosen by the terrorists as the suicide bomber, was trained in driving the SUV, which, on the day of the attack, was packed with an Improvised Explosive Device and was rammed into one of the 78 buses of CRPF convoy.
The selection of Adil by JeM was made by draw of lots in the presence of Ibrahim Azhar, also known as Dr Sulaiman, and Kamran. It is to be noted that Ibrahim is the brother of Maulana Masood Azhar. He was also one of the conspirator in IC-814 flight hijack case (1999 Kandahar hijacking case).
Sources linked to the investigation also claimed that the terrorists had planned to avenge the death of Jaish chief Masood Azhar's nephew Usman, who was killed by the Indian Army during an encounter in October 2018.
The detonators and fuses used in the attack were brought from across the border and the actuating mechanism was created locally. All of them were fitted in the bomb just before the attack. All the items were carried from LOC through OGW (Over Ground Workers) to the bomb structuring. Sources say that in the investigation so far, the women and children were involved majorly in carrying the items.
According to Indian intelligence agencies, the RDX used to attack the bus was procured by Pakistan Army in Rawalpindi and handed over to JeM operatives. The process of collecting RDX reportedly began in March 2018 and the explosives were smuggled using backpacks, cylinders and coal bags to Tral village of Pulwama.