Raj Thackeray Claims Mystery Dargah Coming Up In Mumbai Sea, Gives Ultimatum To Government To Demolish It
Raj Thackeray also served an ultimatum to the govt, Mumbai Police, and civic administration, stating that unless the secret dargah is demolished within a month, the MNS will go and erect a Ganpati temple at the same location.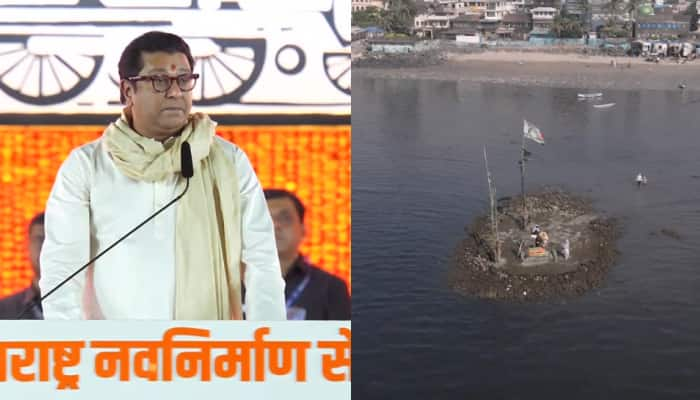 Mumbai: Maharashtra Navnirman Sena (MNS) President Raj Thackeray made a dramatic revelation on Wednesday of a purported `dargah coming up in the Arabian Sea off Mahim, a few metres away from the shore. Drawing the attention of the state government, Mumbai Police and civic administration, the MNS chief also served an ultimatum to them that unless it is demolished within a month, the MNS would go and erect a Ganpati temple at the same spot. Hinting at a potential security threat, Raj Thackeray demanded: "The Mahim police station is close by, the BMC officials keep moving around there... Yet since the past two years this `dargah` is blatantly coming up in the sea... Another `Haji Ali Dargah`... And there`s nobody to talk about it?"
Returning with his old `Laav re te video` (Play that video) after five years, Raj Thackeray ordered playing a video, apparently shot with a drone hovering around and above what seemed to be a small islet that had come up in the Mahim sea.
It had some green and white flags, fluttering on a pole and on strings around, with some men and women `devotees` offering prayers at a makeshift grave of an unknown person.
संपूर्ण व्हिडीओ : सन्मा. राजसाहेबांनी आज एक अत्यंत महत्त्वाची बाब समोर आणली... सरकारचं/प्रशासनाचं दुर्लक्ष झाल्यावर काय होतं ते पहा… माहीमच्या मगदूम बाबा दर्ग्याच्या इकडे समुद्रात हे अनधिकृत बांधकाम केलं. २ वर्षांपूर्वी हे काहीच नव्हतं. इथे नवीन हाजीअली तयार करणं सुरु आहे.… pic.twitter.com/BQ2CH1NmCb

— MNS Adhikrut - मनसे अधिकृत (@mnsadhikrut) March 22, 2023
"Whose `dargah` is this? Is it of some fish," he asked in a lighter vein, but warned that such things cannot be tolerated and if it is not demolished within a month, his party would retaliate with a Ganesh temple at the same islet.
Earlier today, banners proclaiming party President Raj Thackeray as a `future CM` came up in the vicinity of Chhatrapati Shivaji Maharaj Park in Dadar.
Setting the tone for the meeting on Gudi Padwa -- the Maharashtra New Year, the MNS Dadar unit chief Laxman Patil has put up the banners conferring the status of `Hindu Jannayak` and `The future CM in the minds of the people of Maharashtra!`
The posters have been put up opposite the Shiv Sena Bhavan -- controlled by Uddhav Thackeray in what is considered a Shiv Sena (UBT) bastion.
The banners have started political tongues wagging, particularly since the 17-year-old MNS has only a lone MLA in the 288-member Assembly, despite being led by the fiery orator Raj Thackeray, the nephew of the legendary Balasaheb Thackeray.
With the entry of Raj Thackeray, 54, the wishful state `future CM` platform has become more crowded and varied.