New Delhi: The Bharatiya Janata Party (BJP) on Monday (March 22, 2021) released its manifesto for the forthcoming Tamil Nadu Assembly elections and promised to hand over the control of Hindu temples to Hindu scholars and saints.
"The administration of Hindu temples will be handed over to a separate board comprising Hindu scholars and saints," the manifesto read.
Union Ministers Nitin Gadkari and VK Singh released BJP's manifesto. BJP State President L Murugan was also present on the occasion.
Releasing BJP Tamil Nadu Manifesto https://t.co/zntor1QlPA

— Nitin Gadkari (@nitin_gadkari) March 22, 2021
BJP also mentioned that a strict anti-conversion law will be made to criminalize religious conversion by force or allurement.
Another major point of BJP's manifesto is that it said that recommendations will be made to provide Indian citizenship to Sri Lankan Tamils living in refugee camps in Tamil Nadu.
BJP also promised 50 lakh new jobs in the state.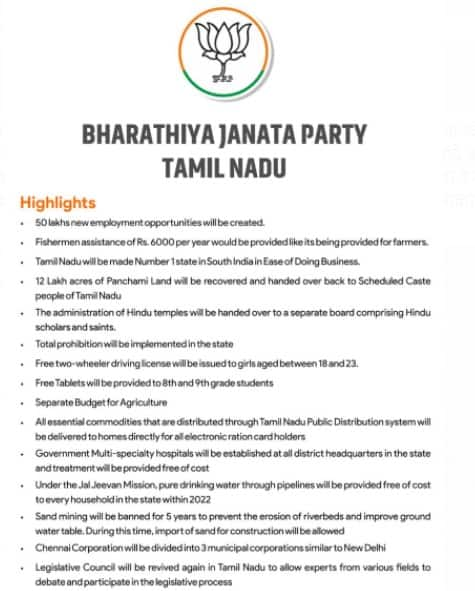 "Fishermen assistance of Rs 6000 per year would be provided like its being provided for farmers," BJP said.
It said that Tamil Nadu will be made 'Number 1 state' in South India in Ease of Doing Business.
An extensive document, which highlights BJP's vision for Tamil Nadu's progress, empowering the poor and celebrating the vibrant Tamil culture. #Thamaraiyin_TholaiNoakku https://t.co/L2TRWwODft

— Narendra Modi (@narendramodi) March 22, 2021
Other key points of BJP's manifesto for the Tamil Nadu Assembly elections 2021: 
1. 12 lakh acres of Panchami land will be recovered and handed over back to Scheduled Caste people of Tamil Nadu.
2. Free two-wheeler driving license will be issued to girls aged between 18 and 23.
3. Free Tablets will be provided to 8th and 9th-grade students. 
4. Separate Budget for Agriculture.
5. All essential commodities that are distributed through the Tamil Nadu Public Distribution System will be delivered to homes directly for all electronic ration card holders. 
6. Government Multi-specialty hospitals will be established at all district headquarters in the state and treatment will be provided free of cost. 
7. Under the Jal Jeevan Mission, pure drinking water through pipelines will be provided free of cost to every household in the state within 2022.
8. Sand mining will be banned for 5 years to prevent the erosion of riverbeds and improve ground water table.
9. Chennai corporation will be divided into 3 municipal corporations like New Delhi.
10. Legislative council will be revived again in Tamil Nadu to allow experts from various fields to debate and participate in the legislative process.
The Tamil Nadu Assembly election is scheduled to take place on April 6, whereas, the results will be announced on May 2.