Top Canada Immigration Consultants in India
Immigration has been a major phenomenon throughout the world. It is an essential element for a country's economic, social, and cultural growth. Canada has been a popular destination for immigrants from all over the world, and India is no exception. In recent years, Canada has become a preferred destination for Indian immigrants.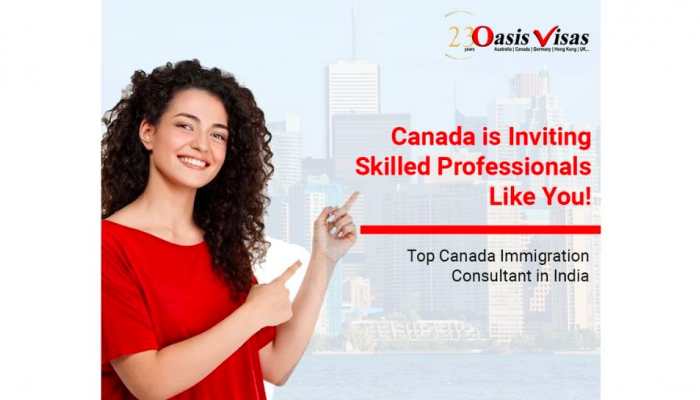 Reasons for Immigration to Canada from India
Economic Opportunities: Canada has a strong economy with numerous employment opportunities, which makes it an attractive destination for immigrants seeking better economic prospects. With a rapidly growing economy, Canada is home to many high-paying jobs, and it has a strong demand for skilled workers in various industries. As a result, many Indians are looking to immigrate to Canada to take advantage of these economic opportunities.
High Standard of Living: Canada is known for its high standard of living, which is one of the reasons why it has become a popular destination for immigrants. The country is safe, stable, and provides excellent healthcare, education, and social services to its citizens. Many Indians aspire to achieve a better standard of living for themselves and their families, and Canada is an ideal place to achieve that goal.
Cultural Diversity: Canada is known for its cultural diversity and acceptance of people from all backgrounds. It is a multicultural society where people of different ethnicities, religions, and nationalities can live together harmoniously. This welcoming environment attracts many immigrants from India who are seeking a place where they can live and work without fear of discrimination.
Education: Canada has a strong education system, with numerous universities and colleges offering high-quality education. Many Indian students choose to study in Canada to take advantage of this educational opportunity. By studying in Canada, they can obtain a high-quality education and gain valuable work experience, which can help them secure better jobs and improve their standard of living.
Benefits of Immigration to Canada from India
Economic Growth: Immigration can lead to economic growth by increasing the size of the workforce and creating new jobs. Immigrants bring new skills, knowledge, and perspectives, which can benefit the Canadian economy. By attracting skilled workers from India, Canada can fill the gaps in its labour market and boost its economic growth.
Cultural Enrichment: Immigration can enrich Canada's cultural diversity by bringing new customs, traditions, and perspectives. Immigrants from India can introduce their cultural practices and beliefs, which can enrich Canadian society and promote cross-cultural understanding.
Social Benefits: Immigration can bring social benefits to Canada by increasing the country's population and strengthening its social fabric. By welcoming immigrants from India, Canada can become a more inclusive and diverse society, which can lead to greater social cohesion and harmony.
Innovation: Immigration can spur innovation by bringing new ideas and perspectives to Canada. Immigrants from India can bring their knowledge and expertise in various fields, which can contribute to the growth of Canada's innovation sector.
Immigrating to a new country can be a daunting task, and it can be challenging to navigate the complex immigration laws and procedures on your own. That's where an immigration consultancy like Oasis Resource Management comes in. With over 23 years of experience in the field of immigration, they can provide invaluable assistance and guidance to help make your immigration journey smooth and stress-free.
Benefits of Moving to Canada with Oasis Resource Management
Expert Guidance
One of the primary advantages of immigrating with the help of Oasis Resource Management is the expert guidance that they provide. Their team of experienced immigration consultants has a deep understanding of the immigration laws and regulations of Canada.
They stay up-to-date with the latest changes in immigration laws and policies, and they can provide valuable insights and guidance on the best strategies to secure your immigration goals.
Tailored Solutions
Every individual's immigration journey is unique, and Oasis Resource Management understands this fact. They provide tailored solutions that cater to your specific needs and requirements. Whether you are a skilled worker, or a family looking to immigrate, they can provide customized solutions that meet your needs. They work with you closely to understand your goals and develop a personalized plan that ensures your successful immigration.
End-to-End Services
Immigrating to a new country involves a range of services, including visa processing, documentation, and post-landing services. Oasis Resource Management provides end- to-end services that cover every aspect of your immigration journey. They can help you with visa processing, document verification, language proficiency tests, and post-landing services, including airport pick-up, accommodation arrangements, and job search assistance. Their comprehensive services ensure that you have everything you need to settle into your new country smoothly.
Streamlined Processes
The immigration process can be complicated and time-consuming, with many steps and requirements to fulfill. Oasis Resource Management understands the importance of a streamlined process and can simplify the process for you. They have a well-defined process that ensures that you have all the necessary documents and information required for a successful immigration application. They provide regular updates on the status of your application and ensure that you are informed every step of the way.
Quick Processing
Immigration processing times can vary from a few weeks to several months, depending on various factors such as country of origin, the type of visa, and the immigration program you are applying for. Oasis Resource Management understands the importance of a quick processing time and works diligently to ensure that your application is processed as quickly as possible. They leverage their experience and knowledge of immigration laws and policies to expedite your application and provide a faster immigration journey.
Peace of Mind
Immigrating to a new country can be stressful, with many uncertainties and challenges along the way. Oasis Resource Management understands the importance of peace of mind and provides you with the support and guidance you need to navigate the immigration process with confidence. Their experienced immigration consultants can answer all your questions and provide you with the information you need to make informed decisions about your immigration journey.
Conclusion
In conclusion, immigrating with the help of Oasis Resource Management can make your immigration journey smooth, stress-free, and successful. Their expert guidance, tailored solutions, end-to-end services, streamlined processes, quick processing times, and peace of mind are just a few of the benefits that make them a top choice for anyone looking to immigrate to Canada.
With over 23 years of experience in the field of immigration, they have helped thousands of people realize their dreams of immigrating to a new country. If you are planning to immigrate, consider Oasis Resource Management for a successful and stress-free immigration journey.
If you want to immigrate to Canada, Australia, United Kingdom, Hong Kong etc please contact Oasis Resource Management for comprehensive application process support. You may reach their visa specialist at +91-9311254550 or email us at info@oasis-india.com.
Follow us on:
https://twitter.com/oasisvisas
https://www.instagram.com/oasis.resource.management/
https://www.facebook.com/OasisResourceManagementPvtLtd/
Rupinder Juneja
HR Partner | Oasis Resource Management Pvt. Ltd.
Email: info@oasis-india.com | WhatsApp International Helpline No.: +1 431 302 8880
We'll devote the individual attention it requires to your immigration case.
If you would want our services in applying for and getting a visa, please do so, and we will provide you the support you need to achieve your dreams. We encourage our staff to be honest, open, and customer-focused, and the rest is history.
(Above mentioned article is a consumer connect initiative, This article is a paid publication and does not have journalistic/editorial involvement of IDPL, and IDPL claims no responsibility whatsoever.)