Tral: About 1,500 people gathered in Jammu and Kashmir's Tral to take part in the funeral procession of Lance Naik Mohammed Iqbal Sheikh and his father.
The two sons of Tral, the area known to security officials as a hub of Jaish-e-Mohammed sympathisers and activists, were killed in an attack on the Sunjuwan military camp in Jammu by the terror group.
As the bodies of Sheikh and his father Mohi-ud-din Sheikh were brought, the Rishipora area echoed with the wails of the soldier's young widow, Shabnama. Iqbal, 32, who had served the Army for 12 years, married Shabnama two years ago. Their son is 18 months old.
"Iqbal had insisted that his father come and live with him in his camp. It was his first posting to the home state and he wanted his father to live with him so that he could avoid the harsh winter of the South Kashmir area," Tariq Ahmed, the soldier's cousin.
"What is happening is not right," said a local resident. "These were our own people. What crime did he commit to deserve this death? The bloodshed must stop," he added.
Another person present at the funeral recalled that Iqbal was a jovial man who always had a smile on his face. Cousin Ahmed remembered how happy Iqbal was on being posted to Sunjuwan.
"This was his first home state posting in his 12 years of Army service during which he was posted across the country," he said.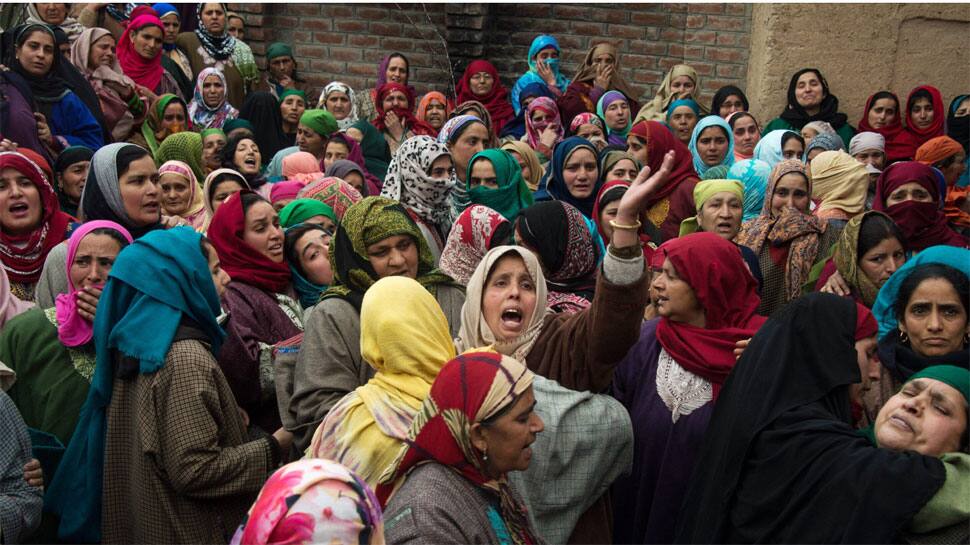 Speaking on the condition of anonymity, an official said that people may have attended the funeral of Hizbul terrorist Burhan Wani in large numbers in 2016 because they feared the local terrorists, but the gathering for a jawan's funeral procession showed they were ready to defy the diktats of terror organisations, PTI reported.
A group of terrorists struck the residential quarter inside the Army camp at Sunjuwan on Saturday, killing seven people - six soldiers, including two junior commissioned officers (JCOs) and father of one of the slain soldiers - and injuring 10 others.
Three heavily-armed JeM terrorists were killed in the retaliatory action by the Army. 
Gen Bipin Rawat #COAS & All Ranks #IndianArmy salute supreme sacrifice of Hony Lt Madan Lal Choudhary, Sub Mohd Ashraf Mir,Hav Habibullah Quareshi,Hav Rakesh Chandra, Nk Manzoor Ahmed Deva & L/Nk Mohd Iqbal Sheikh & offer condolences to the family members of the Bravehearts. pic.twitter.com/m7zCrr0S0m

— ADG PI - INDIAN ARMY (@adgpi) February 13, 2018
Meanwhile, Jammu and Kashmir Chief Minister Mehbooba Mufti on Tuesday morning led the wreath-laying ceremony organised to pay tributes to four of the six soldiers who were killed in the attack.
Later in the day, Army bid adieu to another soldier whose body was recovered on Monday late night from the encounter site.
Deputy Chief Minister Nirmal Singh, ministers Abdul Haq Khan and Choudhary Zulfkar, state BJP president and MLA Sat Sharma, among others, were present in the ceremony.
Attended wreath laying ceremony of Army personnel who lost their lives in #SunjuwanArmyCamp terror attack. May their soul rest in peace.
Jai Hind pic.twitter.com/6gDtUz30bU

— Dr Nirmal Singh (@NirmalSinghBJP) February 13, 2018
JCO Madan Lal Choudhary (50) of Kathua was cremated with full military honours at his village on Monday, while the body of Havaldar Rakesh Chandra of Pauri Garhwal district in Uttarakhand was recovered from the scene of the gunfight on Monday night.
A wreath-laying ceremony was held separately for Havaldar Chandra at the technical airport. Senior Army officers led by Lt Gen Mohan and General Officer Commanding of Tiger Division Maj Gen Sanjay Singh paid rich tributes to the slain soldier.
(With PTI inputs)