Two Independent MLAs withdraw support from Karnataka govt, CM says 'enjoying it'
Congress has been alleging that the BJP is attempting to topple the Congress-JDS government.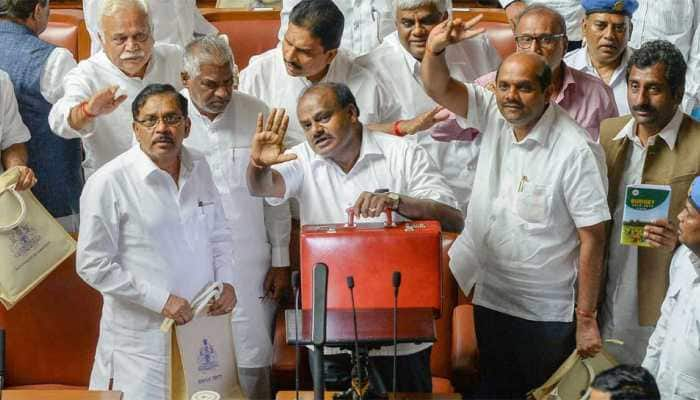 BENGALURU: Two Independent MLAs, H Nagesh and R Shankar, on Tuesday withdrew support from Chief Minister HD Kumaraswamy-led government in Karnataka amid allegations of the Bharatiya Janata Party (BJP) attempting to topple the state government. However, the CM has yet again said that there is nothing to worry and that the government remains stable.
After withdrawing support, Independent MLA R Shankar said that he had taken the step as he wants a change in the government. "Today is Makar Sankranti, on this day we want a change in the government. The government should be efficient, so I am withdrawing my support (to the Karnataka govt) today," he said.
2 Independent MLAs, H Nagesh and R Shankar, withdraw their support from Karnataka govt. pic.twitter.com/C34u3BNFOb — ANI (@ANI) January 15, 2019
H Nagesh also said that the government failed in providing good and stable government. "My support to a coalition was to provide a good and stable government which utterly failed. There's no understanding among coalition partners. So, I decided to go with BJP to install stable government and see that it performs better than this coalition," he said.
However, dismissing any possibility of a crisis in government, Kumaraswamy said that he is relaxed and is enjoying the developments. "If 2 MLAs withdraw their support, what will be the numbers? I'm totally relaxed. I know my strength. Whatever is going on in media in the past week, I am enjoying," he said.
Congress also claimed that the Karnataka government is in no danger. "We have been saying that BJP is luring our MLAs through money and power but their attempts to destabilise the government will fail. Our government is stable," Deputy Karnataka CM G Parameshwara said.
In the 224-member Karnataka Assembly, the current government has been formed with 80 Congress MLAs, 37 JDS, one BSP and two Independents. The BJP with 104 MLAs as needs the support of at least 14 more MLAs to make come to power.
Congress leader Siddaramaiah also attacked Prime Minister Narendra Modi asking why the BJP leaders were being allowed to "destabilise" the state government.
Mocking the Modi government's slogan of "Saaf Niyat, Sahi Vikas", Siddaramaiah tweeted: "'Mr Saaf Niyat' Narendra Modi, is allowing your disgraceful BJP Karnataka leaders to destabilise government a 'Saaf Niyat' towards democracy?"
The former CM also tweeted: "your PR slogans do not hide your actual `niyat` and your `sahi vikas` should go beyond developing resorts. First show your niyat to people."
Meanwhile, a five-star hotel in Mumbai has reportedly turned into a battleground as some Karnataka Congress and some Independent MLAs are residing there. The security at the hotel has also been hiked with senior officials of Karnataka Police present at the premises.
An ex MLA (BJP) Nelmangla Nagraj is said to be coordinating with the dissenting legislators.
Live Tv