Lok Sabha election 2019 Live updates: PM Modi takes on Mamata of targeting Hindus
Here are the highlights from all the election-related developments from Monday (May 6).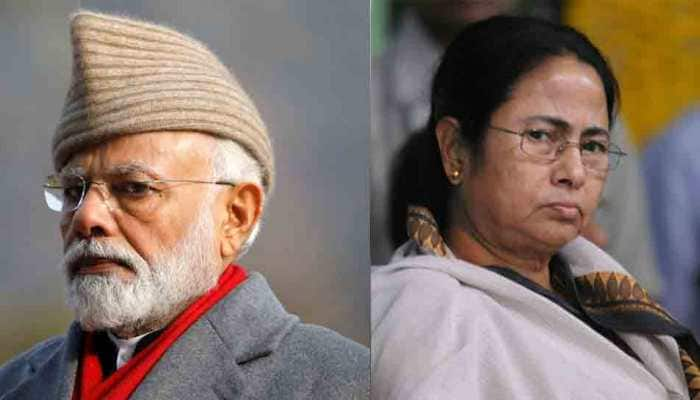 As many as 51 Lok Sabha constituencies across seven states went to polls in the fifth phase of Lok Sabha election on Monday, with campaigning gaining momentum for the sixth and seventh phases of the election. Several leaders and political bigwigs were seen touring across the country and holding election rallies and roadshows.
Here are the highlights of the 2019 Lok Sabha polls from May 6:
Thank you for joining us for latest election-related coverage from Monday. Stay tuned to Zee News for all the developments from Tuesday.
* Congress delegation tells EC to take action against PM Modi over remarks on Rajiv Gandhi. (Read full report here)
* Om Prakash Rajbhar resigns from Yogi Adityanath government in Uttar Pradesh. (Read full report here)
* Rahul Gandhi cancels today's scheduled visit to Amethi. Smriti Irani lashes out against Congress president. (Read full report here)
* Prime Minister Modi targets Mamata at a rally in West Bengal's Jhargram:
- Mamata has been putting people in jail for no reason at all. People are being put in jail for chanting Lord Ram's name. Is chanting the God's name wrong?
- Lord Ram broke the arrogance of many, how long can your arrogance last?
- TMC is insulting Ramayana and Mahabharata
* News agency ANI reports that EC has relaxed the Model Code of Conduct in Maharashtra and allowed the state government to carry out drought relief work.
* Prime Minister Narendra Modi has crossed all levels of decency by insulting the late Rajiv Gandhi, said Indian Overseas Congress chief Sam Pitroda.
* Aam Aadmi Party (AAP) national convenor Arvind Kejriwal alleged that Narendra Modi's nationalism is "fake" and asked which "nationalist prime minister" gets the chief minister of the national capital "attacked".
* Could not take PM's call on cyclone Fani as I was in Kharagpur: Mamata Banerjee at rally. Read full report
* The Supreme Court Monday asked Congress MP Sushmita Dev to bring on record the Election Commission's orders giving clean chit to Prime Minister Narendra Modi and BJP President Amit Shah on complaints of Model Code violations.
* A dissent given by an election commissioner has to be noted in files and the complainant has a right to know whether the order passed by the Election Commission was unanimous, two former chief election commissioners have said.
* Jammu and Kashmir tells Supreme Court traffic on national highway restricted due to elections, order will remain in force till May 31.
* Bahujan Samaj Party (BSP) President Mayawati has indicated that if she gets a chance to become the Prime Minister, she will contest the Lok Sabha election from Ambedkar Nagar.
* Maharashtra Navnirman Sena (MNS) chief Raj Thackeray has strongly condemned Prime Minister Narendra Modis utterances on late Prime Minister Rajiv Gandhi, saying the "country will not forgive him for the remarks".
* Dismissed Tej Bahadur Yadav moves Supreme Court against the rejection of his nomination paper from Varanasi. Advocate Prashant Bhushan to appear for the sacked BSF jawan. Read full report
* Congress president Rahul Gandhi may arrive in Amethi today at around 2 pm. Rahul is contesting from Amethi Lok Sabha constituency, considered as his family bastion, against BJP's Smriti Irani.
* I tweeted an alert to administration and Election Commission (alleging booth capturing in Amethi). I hope they take action. People of the country have to decide whether this kind of politics of Rahul Gandhi should be punished or not: Smriti Irani
Smriti Irani: I tweeted an alert to administration and EC(alleging booth capturing in Amethi), hope they take action. People of the country have to decide whether this kind of politics of Rahul Gandhi should be punished or not pic.twitter.com/v0hkw3HA6u — ANI UP (@ANINewsUP) May 6, 2019
* The SP-BSP-RLD alliance is no challenge for BJP in Uttar Pradesh. I don't want to comment on SP-BSP-RLD joint candidate Poonam Sinha, as I believe elections are not about individuals but about issues: Rajnath Singh
Rajnath Singh,Lucknow BJP candidate: The Mahagatbandhan is no challenge for BJP here. I don't want to comment on her(SP-BSP-RLD candidate Poonam Sinha), as I believe elections are not about individuals but about issues. pic.twitter.com/FdwsHdj7nd — ANI UP (@ANINewsUP) May 6, 2019
* Priyanka Gandhi Vadra did not know my name 5 years back btu now she keeps taking my name. It's such an accomplishment. Nowadays she takes her husband's name less and my name more: Smriti Irani
* A person died as he was denied treatment at hospital where Rahul Gandhi is trustee in Amethi just because he had Ayushman Bharat card. This family (Gandhi family) has betrayed everyone and only cares about politics: Smriti Irani. Read full report
* Congress leader Pramod Tiwari on Sunday condemned Prime Minister Narendra Modi`s remarks against former Prime Minister Rajiv Gandhi and said that he will serve a legal notice to him. In a statement, Tiwari said that Prime Minister Modi has already accepted his defeat in the ongoing Lok Sabha elections, hence he is making such statements.
* Defence Minister Nirmala Sitharam to address an election rally at 12 noon at Shambhunath engineering college in Jhalwa, Prayagraj.
* PM Narendra Modi to address public at 3 pm in Chaibasa today in support of BJP candidate Laxman Giluwa who is contesting from Singhbhum Lok Sabha constituency in Jharkhand.
PM Modi's schedule in West Bengal and Jharkhand today:
10.35 am: Rally at Tamluk, West Bengal
12.20 pm: Address public at Jhargram, West Bengal
2.15 pm: Address gathering at Chaibasa, Jharkhand
* Uttar Pradesh CM Yogi Adityanath to address the public at Itwa tehsil of Siddharth Nagar in support of BJP candidate from Domariyaganj constituency Jagdambika Pal, who is contesting from here.
* BSP supremo Mayawati will campaign in Badalpur today. She will address the public at 11 am at Chota Parade Ground.
* Samajwadi Party president Akhilesh Yadav will campaign for joint candidate of SP-BSP Kunwar Akhilesh Singh at 12:10 noon in Maharajganj
* Telangana Chief Minister K Chandrashekhar Rao will meet the Chief Minister of Kerala Pinarayi Vijayan in Trivandrum on Monday at 6.00 pm. In view of Parliament election, both the CMs will discuss contemporary politics. Later, KCR will visit Rameshwaram and Srirangam temples in Tamil and as part of his pilgrimage.
The TRS chief has been proposing a non-BJP, non-Congress federal front at the Centre.
* Maharashtra Chief Minister Devendra Fadnavis will campaign in Indore today. He will address the media today at 6 pm and will inaugurate the party election office at around 8:30 pm near ITI Road, Gauri Nagar, Indore.
* BJP leader and former Madhya Pradesh CM Shivraj Singh Chouhan to campaign for BJP's Bhopal Lok Sabha candidate Sadhvi Pragya Singh Thakur in Anna Nagar assembly at 7pm in Narela. He will hold a roadshow at 8 pm in north Bhopal.
Live Tv