New Delhi: E-commerce major Flipkart is hosting giving smartphones at dirt cheap prices at its ongoing 'Super value week' sale.
The 7-day sale that started on June 18 and it will continue till June 24. Flipkart is offering huge discounts on a host of smartphones including Google Pixel 2, Moto X4, Xiaomi Redmi Note 5 and iPhone.
The discounts can be availed in form of buyback. Customers will have to purchase buyback gurantee policy at Rs 199 along with the phone and get assured exchange value on select phones. There will be Rs 8,000 cashback on transactions on HDFC Bank credit cards.
Under the sale Google Pixel 2 128GB is being sold at an effective price of Rs 10,999 while the Moto X4 will be sold at effective price of Rs 6,999.
Check out the chart below to find out how the buyback price works out: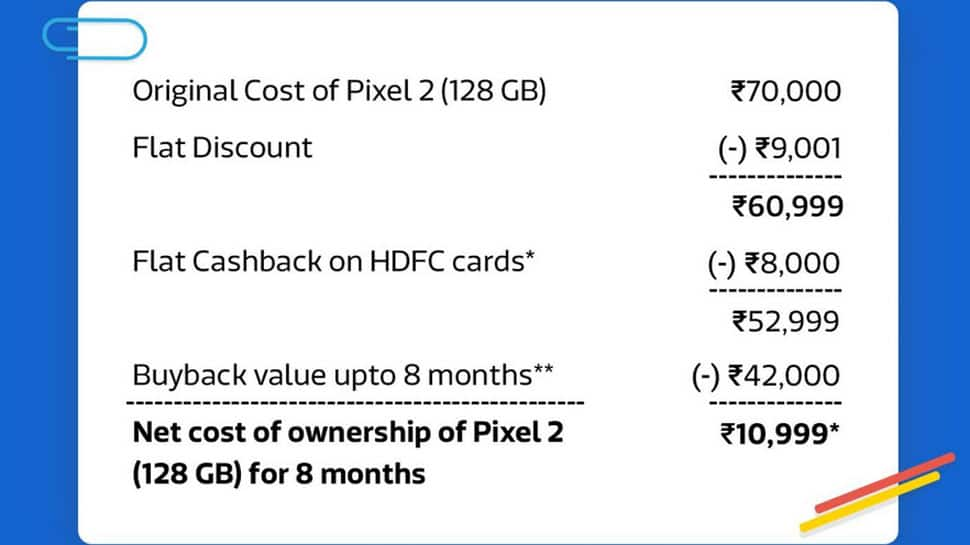 Other smartphones on assured buyback are:
Google Pixel 2 (64GB)
Inclusive of Rs 35,000 buyback value
Google Pixel XL (64GB)
Inclusive of Rs 37,000 buyback value
Google Pixel 2 XL (128GB)
Inclusive of Rs 44,000 buyback value
Moto X4 (4GB)
Price: Rs 22,999
Available at Rs 6,999
Rs 16,000 buyback value
How does Buyback Guarantee work?
Flipkart explains that a Buyback Guarantee is a paid offering that provides an assured buyback value for your phone. This buyback value can be availed as a discount on the next phone purchase from Flipkart.
At the time of purchase of your next phone, you simply opt for 'Buy with Exchange' on the product page and the discount is applied for the phone you're purchasing. Post order placement, the Flipkart delivery agent will take back your old phone and handover your new phone.