Mumbai: Negating initial reports that the tragic fire at two restro-bars in Kamala Mills on December 29 may have started from 1 Above, Mumbai's fire department in its report said that it was in fact a lit charcoal used in a hookah that resulted in the blaze.
In its investigation report, the department has said that based on observations and statements from witnesses, the probable cause of fire was a lit charcoal. "The probable supposed cause of the fire is derived from 'Flying Embers' i.e Burning/lighted flying embers from the lighted charcoal segree came into contact with the combustible material used for curtain in Mojo's Bistro Restaurant and very rapidly spread to unauthorised highly combustible thatched roof of 1 Above Restaurant (where no permission was issued)," read the report.
The fire department also said that Mojo's Bistro could not produce any documents from competent authority which is required to run a business.
Some of the key points from the investigative report are:
* Careless disposal of lit cigarettes.
* Bar tenders performed fire tricks.
* Use of pedestal fans for fanning the lit charcoal and during removal from hookah, embers landing on combustible curtains.
* Fire spread rapidly due to: a) Large number of combustible materials stored, b) Synthetic cloth, decorative materials and erected back-drop on east-side of terrace, c) Stock of bottles/tins containing beer/liquor stored and lying on serving tables and in counter/storage area, d) Storage of large quantity of plywood, wooden props, glass wool etc, e) Continous structure without any segregation, f) Wind velocity and wind direction, and g) Not a single management, security, staff personnel from Mojo's Bistro and 1 Above raised an alarm when the fire started.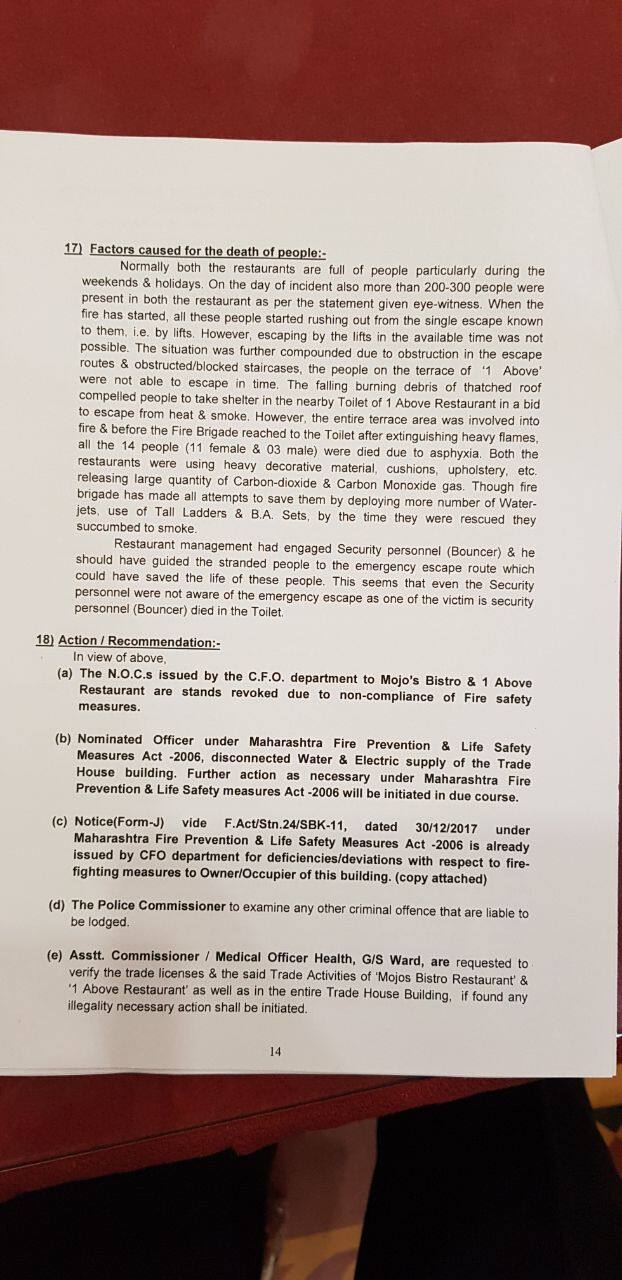 Mojo's Bistro is owned by Yug Pathak, son of IPS Officer KK Pathak. An investor from Pune, Yug Tuli, is a partner. Siddharth Mahadevan, son of noted singer Shankar Mahadevan, is also a partner.
1 Above is co-owned by  Kripesh Mansukhlal Sanghvi, Jigar Sanghvi and Abhijeet Mankar. They have since absconded. An offence of culpable homicide not amounting to murder under sections 304, 337, 338, 34 of the Indian Penal Code has been registered against them. On Friday, Mumbai Police announced Rs 1 lakh reward for anyone who provides information about their whereabouts.