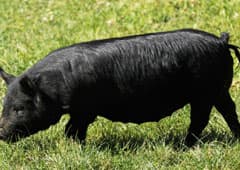 Zee Media Bureau
Guwahati: A survey carried out in the Manas National Park in western Assam last week has yielded results with the detection of the two highly endangered as well as elusive species like Pygmy hog (Porcula salvania) and Hispid hare (Caprolagus hispidus).
Bringing smiles on wildlife enthusiasts` face, the survey has detected a total of 20 nests of Pygmy hog in three locations. The survey has also found pellets of the Hispid hare (Caprolagus hispidus) in almost all of 17 camp site locations.
The survey on Pygmy hog and Hispid hare has not only brought out the status of their habitats, but also raised hopes for their long term conservation.
The Manas National Park, which is located about 200 km away from Assam`s main city Guwahati, is known to be the last remaining of the wild habitat of the critically endangered pygmy hog (the smallest and rarest wild pig) in the world. The park is also a Unesco World Heritage site, a Project Tiger Reserve, an Elephant Reserve and a Biosphere Reserve.
"A total of 17 camp sites under prime grassland habitat were surveyed under two ranges of the park - Bansbari and Bhuyanpara. GPS-based sign survey method was used to look for indirect signs such as pygmy hog droppings, nests and hispid hare pellets and feeding signs," Sonali Ghosh, Manas tiger reserve deputy director, who was also part of the survey team was quoted as saying.
The team led by the Assam Forest Department included grassland experts like Bibhuti Lahkar from wildlife conservation NGO Aaranyak, Gitanjali Banerji from the Zoological Society of London, Kaushik Deuti from the Zoological Survey of India and several researchers.
While the specific focus of the survey was the Pygmy hog (Porcula salvania) and Hispid hare (Caprolagus hispidus), it also received direct evidence for other grassland obligate species like Hog deer (Hyelaphus porcinus), Swamp deer (Rucervus duvaucelii) and Bengal florican (Houbaropsis bengalensis).
Anindya Swargowary, field director of Manas park, welcomed the preliminary results for Pygmy hog, which were earlier thought to be declining in number at the park.
He said, "with this result, Manas is back on track as one of the last strongholds for these endangered species in the wild," adding that the numbers of these grassland species need to be periodically monitored and forest staff will be trained for the purpose.
The survey team will submit a report to the state government that will include recommendations for making population estimation an annual feature using non-invasive methods.
With Agency Inputs