Hyderabad: Congress vice-president Rahul Gandhi participated in a hunger strike to demand justice for Dalit student Rohith Vemula , who had committed suicide at Hyderabad University. Gandhi is also likely to address the students here.
Here are highlights:
Rahul Gandhi should not protest there, should be worrying for the future of University of Hyderabad students, this is my appeal, says Union minister Nitin Gadkari.
Congress counter's BJP attack over Rahul Gandhi attack 
"For BJP, Dalit issues are political gimmicks. But for us, they are the lifeline of this country," says Congress leader Tom Vadakkan.
Hyderabad University V-C speaks out
This is an inclusive university, we have a very large Dalit population here, says M Periasamy, new Interim V-C of Hyderabad University.
"Would like to bring normalcy to University of Hyderabad, We will see what we can do about students' demands," said M Periasamy.
BJP targets Rahul Gandhi for his Hyderabad visit
The way insensitivity has been shown by Rahul Gandhi, is the reason why I say Rahul and responsibility cannot go together, says BJP spokesperson Sambit Patra
"Constant attempt to make Rohith Vemula issue a Dalit vs non-Dalit one," added Patra. 
A young life full of dreams and aspirations was cut short, says Rahul Gandhi
I am here today at the request of Rohith's friends and family, to stand with them in their fight for justice: Rahul Gandhi
We owe it to him, to memory of Gandhiji, to every single Indian student who dreams of an India free from prejudice & injustice: Rahul Gandhi
Rohith Vemula's mother and brother also join hunger strike​.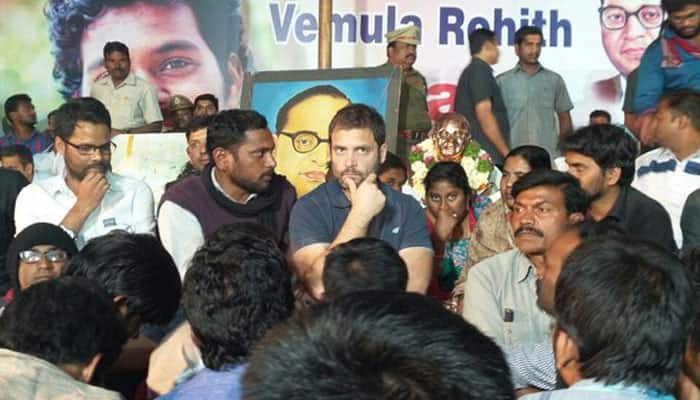 Rahul Gandhi joins hunger strike with four other students at Hyderabad University campus.
WATCH: Congress vice president Rahul Gandhi joins hunger strike in University of Hyderabadhttps://t.co/TrMitlQUQy

&; ANI (@ANI_news) January 30, 2016
Rahul Gandhi reaches University of Hyderabad 
Congress Vice president Rahul Gandhi arrives at the protest site in University of Hyderabad. pic.twitter.com/LzTPcKU7a5

&; ANI (@ANI_news) January 30, 2016
ABVP calls for state-wide shutdown of colleges in Telangana against Congress vice president Rahul Gandhi's visit to Hyderabad Central University .
Security tightened in University of Hyderabad ahead of Rahul's visit, checks being conducted