New Delhi: Nowadays, a number of WhatsApp users are getting a message about Indian Army Welfare Fund. 
The message has gone massively viral as it talks Narendra Modi government's initiative about how a common man can donate money for purchasing weapons for the Indian Army and providing facilities for war casualties. 
But, is it a hoax or genuine message? Here is the truth -
The MESSAGE going viral on WhatsApp:-
"Pay only Rs 1 per day (Rupee one only).
Like never before, the Modi government has started a new scheme exclusively for the Indian Army Battle Casualties and Weapon Purchase. The government has opened a bank account where people can donate funds directly to the Army Welfare Account which will be used for purchasing weapons for the Indian Army and providing facilities for war casualties.
People had suggested to the government to open a bank account to collect funds exclusively for battle casualties and purchasing weapons for the army, the Modi government has accepted the suggestion and opened an account in Syndicate Bank, New Delhi for the same. The most attractive feature of this scheme is that people can donate the smallest amount of ONE RUPEE. This is a Master Stroke by the Modi government.
Our country's population is 130 crore, even if 100 crore people (70%) deposit One Rupee Each, the ministry will get Rs 100 Crore/day, Rs 3000 Crore/month and Rs 36000 Crore/year.
Rs 36,000 Crore is greater than Pakistan's total defence expenditure.
We spend hundreds and thousands of rupees on many unnecessary things, if we can spend ONE RUPEE for the Army, it can surely make India a SUPER POWER. 
The money will directly reach the Defence Ministry for the Army's benefit and war casualties.
This is a unique idea to help our Army Jawans who have lost their life in battle.Members of my family and some friends have already made their contribution
Come together, show solidarity with our DEFENCE FORCES, PARA MILITARY FORCES and CRPF.
JOIN THE MISSION TO MAKE INDIA A SUPER POWER !
Bank Details :
BANK : SYNDICATE BANK
BRANCH : SOUTH EXTENSION, NEW DELHI.
A/C NAME : ARMY WELFARE FUND BATTLE CASUALTIES
A/C NO : 90552010165915
IFSC CODE : SYNB0009055
Please circulate as much as you can."
Now, Indian Army has offered a clarification on the viral WhatsApp message on Twitter:-
Clarification on the Issue of Army Welfare Fund Battle Casualties pic.twitter.com/U3BjOcwK5t

— ADG PI - INDIAN ARMY (@adgpi) September 2, 2016
Syndicate Bank too issued a statement in this regard. Here's the statement:-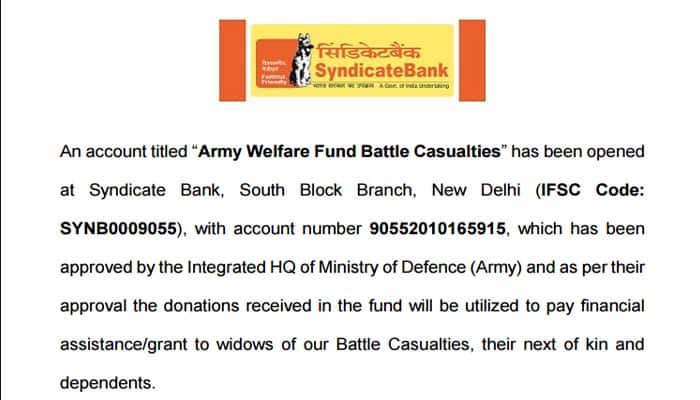 TRUTH - Yes, you can help India's war heroes!
Keeping all above aspects of statements issued by Indian Army and Syndicate Bank, we can conclude the account titled "Army Welfare Fund Battle Casualties" has been opened at Syndicate Bank, South Block Branch, New Delhi (IFSC Code: SYNB0009055), with account number 90552010165915, which has been approved by the Integrated HQ of Ministry of Defence (Army).
The donations received in the fund will be utilized to pay financial assistance/grant to widows of our Battle Casualties, their next of kin and dependents.