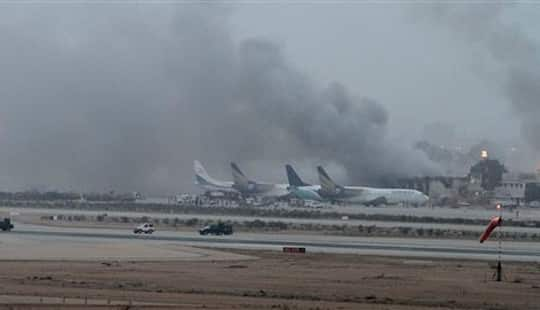 Zee Media Bureau/Supriya Jha/Sushmita Dutta
8:00 pm: Pakistan steps up security at nuclear bases
Pakistan stepped up security around nuclear facilities, military bases and government offices on Monday, as more details emerged of how 10 militants brought chaos to the country`s busiest airport.
7:30 pm: `Jinnah Airport is LIVE & BACK!`
Soon after the Jinnah International Airport in Pakistan`s Karachi reopened, Pakistan`s Civil Aviation Authority (CAA) wrote on microblogging website twitter - "Jinnah Airport is LIVE & BACK!."
Good Evening WORLD, thank you for your tweets, concern, questions, criticism & patience. #Jinnah Airport is LIVE & BACK! #Pakistan

— CAA Pakistan (@AirportPakistan) June 9, 2014
Pakistan`s Civil Aviation Authority (CAA) further said that the terminal has became operational once again.
#PK308 KHI-ISB departs from #Jinnah International for #Islamabad. Delayed ETA 2100.

— CAA Pakistan (@AirportPakistan) June 9, 2014
06:22 pm: Indian Home Minister Rajnath Singh reviews security arrangements
India today condemned the terrorist attack at the Karachi airport in Pakistan.
Meanwhile, Union Home Minister Rajnath Singh reviewed the security arrangements for airports.
06:00 pm: Jinnah International Airport reopens for passengers
The Jinnah International Airport in Pakistan`s Karachi reopened to passengers today afternoon following Sunday night`s terrorist attack in which 28 people were killed and 25 others injured, local officials said.
Pakistan`s Civil Aviation Authority (CAA), in its statement, said the airport was reopened to passengers after the security forces declared it clear.
05:00 pm: Karachi airport attack kills 28, including 10 militants
According to the BBC, a total of 28 people, including 10 terrorists were killed in the deadly airport attack. There were 18 bodies and 24 wounded in the hospital, the BBC quoted Dr Semi Jamali, head of Jinnah hospital`s emergency department.
04:35 pm: MEA condemns terror attack at Karachi airport
The Ministry of External Affairs, India has condemned the brazen attack at the Jinnah International Airport, saying that the "attack underlines the magnitude of danger posed by terrorism".
03:20 pm: Taliban fighters planned to hijack planes
Disguised as Airport Security Staff, Taliban fighters who attacked Karachi`s Jinnah International Airport, had planned to wreck havoc by hijacking planes, said Taliban spokesperson Shahidullah Shahid.
"The main goal of this attack was to damage the government, including by hijacking planes and destroying state installations," Reuters quoted Shahidullah Shahid.
02:30 pm: All Indian airports on high alert
The Ministry of Home Affairs has issued an advisory directing all states to beef up security at airports across the nation in wake of the deadly terror attack on Jinnah International Airport in Karachi.
In Delhi, security has been tightened at both terminals of the Indira Gandhi International Airport (IGIA) with over 5,000 Central Industrial Security Force (CISF) personnel deployed for the airport`s security.
02:00 pm: `Final clearance of airport completed`
The Jinnah International Airport has been given the final clearance, said DG ISPR Asim Bajwa in a tweet. He added that the security forces had handed over the airport to CAA/ASF and it would be opened at 14:00 pm.
#Kci Update:Final Clearance of entire Airport completed.Airport handed over to CAA/ASF, likely to open at 1400hrs

— AsimBajwaISPR (@AsimBajwaISPR) June 9, 2014
01:40 pm: `Please call 114 before heading to Jinnah airport`
The CAA Pakistan has informed that operations at Jinnah airport remain suspended until further notice and those heading to the airport must call 114 for more details.
01:30 pm: Airport attack revenge for Hakimullah Mehsud`s death, say Taliban
While accepting responsibility for the deadly airport seige that lasted for hours, the Tehreek-e-Taliban Pakistan (TTP) group said it was in revenge for the killing of its late leader Hakimullah Mehsud. (Mehsud was killed in a US drone strike in November.)
Speaking to the AFP, TTP spokesman Shahidullah Shahid also threatened more attacks, and slammed the Pakistan government`s peace talks offer as "a tool of war".
"It's just the beginning, we have taken revenge for one (Mehsud), we have to take revenge for hundreds."
12:30 pm: Terrorists had stocked up dry food supplies
In what suggests that the militants were planning to stage a longer and deadlier siege, as they had stocked up enough dry food supplies, reported the BBC.
12:00 pm: Massive search ops on at the airport
Pakistan Civil Aviation Authority has tweeted that a massive security operation was being carried out by Pakistani security forces who were combing through the airport before it is declared safe.
Massive search operation being carried out by security officials at #Jinnah International after #KarachiAirportAttack.

— CAA Pakistan (@AirportPakistan) June 9, 2014
11:55 am: `Attack over, all militants cleared`
All the militants have been eliminated and the attack is over, Paramilitary Rangers spokesman Sibtain Rizvi told reporters.
"The attack is over and we have cleared the area of all militants, and we will hand over the airport to the Civil Aviation Authority at 12pm (0700 GMT)", the AFP quoted Rizvi as saying.
11:00 am: Hafiz Saeed points the finger at Narendra Modi
Known for his anti-India rhetoric, JuD chief Hafiz Saeed on Monday blamed India for the brazen airport attack, calling it an "act of war" by Narendra Modi`s security team.
In a series of tweets, Saeed called the attack as Modi`s plan against Pakistan and also slammed the Pak government for "appeasing new `Hindutva` Government (of India)".
The spectacle at #KarachiAirport is Modi's plan against Pakistan. Direct response of needless appeasement of new 'Hindutva' Government.

— Jamat 'ud' Da'wah (@JuD_Official) June 8, 2014
#KarachiAirport is an attack on Pakistan. Modi's new security team is behind this act of war by India. Nation knows the real enemy.

— Hafiz Muhammad Saeed (@HafizSaeedJUD) June 9, 2014
10:50 am: Uzbeks involved in airport attack?
In a press conference held earlier today, DG Rangers Sindh Major General Rizvan Akhtar said that the militants "appear to be Uzbeks".
He added that out of ten terrorists killed, three were suicide bombers and seven were gunned down by security forces.
10:40 am: Hundreds of civilians rescued
Over 700 passengers who were stranded at the airport, have been rescued by now. The Pakistan military is yet to declare the area as safe and clear.
10:20 am: Fire in cargo, airport not yet declared clear
The explosion by the terrorists who detonated themselves, led to a cargo cathching fire. TV visuals showed thick plumes of smoke billowing out from that area of the airport.
10:00 am: Explosions heard, terrorists blow themselves up
According to the latest report, the terrorists who were being confronted by the security forces, have blown themselves up. Two huge explosions were heard. The area where the terrorists detonated themselves, is said to be an area of the old terminal, near Fokker Gate. It is not yet clear if more terrorists remain holed up in the area.
9:30 am: Firing on, fresh searching operation begins
Firing is still on within the workshop area of the airport and Pakistan security forces including Rangers personnel are battling two or three terrorists.
9:20 am: One Pakistan Rangers personnel injured in fresh firing
In the fresh firing that resumed on Monday morning, a Pakistan Rangers personnel was said to have been injured. TV visuals showed the injured soldier being rushed outside for treatment.
9:10 am: At least two terrorists holed up within the Airport?
Despite an earlier claim made by DG ISPR that all terrorists had been killed, fresh reports have emerged saying that at least two or three terrorists might still be lurking within the airport as firing sounds were heard again from the workshop area.
9:05 am: Firing heard again at the old terminal of Jinnah International Airport
Contradicting earlier claims by the Pakistan Army, that the airport had been cleared and all the terrorists have been killed, fresh reports say that firing has started again at the old terminal`s "white body" area and some terrorists might still be lurking in the area.
9:00 am: Tehreek-e-Taliban claim responsibility
The responsibility for the brazen attack on the airport that killed 23, has been owned by the terror outfit Tehreek-e-Taliban.
The militant outfit said that the attack was launched in retaliation to the Pakistan Army`s air strikes in areas along the Afghan border where the insurgents are based, reported the Reuters.
"We carried out this attack on the Karachi airport and it is a message to the Pakistan government that we are still alive to react over the killings of innocent people in bomb attacks on their villages," said Shahidullah Shahid, a Taliban spokesman.
8:45 am: Nawaz Sharif hails security operation to clear the airport
PM Nawaz Sharif was quick to appreciate the security operation undertaken by the Pak security forces including Sindh Rangers and Airport Security Staff, that cliamed to have taken control of the airport and declared that the area was cleared.
Nawaz Sharif praised the handling of operation saying that the security forces protected national assets with great courage & valour, tweeted Radio Pakistan.
8:30 am: Suicide jackets, live bombs recovered
A search operation was conducted on early Monday morning during which five sub-machine guns (SMGs), three suicide jackets, two rocket launchers and 12 petrol bombs were recovered, reported the Dawn.
8:00 am: "All cleared" at airport, claims top official
Director General ISPR (Inter-Services Public Relations) on early Monday morning tweeted that a total of ten terrorists were gunned down at 4:35 am and that the area had been cleared.
#Kci Update:Area cleared.No damage to aircraft, fire visible in pics was not plane but a building,now extinguished.All vital assets intact

— AsimBajwaISPR (@AsimBajwaISPR) June 8, 2014
Heavily armed gunmen laid a siege to Jinnah international airport`s old terminal in Pakistan`s financial capital on Sunday night killing at least twenty three people, including ten terrorists. 
The assailants were said to have used fake IDs to pose as Airport Security Staff and entered from the Fokker gate which is used by engineering staff to go to the runaway and han
Also Read: Karachi airport terror attack: 13 dead, all 10 gunmen neutralised
This terminal is primarily used for Haj operations. 
Pakistan has been fighting a decade-old insurgency and thousands have been killed so far.
No major headway has been made in peace talks with Taliban since February, however PM Nawaz Sharif remains hopeful.
Karachi was last rattled by a brazen attack three years ago in May 2011 when terrorists had laid a 17-hour seige to Mehran naval base, killing 10 personnel and destroying two aircraft.