Mathura: Mathura Superintendent of Police (City) Mukul Dwivedi and Farah Police Station SHO Santosh Kumar Yadav who lost their lives in the Jawaharbagh operation here on Thursday were hit by bullets in the first 10 minutes of "unprovoked" firing by the encroachers, police said on Friday.
Meanwhile, a recent post on facebook by Ravi Bhagat on Mathura violence will move your heart. It shows the before and after face of late Satosh Kumar Yadav.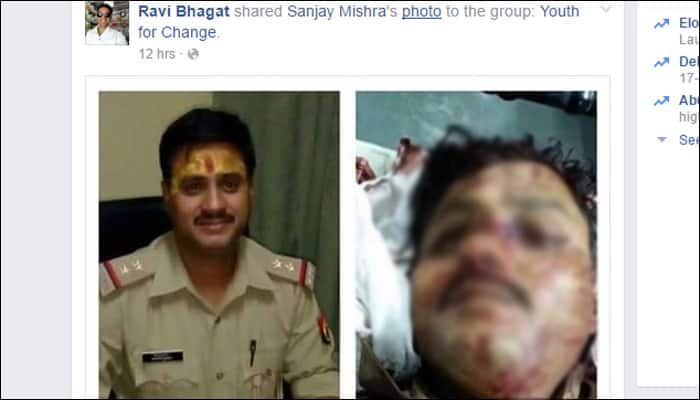 According to Uttar Pradesh police, the anti-encroachment operation started around 5 pm yesterday and the strategy was to enter Jawaharbagh by scaling the wall on its eastern side.
Jawaharbagh, spread over nearly 260 acres, is less than a km away from the district magistrate's office here. It is bound by cantonment area, police lines, a prison and government quarters.
By the time the police force could move any closer to the 5-feet-high wall fencing the land, the encroachers had started firing. Within seconds it was raining bullets and the encroachers had positioned themselves at the trees in the enclosed area.
"In the first ten minutes, five police officials had sustained bullet injuries including the SP and the SHO," a police officer said.
"Meanwhile, the protesters resorted to grenade shelling and the police team had to move back," he added, as per PTI.
After the injured policemen were rushed to the hospital, the police force took over the terraces of the government quarters on eastern side of Jawaharbagh and started stone pelting, said eyewitnesses.
Once the firing stopped for a while, the police teams scaled the wall and entered Jawaharbagh premises.
On Friday, the death toll in yesterday's Mathura clash rose to 24 and more than 40 people have been injured in the incident.
Opposition parties, especially the BJP, targetted the ruling Samajwadi Party and Uttar Pradesh Chief Minister Akhilesh Yadav over "complete breakdown" of the administration and law and order in the state.
Akhilesh Yadav meanwhile ordered a commissioner-level inquiry into the violence while the Centre sought a report from the Uttar Pradesh government on yesterday violence in Mathura, over 160 km from the national capital. Over 300 people were arrested in the violence that also left 23 policemen injured, including many seriously.
(With Agency inputs)