Ankara: They say a picture is worth a thousand words, but this one demands trillions of tears.
As a three-year-old Syrian migrant kid lay dead on a beach in Turkey, stirring peoples' consciences, I could not help but jot down these lines.
"He sleeps on the velvet of sand and sea
With as much peace that can never be,
He sleeps assured of fairies and angels
He knows not, truth is bitter than fantasy.
He sleeps with the memories of dad & mom
With a heartbreaking innocence to die for,
Better to depart this land of the heartless
where all d humanity has been 'washed ashore'.
They say a picture speaks a thousand words,
But this one is worth a trillion tears.
I cry with the sorrow of a thousand souls,
I wince at the mere thought of it,
Is humanity dead? Just as the world fears?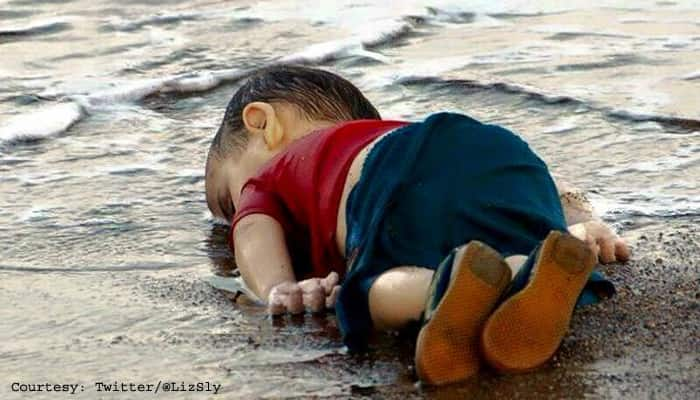 The picture above (posted on Twitter by Washington Post Beirut bureau chief Liz Sly) is that of a three year old Syrian-Kurd boy Aylan Kurdi, lying dead on Turkey's Bodrum beach.
The child is said to be one of the 11 Syrian refugees who drowned after their boat sank in a bid to reach the Greek island of Kos from Turkey. 
The picture was released by a Turkish news agency DHA and has gone viral on the social media with netizens shocked to see the true face of migrant crisis.
This is not the first case of a migrant drowning while on way to European shores, as according to International Organization for Migration (IOM), more than 2,600 migrants have died trying to cross the Mediterranean since January this year.
However, this particular picture of the three-year-old Syrian kid, has captured the worldwide attention in a way that will not be easy to forget.
A Twitter user Mustafa al-Najafi @MustafaNajafi also tweeted DHA news agency's 16-second video clip of the child lying dead on the beach as waves came and retreated.
See the video here:
A Syrian baby washed up on a beach in Turkey... Where is the humanity in people? pic.twitter.com/Bkc72mta5Z

— Mustafa al-Najafi (@MustafaNajafi) September 2, 2015
The heartbreaking picture triggered a plethora of tweets from the netizens who posted their reactions with the hashtag "humanity washed ashore".
Wednesday saw #KiyiyaVuranInsanlik (that literally means 'humanity washed ashore') trending on twitter with many expressing shock and regretting about 'humanity being dead'.
Here are some reactions triggered on Twitter by the picture:
Aylan and Galip who drowned fleeing Syria's war! The world has failed Syria and they must take responsibility. pic.twitter.com/DdMnEnuEQl

— Mustafa al-Najafi (@MustafaNajafi) September 2, 2015
That picture of a toddler washed up on the beach has broken my heart. Where has our humanity gone? #RefugeesWelcome

— Scot Williams (@scotwilliams) September 2, 2015
#KiyiyaVuranInsanlik ("humanity washed ashore") A photo instead of a million words. When will this madness stop? Where is our humanity?

— Isabella Moore CBE (@IzaKrystyna) September 2, 2015
If that image of that child washed ashore doesn't convince you that we need to do more to help then you need to question your humanity.

— Amy (@thisisamy_) September 2, 2015
There currently is a picture of a Syrian baby who was a refugee washed ashore dead. Humanity has failed. We refuse to post the picture.

— #OpIsrael (@Op_Israel) September 3, 2015
Horrific and disgusting. What's happened to humanity when children are washed up on beaches. This has broken me. pic.twitter.com/pIcZvO9uGM

— #DevonHour (@Devon_Hour) September 2, 2015
Just saw the pictures of the wee Syrian boy washed up on the beach.What kind of World are we living in? I Despair for the future of humanity

— Andy Cameron MBE (@andycameron1940) September 2, 2015
Our UK Government is a total disgrace to humanity - I am ashamed of our Government how can we stand by & let kids be washed up on beaches

— brian nason (@noseypeople2) September 2, 2015
Horrific, horrific image from refugee crisis. So many European countries being so selfish. Where is our humanity? http://t.co/h1LNODegNw

— Rob Mac Sweeney (@CritCareReviews) September 2, 2015
I hope that little Kurdish toddler washed up on a Turkish beach is a turning point for Europe. Merkel the only leader showing any humanity.

— Gillian Fitzpatrick (@gillianfitz) September 2, 2015