GOLD COAST: India won its 10th gold by defeating Malaysia in the Badminton Mixed Team event at the Commonwealth Games 2018 on Monday. Earlier, on the fifth day of Commonwealth Games 2018, ace shooter Jitu Rai scored the first gold in the 10-meter air pistol event, while Om Mitharval claimed bronze for the same event. The men's table tennis team clinched the ninth gold for India.
The day started on a bright note with weightlifter Pardeep Singh securing the first medal – a silver. India's medal tally stands at 19 – 10 gold, 4 silver and 5 bronze. Overall, we occupied the third sport on the country list.
At the top remains Australia with 38 gold, 32 silver and 33 bronze medals, followed by England with 22 gold, 24 silver and 16 bronze medals. Canada, Scotland and New Zealand - all of whom have as many or more overall medals than India - are on the fourth, fifth and sixth positions respectively as they have won lesser number of gold medals than India.
Pardeep's silver medal came in the 105-kg weightlifting event. Mehuli Ghosh and Apurvi Chandela scored the silver and bronze respectively in the women's 10-meter air rifle event. They lost the top spot to Singapore's Martina Lindsay Veloso. Defeating Nigeria, India bagged the ninth gold in Men's Team Table Tennis event.
Here is the total medals tally so far: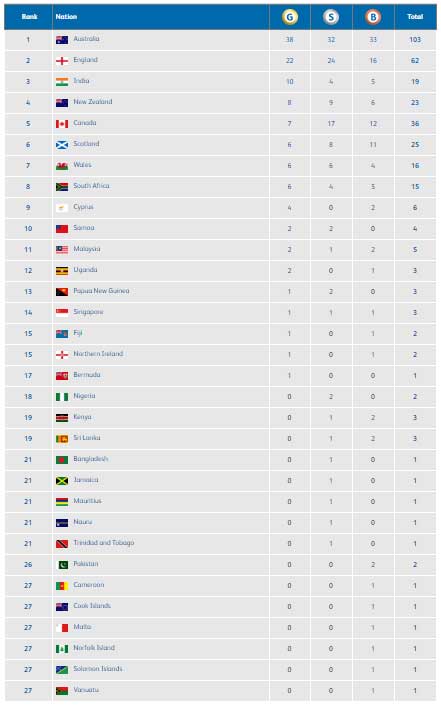 On Day 4, the Indian women`s table tennis team - paddler Manika Batra - pulled a mother of all victory to clinch her maiden gold by defeating Singapore which had never lost the game since the sport was inducted in the program way back in 2002.
Meanwhile, while Punam Yadav and Vikas Thakur continued winning in the weightlifting events and shooters Manu Bhaker, Heena Sidhu and Ravi Kumar bagged medals. Both the men`s and the women`s hockey teams also earned crucial victories.