New Delhi; New Delhi: There is a reason that every single girl out there is wishing for a 'Ranveer Singh' in her life. The actor is head over heels in love with his wife Deepika Padukone and the two continue to give us couple goals each day. Ranveer and Deepika got married on November 14 this year and since then pictures and videos of the couple are breaking the internet.
The 'Bajirao Mastani' actors are undoubtedly one of the most adorable couples of the tinsel villa. In fact, they do not shy away from expressing their fondness on social media. And they demonstrated it once again on Saturday. This time, it was special as it was for the first time after they got hitched in a private ceremony. 
Earlier today, Ranveer took to his Instagram account to share a video from his ad campaign and his dearest wifey Deepika couldn't help herself from getting drool over her handsome husband. She was quick to leave a comment on his post, that read, 'Uff!'. Lovely no?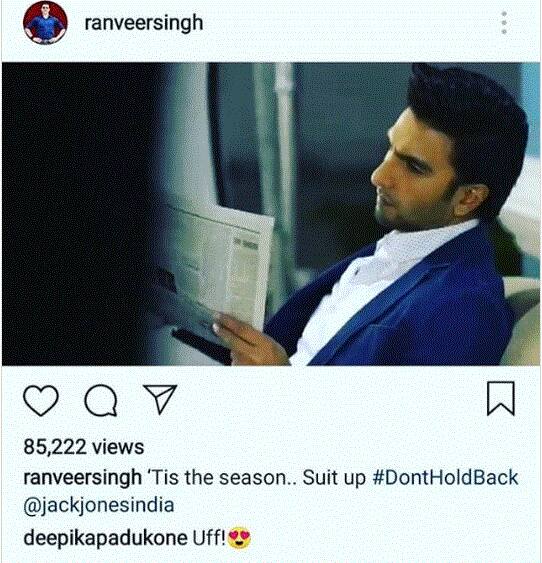 Ranveer tied the knot with his girlfriend of six years, actor Deepika Padukone in an intimate twin wedding ceremony in Italy last month. Recently, while speaking about his relation, the actor said that being best friends with one's spouse is 'key to sustaining a romantic relationship'.
"Being best friends with each other is truly dynamic. We are deeply in love with each other but above all we are best friends. We are each other's support system, companions. We have a lot of fun together. 
"Being each other's best friend is truly paramount, where you can share silences, laughter and light moments. To have somebody who makes the passing of the lifetime a pleasant experience everyday is very rare and precious," the actor told PTI in an interview.
The couple started dating on the sets of Sanjay Leela Bhansali's 'Ram Leela'. The duo then went on to feature in two more of Bhansali's films 'Bajirao Mastani' and 'Padmaavat.'
"I feel like the two greatest things I've done in my life is, one, become an actor and two, get myself the most amazing life partner one can hope for," he added.
Ranveer credits Deepika for curating every aspect of their "fairytale" wedding. "I had this fairytale wedding and I keep telling my wife that it's the stuff of dreams. I could not have even dreamed of such a wedding. It's beyond my imagination. I could never have the vision for it. She meticulously curated and designed every aspect of it.