New Delhi: As Bollywood's leading lady Deepika Padukone tied the knot with beau Ranveer Singh on Wednesday in an intimate traditional Konkani ceremony in Italy, wishes are pouring in from all corners of the world for the power couple. And DeepVeer's fans are also not behind in showering their love on the adorable couple and they are celebrating the union on the social media by changing their DPs with the hashtag #DPismy DP. 
Deepika, who made her debut in Bollywood in 2007 with 'Om Shanti Om', enjoys an unfathomable fan base. Her fans are celebrating the joyous and special occasion of their favourite superstar by showcasing their love on Twitter as they changed their display pictures with either photo with her or their favourite picture of her. 
In no time, fans got the hashtag #DPismyDP trending, depicting their love for the actress. With over 2500 tweets in just an hour, Deepika's fans showcased massive display of love and affection which has been never seen before.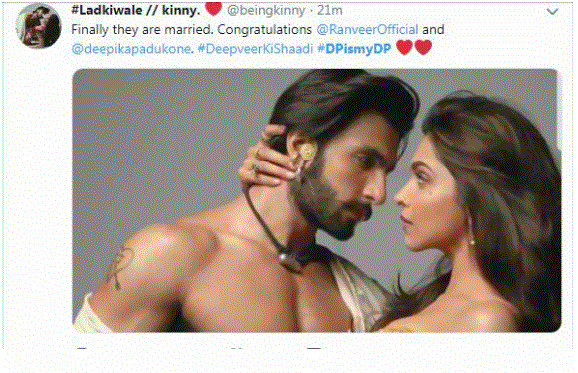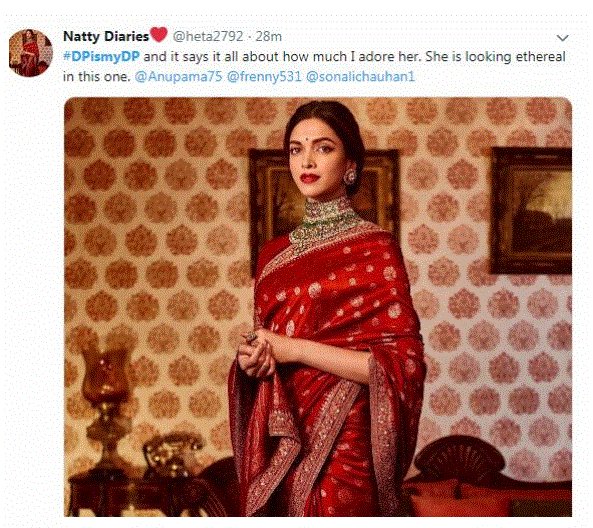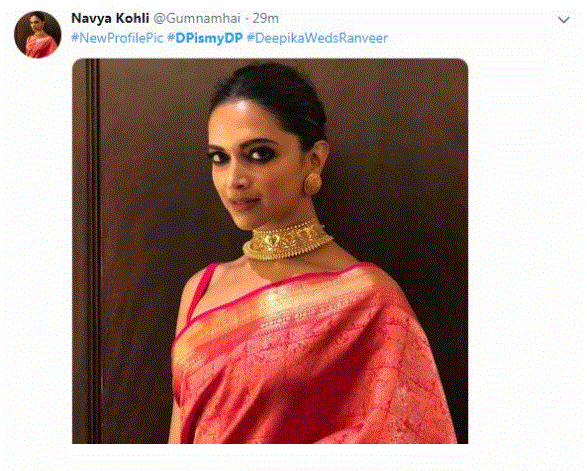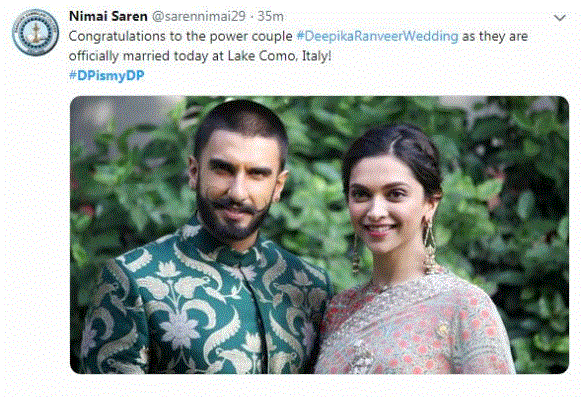 After months of will they, won't they, Deepika and Ranveer finally got married in Italy's scenic Lake Como on Wednesday but Bollywood's A couple kept things fiercely private leaving the celebrity media breathlessly waiting for scraps of information. 
In the best tradition of a celebrity wedding -- think George and Amal Clooney maybe -- the stars and their guests were ensconced in resorts tucked high above the lake ringed by mountains while the paparazzi was stationed at a safe distance, managing only grainy images and videos of the ceremony.
Though there was no official confirmation from the couple, hazy pictures and distant videos showed people lined up in a terrace done up with white flowers. 
There was also a glimpse of the couple dressed in shades of white with reports suggesting that day one was about Konkani wedding rituals while day two would be a Sindhi ceremony. While Deepika is a Konkani. Ranveer belongs to a Mumbai-based Sindhi family.
The couple declared the dates on social media in October after months of speculation but the ceremony itself was cloaked in secrecy. The day also marks the fifth anniversary of the release of their first film together -- "Ram Leela" -- on whose sets their love story is said to have taken off.
Unlike Bollywood's two earlier weddings - Sonam Kapoor-Anand Ahuja in Mumbai and Anushka Sharma-Virat Kohli in Italy -- this couple gave the media no space to broadcast their love story 'IRL', 'in real time'. Going by Deepika's admission on season six premiere of "Koffee With Karan", they have been in dating each other for the past six years.