New Delhi: Punjabi singer Parmish Verma was shot at by some unidentified assailants in Mohali on Friday. Although the singer is out of danger, a Facebook user claiming to be gangster Dilpreet Singh has put up a post saying he shot at Parmish.
He uploaded his picture with the caption: "Mein dilpreet singh dhahan sariya nu dasna chaunda k ajj parmish verma de goliya bazian apa mariya." (I, Dilpreet Singh Dhahan, want to tell everyone that I am the one who shot Parmish Verma). Dilpreet has also drawn a red cross on Parmish's picture.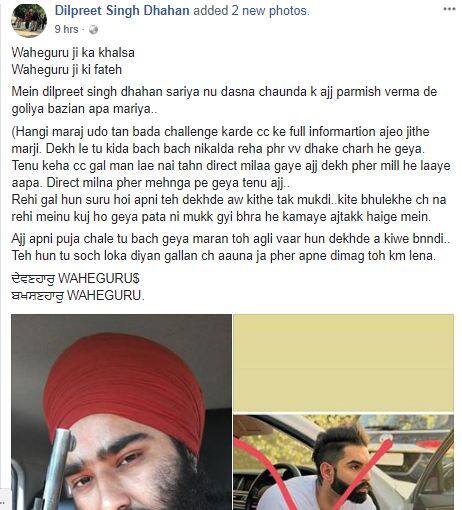 According to a PTI report Mohali Senior Superintendent of Police Kuldeep Chahal said., "Some unidentified persons fired shots at Parmish last night at Sector 91 in Mohali when he was returning home. A bullet hit his leg."
Singer Parmish Verma rose to fame with his song 'Gaal Ni Kadni' which has over 118 million views on YouTube.