New Delhi: Filmmaker Karan Johar often leaves us awestruck by sharing adorable pictures and videos of his twins Yash and Roohi. Whether it is Roohi keeping a hand over Yash's head in the cutest way possible or it is both little ones having a 'screaming match', daddy Johar never fails to capture it on camera! Karan took to Instagram and shared a picture of Yash, twinning with heartthrob Varun Dhawan.
Check out the screenshot from Karan's story here: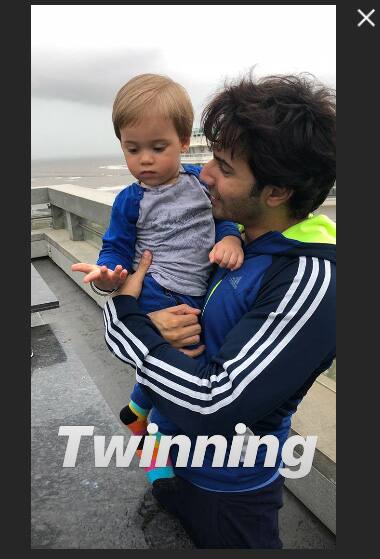 Can you tell who is cuter? Is it the adorable little Yash or the dapper Varun?
Yash (son) has been named after Karan's late father, while Roohi (daughter) is an anagram of Hiroo ( KJo's mother's name).
The kids that were born through surrogacy last year were kept in a hospital's neonatal intensive care unit after because they were born premature. They were taken home at the end of March. Images of Karan taking his twin kids home for the first time had surfaced online and fans had showered him with congratulatory messages on social media.
Karan has a lot of expectations from his kids.
"Just like any other parent, I too have a lot of expectations from you (Roohi and Yash). This expectation is necessary because we build our foundation based on them. Your grandmother (Hiroo Johar) has told me and will also tell you that bookish knowledge is not everything," Karan read out a letter he had written for his kids, while he was on Shah Rukh Khan's show TED Talks India Nayi Soch.
"On the other hand, your grandfather (Yash Johar) always told me to listen to my heart no matter what," he added.