Nawazuddin Siddiqui Rubbishes Estranged Wife Aaliya's Claims On Being Stranded, Claims 'She Owns A Lavish Flat'
Actor Nawazuddin Siddiqui and his wife Aaliya Siddiqui's troubled marriage has been hitting headlines for several weeks now. Aaliya recently claimed that the actor threw her and their children out of his house and they are now being stranded on the road.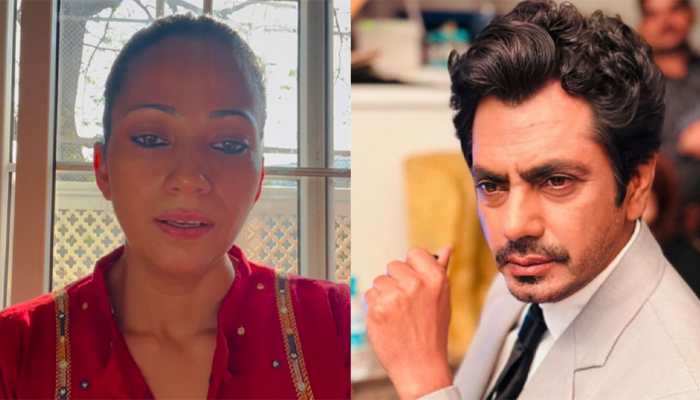 NEW DELHI: Actor Nawazuddin Siddiqui has reacted to his estranged wife Aaliya Siddiqui's recent video, where she claimed that she and their children are stranded on the road as the actor has thrown them out of his bungalow in Mumbai. She claimed she had only Rs 81 to her name and no place where she can go and they are stranded on the road. In a series of videos posted on Instagram, Aaliya said the actor has deputed guards to not 'let us in'.
"... After being in the house for 40 days I stepped out as office bearers at Versova police station called me urgently... But when I went back to the house with my children Nawazuddin Siddiqui had deputed a number of guards to not let us in (sic)," she captioned the video. The video was uploaded from outside Nawazuddin's bungalow and showed Aaliya's daughter crying as she looked towards her home and their son latching onto her.
Now, actor Nawazuddin's team has reacted to the video and released a statement, which read, "Nawazuddin Siddiqui's ex-wife Aaliya Siddiqui has said that she was not allowed to enter the house but the truth is Nawazuddin has already named the property on his Ammi, Mehrunisa Siddiqui, so Nawaz is devoid of any decision-making power on anyone's entrance in the property. The caretaker of Mehrunisa Siddiqui states that only her grand kids are allowed in the property and no one else as the property belongs to her now."
It further read, "Other than this, in a recent viral video in which Aaliya was seen claiming that she do not have any other place to stay or go is technically wrong. To clarify the fact, Nawaz has already bought a lavish flat for Aaliya in Mumbai in 2016 which she has given for rent at her own will. Also, as we clearly see in this video it is visible that no one is removed from the property as claimed by Aaliya and it is also very evident that the kids were never stopped to enter the property."
On Friday morning, Nawazuddin's wife Aaliya shared a video on Instagram writing that she along with her children - Shora and Yani, was not allowed to enter his house and the security team had stopped him from meeting his mother. In the video, a man from the security team is seen approaching Nawazuddin and he explains that his mother is in a lot of stress and its best to not go inside the house.
The man tells Nawazuddin, "Aisa hai, dekho main tumhare sath kaam karta hun voh baat toh hai lekin filhal yeh ammi ka maamla hai. Voh hain bahut zyada stress mein. Abhi tumhari ex wife bhi aayi thi, bachche bhi aaye the. Bachchon tak toh theek tha ki bachche aa jayein koi dikkat nahi hai. Tumhari ex wife ko mana kar dia, abhi court mein chal raha hai. Toh mere khyal se abhi jitne ammi ki tabiyat theek ho, voh itne stress mein hain toh itne tumhara abhi na aao toh acha hai (I understand that I work with you but this is about Ammi. She is under a lot of stress. Your ex wife just came, kids too. Kids are fine, they can come but your ex-wife was not allowed to enter. The matter is still in court. I think until Ammi is unwell, she is in a lot of stress so it would be better if you don't come)."
Aaliya had also dropped another video on the internet that showed her kids slept on the floor of a relative's house.
In 2021, Aaliya along with her kids moved to Dubai and had been living there. However, they returned to Nawazuddin's newly-constructed Andheri house in January, and claimed that she was being harassed by her husband and his mother. Nawazuddin's mother filed a complaint against Aaliya over property dispute. Since her return to Mumbai, Aaliya has been embroiled in a legal battle with the actor to stay at actor's Andheri bungalow.
Last month, it was reported that Aaliya will approach the family court to request for a paternity test to prove son's legitimacy. This came after Nawazuddin's mother alleged that their second child is 'illegitimate'.