'Producer Ko Khush...': When Anupam Kher Gave Head Massage To Satish Kaushik On The Sets Of 'Kaagaz 2'; Watch Viral Video
A cute video in which Anupam Kher can be seen giving head massage to his late friend Satish Kaushik has gone viral on the internet.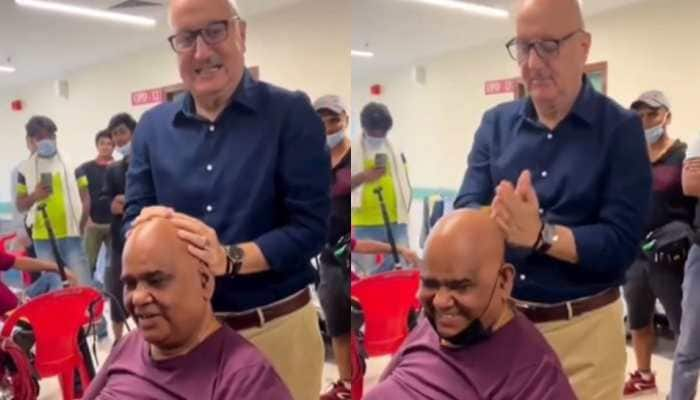 New Delhi: Veteran actor, director and writer Satish Kaushik is no more with us today. His sudden demise has left everyone in shock. Satish Kaushik was a part of Holi celebrations and passed away due to a heart attack on Thursday morning. He was 66 years old. Now, a cute and funny moment between him and his close friend Satish Kaushik has gone viral on social media.
In the video shared by paparazzi Viral Bhayani, Anupam Kher could be seen giving head masage to Satish Kaushik on the sets of 'Kaagaz 2'. In the clip, Anupam Kher says, "Producer ko khush karne ke liye dekho kya kya karna padta hai." (See what all we have to do to make the producer happy). Satish Kaushik then asks him to give extra dates for other films and thanks him for the head massage. In the end, they share a warm hug.
Watch the video here
Fans went quite emotional as they saw the video and shared thei love and admiration in the comments section. "Best friendship ever," a user commented. "Will be in our memories forever," added another user. "True friendship never die," a third user added.
Satish Kaushik was a versatile actor, writer, director and producer, who made his mark in the Indian film industry with his captivating performances and unique sense of humour. He gained recognition in the 1980s and 1990s for his work in popular films such as `Mr India`, `Saajan Chale Sasural`, and `Judaai`. Over the years, Satish established himself as one of the most sought-after character actors in Bollywood, often playing supporting roles that were integral to the plot. He was also known for his work as a writer and director, having directed films such as `Roop Ki Rani Choron Ka Raja`, 'Tere Naam' and `Hum Aapke Dil Mein Rehte Hain`.