New Delhi: Favourites and two-time defending champions India humiliated Thailand on Friday with a 73-20 scoreline in the second semi-final match of the 2016 Kabaddi World Cup at Ahmedabad.
The emphatic win set-up yet another salivating India-Iran World Cup final even as the raiding game started to gain global prominence. The Persian giants themselves survived a South Korean threat with a 28-22 win in the first semis early today at the same venue.
A full-strength​ Indian team toyed with a young Thai team, whose average age is 20 years, in an one-sided affair. For India, star raiders Pardeep Narwal (14 points) – most of the match, Ajay Thakur (11) and Nitin Tomar (7) led the charge, even as defenders continued to produce clockwork precision thwarting opponent raids, after that shock opening day defeat to South Korea.
At the end, it became a perfect platform for perennial favourites India to make a statement, how well they can decimate​ an opponent, ahead of the all-important final against Iran.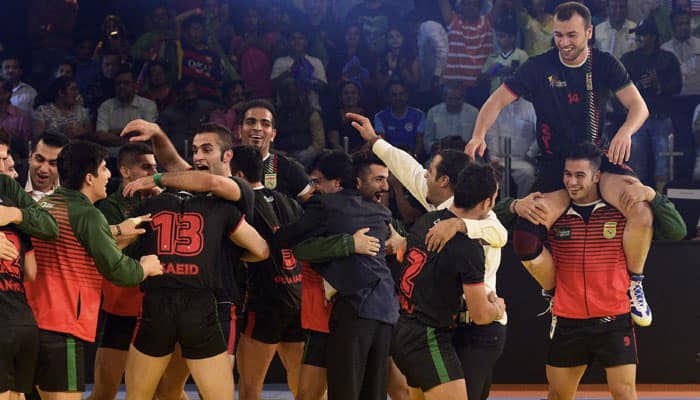 India have won the previous two World Cups, under the revamped standarised format, each time defeating Iran inn the finals.
And tomorrow, the Anup Kumar-led team will enter the field with the hope of completing a treble against the strong Iranian team.
Both the finalists have suffered a defeat in their respective six-team round robin group matches. India lost the Korea 32-34, then recorded 54-20 win over Australia, 57-20 over Bangladesh, 74-20 over Argentina and 69-18 over England. India finished second in the Pool A behind undefeated Koreans.
Iran were expected to top Pool B, but a 25-41 defeat to outsiders Poland gave Thailand the group honours by virtue of better scores, despite finishing on 20 points each.