#MaduraiThanksModi vs #TNWelcomesModi vs #GoBackModi: Twitter war over PM's visit
The visit has managed to create a buzz on social media with some thanking and some lashing out at the PM for his visit.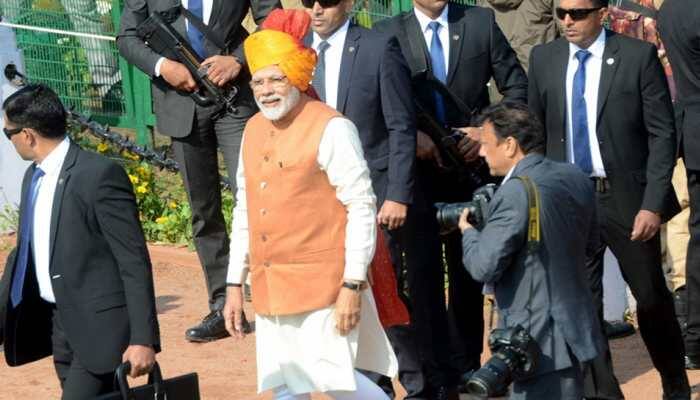 Prime Minister Narendra Modi is visiting Tamil Nadu on Sunday amid a virtual war breaking out on Twitter over his trip. The hashtags #MaduraiThanksModi, #TNWelcomesModi and #GoBackModi have been trending ahead of his scheduled visit.
The Prime Minister is visiting Madurai to lay the foundation stone for an All India Institute of Medical Sciences (AIIMS). He will also inaugurate the super speciality blocks of Rajaji Medical College (Madurai), Thanjavur Medical College (Thanjavur) and Tirunelveli Medical College (Tirunelveli) as a part of upgradation projects of government medical colleges.
The visit has managed to create a buzz on social media with some thanking and some lashing out at the PM for his visit.
Under the hashtags #MaduraiThanksModi and #TNWelcomesModi, people thanked the PM for making AIIMS a reality.
AIIMS TN got delayed by 10+ yrs by DMK + Congress, but now a reality in Madurai. _1200 Crores to be released shortly. AIIMS Madurai will be operational in 45 m

_____ __________ _______ ___________ ______ _1200 ____ ________ ____ _________.! #MaduraiThanksModi #TNWelcomesModi — Vanathi Srinivasan (@VanathiBJP) January 27, 2019
Thank you for the AIIMS #MaduraiThanksModi pic.twitter.com/ZsliY9kRpa

— Dinesh Babu.C (@ThalaDinesh2) January 27, 2019
The posts under the hashtag #GoBackModi can see the outburst of the people over PM Modi not visiting cyclone Gaja-hit districts in Tamil Nadu in which lakhs had been rendered homeless.
#GoBackModi from the land of periyar #GoBackSadistModi pic.twitter.com/5F195AwwRx — Dravidian (lone wolf) (@DravidianGirl) January 27, 2019
No fund allocated for AIIMS!

No plan in place for AIIMS!

Laying foundation for AIIMS in Madurai after high court whacked you!

Starting your election campaign from Madurai!

Tamils are not fools! We know your gimmicks!#gobackmodi pic.twitter.com/2HQLoPC8Gj — Omar (@Omar22461461) January 27, 2019
Marumalarchi Dravida Munnetra Kazhagam (MDMK) has also planned a black flag demonstration against the visit. MDMK chief Vaiko had on Saturday said his party would stage the protest for 'ignoring' the interests of Tamil Nadu.
Vaiko though added that the demonstration was not against the AIIMS facility for which the foundation stone is being laid but but against the Modi government. He alleged that the Centre has neglected the state.
He added that the Centre giving permission to projects like neutrino, hydrocarbon, Mullaperiyar and Mekedatu will help develop economy, but lead to the destruction of Tamil Nadu.