Mumbai: Bigg Boss 11 commoner contestant Luv Tyagi, who entered the show as a Padosi, succeeded in garnering a huge fan following. His good looks and charming personality wowed female fans of Bigg Boss and there's something really special about him. Wondering what?
Well, the handsome young man bears striking resemblance to Bollywood superstar and Bigg Boss host Salman Khan in his younger days.
And this pic embedded below is proof:
Luv's followers were deceived by the pic! It is indeed difficult to say if it is Luv Tyagi or a young Salman in the photograph.
Take a look at the comments here: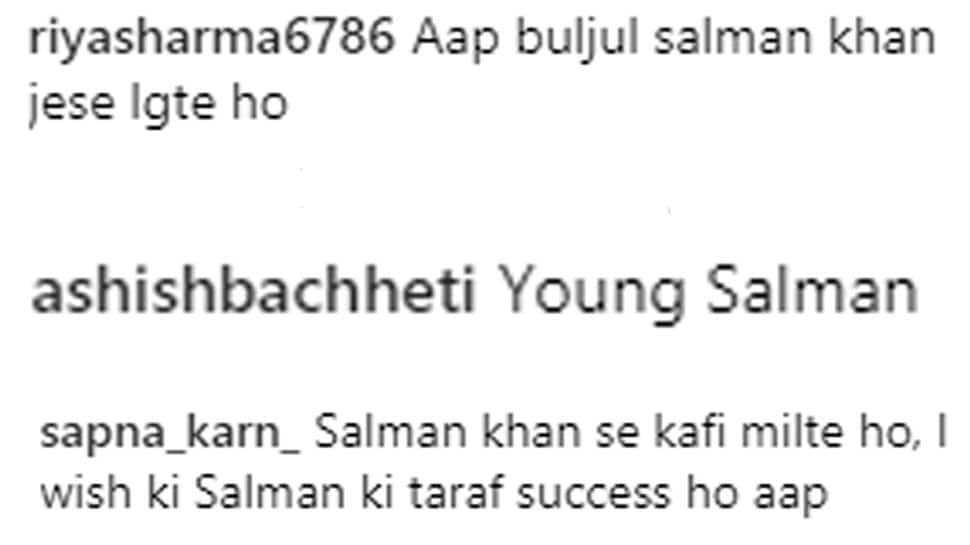 After getting evicted from the house, Luv said, "The theme of Bigg Boss 11 is Padosi aa rahe hai bajaane baraah and that's exactly what I've managed to do in these past three months. It took me a while to understand the nuances of this game, and with time, I managed to do well – which is what helped me get this far. This has been the most memorable experience of my life and getting evicted in the semi-finale is a big deal in itself."
Luv, who hails from New Delhi and is an aspiring model/ actor. He now hopes to continue in the entertainment industry, be it TV, Movies or Commercials.
He started his Bigg Boss 11 journey as a Padosi. While his fellow-mates Lucinda, Sabyasachi and Mehjabin were evicted much earlier, Luv managed to play his cards well and made it till the semi-finals.
Upon entry in the Bigg Boss 11 House, Luv struggled to form any bonds with the gharwale eventually leading to troublesome situations for him. After weeks of persisting, Luv finally broke the ice and managed to form strong alliances with Hina Khan and Priyank Sharma. The trio often strategized together and stood as support in time of need. With time, he revealed the different shades of his persona – be it humour or even his aggression during tasks. With each passing day, the graph of his popularity soared higher with the viewers; but it was his innocence that worked in his favour, earning a spot in the hearts of all the gharwale.