A Facebook post on a 50-year-old widow who crossed the odds to marry again has gone viral. The post, put up by a photographer, has the woman recount her struggle in first person. The post has been 'liked' more than 14000 times, and has seen strong and emotional responses.
The post outlines the struggles of a woman who has only been identified as Komola. She recounts how she struggled to raise her children after her husband died, and how a man proposed marriage to her when she was 50. She goes on to recall her children's opposition to it, and how they are now married and happy together.
Here is Komola's story:
"My husband died and left me with my three children when I was 25 years old. I had to sell my only pair of gold bangles for the funeral of my husband. There was nobody to help and support me .I was in the middle of nowhere; there was nothing to hold on to for surviving. I started selling bread on the street side earning very little money. For the last 20 years I had been selling bread and then eggs in order to feed my children and pay for their education. After 20 years I was able to rent this small room and start my own rice restaurant. With my income, I bought land for my sons in our village and built houses for them. In addition, I saw to it that they married well.
For the last 25 years I had been all alone, I struggled alone. I did everything I could to survive. There was nobody to love. Nobody to talk to during my loneliness or during bad times. I was always alone!
One day in my restaurant I noticed a day labourer who always used to come into my restaurant for lunch every day. He kept looking at me frequently with his innocent eyes while he ate his lunch and he used to sit a long time after finishing his meal. Without asking, he started helping me with my work. He washed the dishes and started serving people. He started helping me in every possible way. I had started liking him from the first look. Slowly I fell in love with him. One day he proposed marriage to me.
But I could not tell him anything about my feelings. All the time I was worried what people would think about me and what my children would think about me at this old age. Nobody would understand how lonely I am. Nobody would understand that I also need love. I also need somebody to talk to and to love. I was so concerned about my children.
I decided to leave my restaurant and went to my village to save my reputation. But this man didn't give up. He followed me to my home village. He made the proposal to my sons to marry me. But my sons humiliated him so badly physically and mentally that I couldn't bear it anymore and begged him to leave our village. He listened to me and left
Then my sons started behaving really badly with me. They sent me out from their house. They forgot what I did for them. They took all the money I had with me.
I returned to my restaurant again. I thought after that humiliation the man I loved would never come to see me again. I kept waiting for him every day. One day he showed up and proposed to me to marry him. For the last 5 years we have been together. We run our small restaurant together. I cook and my husband serves the food and he washes the dishes. In fact, he works more than I do. He always told me, "I came into your life to give you happiness."
People laugh at me for being married again at the age of 50. Sometimes they mock me, tease me and say a lot of bad things. But you know what? I don't care. I don't care anymore! _ Komola"
The post received some strong reactions.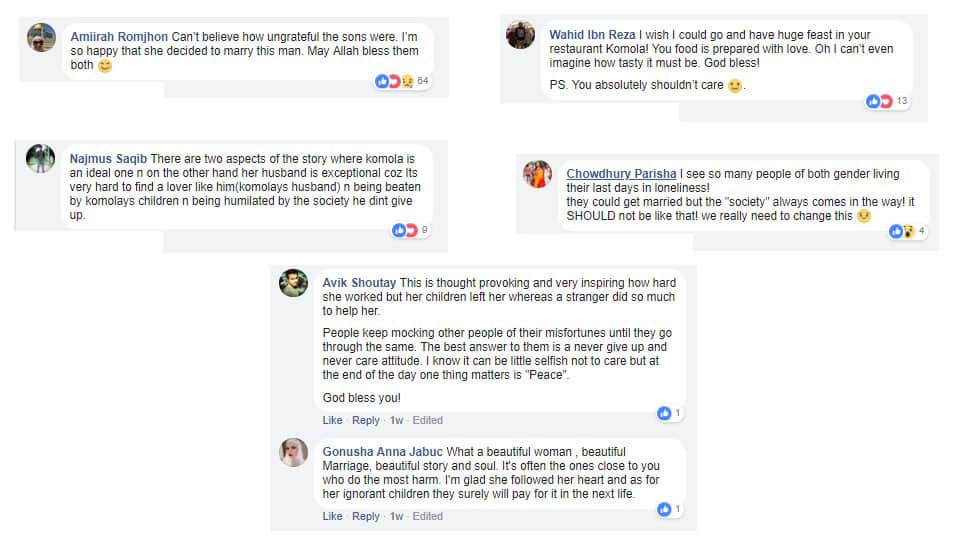 Many others reacted by expressing support for Komola's decision, and there were yet others who wanted to know where her restaurant was so they could go eat there.