Moscow-Goa flight takes-off from Jamnagar Airport after bomb threat turns out hoax, IAF shares video: WATCH
The AzurAir flight that made an emergency landing at the Jamnagar airport after a bomb threat call was made for it, takes off to Goa today from Jamnagar airport.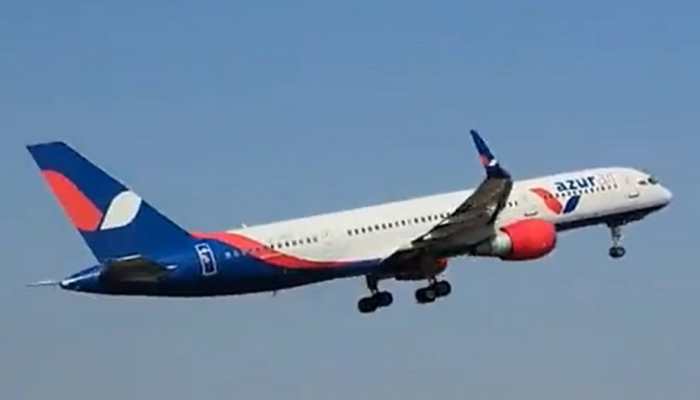 The Moscow-Goa chartered flight that was diverted to Jamnagar on Monday night after an alleged bomb threat left for Goa on Tuesday afternoon, an official said. The Jamnagar Collector had said that the alleged bomb threat onboard the Moscow-Goa chartered flight was a hoax call. The flight was diverted to Gujarat`s Jamnagar after Goa ATC followed an alleged bomb threat on Monday. Jamnagar Collector Saurabh Pardhi said a thorough search operation was conducted by National Security Guard (NSG), police and Bomb Disposal Squad (BDS) teams but nothing suspicious was found."A thorough search operation was conducted by NSG, police and BDS teams. Hand baggage and check-in baggage of passengers was also checked. The flight has been cleared (for takeoff), after formalities it will depart for its destination, Goa. It was a hoax call," said the Jamnagar Collector.
All's well that ends well!

Azur Air 4501 resumed it's journey from @IAF_MCC AF Stn Jamnagar where it had been diverted to last night after security protocols were activated due to a bomb threat. (1/3) pic.twitter.com/RRRXT9mPvK

— Indian Air Force (@IAF_MCC) January 10, 2023
Premsukh Delu, Jamnagar SP, said, "Around 9 pm, the district control received a call from ATC after which the district police and bomb disposal team reached the airport and launched a rescue operation. A total of 236 passengers and eight crew members were on the flight. After all the passengers and the crew members were evacuated they were checked thoroughly. The NSG team also reached on the spot."
He further said that the flight landed around 9.50 pm on Monday and the search operation was carried out till 9 am on Tuesday. "Passengers, plane and luggage were thoroughly checked. We have not found anything suspicious," he added. Jamnagar Airport director confirmed that the security agencies found nothing suspicious onboard the private flight.
Also read - Go First plane takes off from Bengaluru airport leaving 55 passengers behind; DGCA seeks report
Earlier, the security agencies cordoned off the airport for 9 hours. They said all passengers were safely evacuated and escorted to the lounge inside the terminal building. The Russian Embassy issued a statement saying they were alerted by the Indian authorities about the alleged bomb scare on the Azur Air flight en route from Moscow to Goa.
"The Embassy was alerted by Indian authorities about an alleged bomb scare on Azur Air flight from Moscow to Goa. The aircraft made an emergency landing at Jamnagar Indian Air Force Base. Everyone on board is safe; authorities are conducting an inspection of the aircraft," said the Russian Embassy in a statement.
With inputs from ANI
Live Tv