Understanding Air Ambulance: What is Medical Evacuation, cost in India and how to book online?
Partha Chatterjee was recenlty flown in an Air Ambulance from SSKM to Bhubaneswar AIIMS Pursuant to court orders. Here's all you need to know about Medical Evacuation procedure in India.
Air Ambulance services are becoming popular in India
Helicopter, small jets deployed to carry patients
All necessary life saving equipment installed in the aircraft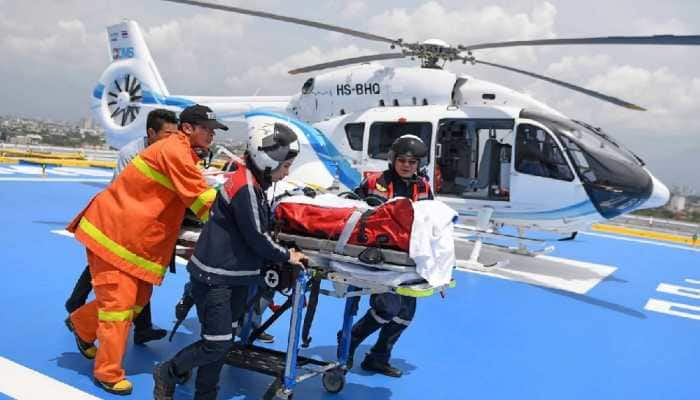 Trinamool Congress Minister Partha Chatterjee was today (July 25) transferred from SSKM to Bhubaneswar AIIMS by air ambulance for medical examination following Calcutta High Court order last night. Chatterjee, who was arrested by the ED in the teacher recruitment corruption case, will undergo physical examination and treatment at Bhubaneswar AIIMS on the orders of Calcutta High Court under the supervision of a medical board at the moment. Here's all you need to know about Medical Evacuation procedure in India, cost involved, and services provided inside an air ambulance.
What is an air ambulance?
An air ambulance is an ambulance facility in the air, usually availed to transport a patient to a medical centre for treatment which is far away, or is time sensitive. Various types of aircraft can be deployed on such duties and are equipped to provide emergency care on board, much like road going ambulance. Air ambulances have become increasingly popular for patient transport in remote areas and also to transport VIPs due to the high cost involved to charter a plane.
Types of Air Ambulances
There are various types of planes that can be deployed as an air ambulances and have to be retrofitted with the life saving equipment:
Jet aircraft: A small jet aircraft is a fixed-wing air ambulance just like a private plane and is spacious, comfortable and super fast as compared to any other form of transportation. More than that, small jet planes are safer than a helicopter in erratic weather conditions and offers greater comfort to patients. All this means higher cost of transport as well.
Helicopters: Choppers are the most common form of air ambulance and have rotary wings, best suited for remote evacuation operations. Helicopters, unlike jets, don't need a dedicated runway for takeoff and are cheaper to own as well. That's why, helicopter ambulance costs are lower than those of jet aircraft. With many hospitals having dedicated helipads, choppers have become popular in last few decades.
Benefits of air ambulances
There are multiple benefits of air ambulances, and only one negative - high cost of transportation. Here's a look at the benefits of air ambulance:
Quick transfer: The biggest USP of an air ambulance is the amount of time taken to transfer a patient from any location to a hospital. Unlike road transport which can take several hours, helicopters and jets fly at higher speed, and hence less time taken. Moreover, in case of an accident with critically injured patient, swift transportation is needed and only an air ambulance can provide the same.
Patient convenience: While road connectivity still remains the go to option for patient transfer, roads can be bumpy, and full of traffic, causing inconvience of passengers. In such scenarios, air ambulances offer quick and convenient transportation.
Connectivity: The primary role of an air ambulance is to facilitate quick medical evacuation. However, they are mostly used in areas where ground transportation is ineffective, or can't reach at all, for instance in hilly terrains or areas with no roads.
What is the process of booking an air ambulance?
You can book an air ambulance through the following steps:
1. You can contact the hospital where the patient needs to be transferred or the hospital from where the patient is being transferred. These days, many private charter companies are providing air ambulance facility as well.
2. The concerned department will then assess the patient's condition and case report for approval
3. Once approved, the patient will be taken to the air ambulance's landing zone
4. An air ambulance is equipped with necessary equipment and primary health staff who will accompany the patient to the final destination
5. A patient is then properly strapped to the seat/ stretcher/ air bed, basis the installation inside the plane
6. After taking all necessary air and medical clearances, the plane then lands at the destination
Cost of booking air ambulance in India
The cost of the air ambulance depends on various factors including the type of the aircraft, the distance to the destination hospital and the distance from where the ambulance is flying. However, in India, the average cost of an air ambulance can range anywhere between Rs 1 lakh to Rs 2 lakh per hour. The thing to note here is air ambulances charge on per hour basis.
Live Tv