Cabaret movie review: Comedy masquerading as drama of doomed damsel
Lovemaking techniques are getting dangerously violent these days.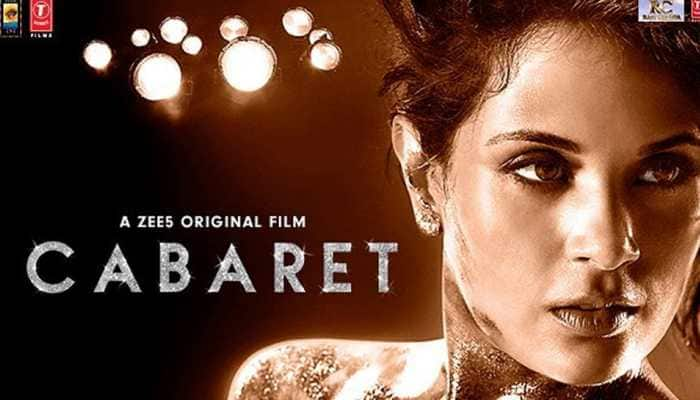 Do you remember those gorgeous, sizzling cabaret numbers by Helen in the films of the 1970s? Yes? And do you remember the 1972 Liza Minnelli classic titled "Cabaret" for which the actress won an Oscar?
Okay. Now erase the memories of Helen and Minnelli. Chances are, after seeing "Cabaret", you would never want look at another cabaret number. Come to think of it, it would be hard for you to go to the next Richa Chadha film without a shudder of apprehension.
This one drags you down to the dungeons of despair. Windowless and dingy.
"Cabaret" opens with brutish policeman in Jharkhand gunning down a woman's husband and then asking her bluntly for sexual favours. Vipin Sachdeva, who plays the policeman, doesn't keep it subtle. Why should he, when everything around him screams for attention. He simply unzips his trousers and tells the woman to get on with it. This is a man in yoni-form.
The woman, Razia alias Rose played by Richa, flees to Dubai after gunning down the policeman where in no time at all, we see her dancing to a ruinously subversive remix of Pankaj Udhas' "Mohe aaye na jag ki laaj".
Come again? Is this a cabaret? If it is, then Helen is suing. And what is that Richa is wearing? It looks like a corset tied to the ropes that are used to pull cows towards their sheds. Nope. Richa clearly can't dance. But that's okay. No one in this dolorously, dreadful and doomed drama does anything that can be called remotely cinematic.
The songs that once used to be the Bhatts forte (yes, a prominent Bhatt, Pooja, is associated with this, and we forgive her) here sound like out-takes from a lengthy musical session with an "Indian Idol" contestant. And the songs come on the soundtrack with all the subtlety of Sreesanth creeping on to his fellow contestants in "Bigg Boss".
I bring up Sreesanth with good reason. He plays a good-hearted don, and Razia/Rosy's benefactor who runs what looks like a club for grieving women -- one acid-attack victim, one gangrape victim, and so on. By the time Richa finishes her tour of Sreesanth's philanthropic work, she is ready to join the 'Sree-fam'. That's what they call Sreesanth's fans. But honestly, if he insists on... errrr...acting in such films, the 'fam' may be reduced to a famine soon.
However, Sreesanth is not the film's leading man. The not-untalented Gulshan Devaiah is. He plays an alcoholic "investigative journalist" who spends most of his time investigating the heroine's anatomy.
As I watched the actors plod through the plot, I wondered how they kept a straight face pretending this film was actually serious business. Make no mistake.
"Cabaret" is a comedy masquerading as a drama of a doomed damsel's distressful adventures. Even the lovemaking scenes are a howl. In one of these, Richa climbs on Gulshan Grover as he groans more in a 'oh-no' rather than a 'ah-yes' sort of way. Then she grabs a bottle and smashes it on his head.
Lovemaking techniques are getting dangerously violent these days.
If you have a couple of hours to spare, please use it for more rewarding activities than watching Cabaret. Like banging your head on the nearest wall. Or driving your car full speed into a fast-flowing river. At least you will ensure more excitement than what this dead project offers.
(Ratings: 1/2 stars)