Interim Budget 2019 updates: FM Goyal says it's rebate for income upto Rs 5 Lakh, not exemption
As per convention, the outgoing government only seeks parliamentary approval for limited period spending, leaving the full Budget presentation for the new regime in July.
LIVE Blog
New Delhi: Presenting the Interim Budget 2019 in Parliament, Finance Minister Piyush Goyal on Friday proposed major income tax rate change for the salaried class by announcing that individual taxpayer earning upto Rs 5 lakh will get full tax rebate.
The FM hiked standard deduction for the salaried class to Rs 50,000 from the current Rs 40,000. He also raised the exemption on tax deducted at source (TDS) on interest earned from bank and post office savings raised to Rs 40,000 form the current Rs 10,000.
Goyal announced to hike the gratuity limit from Rs 10 lakh to Rs 20 lakh and also announced a Mega Pension Yojana under which Rs 3,000 per month will given to unorganised sector employees.
The Finance Minister said that current account deficit is likely to be 2.5 percent of GDP this year while maintaining that fiscal deficit will be at 3.4 percent of GDP this year.
(Also read: Full Coverage of Interim Budget 2019)
Watch Live TV on Budget coverage
Announcing major sops for farmers, Goyal said each farmer will be provided Rs 6,000 per year under the scheme called Pradhan Mantri Kisan Samman Nidhi. The farmers, holding up to 2 hectares of land, will be provided the assistance in three installments .
Goyal said it will benefit 12 crore farmers and will be implemented from this fiscal itself. He said Rs 20,000 crore have been provided for current fiscal and also announced allocation of Rs 75,000 crore for the next fiscal.
As per convention, the outgoing government only seeks parliamentary approval for limited period spending, leaving the full Budget presentation for the new regime in July.
Here are the updates on the Budget.
15:57 PM
For farmers, there have been several schemes by different governments from time to time, but only 2-3 crore farmers were included under these schemes. But now PM Kisan Samman Nidhi scheme will benefit over 12 crore farmers
15:53 PM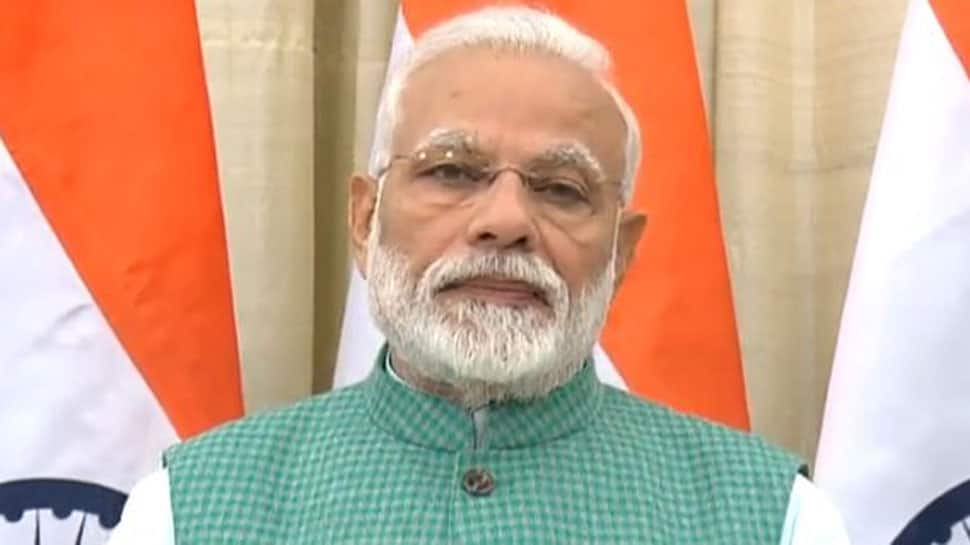 15:52 PM
It is the generosity and honesty of middle class and upper middle class which provides tax to the nation through which schemes are formulated and there is welfare of poor. There was always the demand to exempt those, with annual income upto Rs 5 Lakh, from taxation. Our govt fulfilled this
15:51 PM
From middle class to labourers, from farmers' growth to the development of businessmen, from manufacturing to MSME sector, from growth of the economy to development of New India, everyone has been taken care of in this interim budget, said PM Narendra Modi
15:15 PM
Opposition has no issues to talk about, they are scared of Modi Ji's welfare schemes. We don't do votebank politics, we do development politics. We are dedicated to take Indian farmers to new heights: Petroleum Minister Dharmendra Pradhan
14:34 PM
The Interim Finance Minister tested our patience by the longest interim budget speech in the recent memory. It was not an interim budget, it was a full fledged budget accompanied by an election campaign speech, said Congress leader P Chidambaram
14:25 PM
The Budget is unquestionably Pro-Growth, Fiscally prudent, Pro-Farmer, Pro-Poor and strengthens the purchasing power of the Indian Middle Class. The Budget expands spending while pragmatically sticking to fiscal prudence. Between 2014-19, every Budget has given significant relief to the Middle Class, says Jaitley.
14:24 PM
Union Minister Arun Jaitley praises Budget as pro-poor, pro-farmer and pro-growth
14:10 PM
Post-Budget Press Conference by Finance Minister Piyush Goyal
Those sitting in AC rooms cannot understand the plight of the small farmers. Keeping this in mind, we have introduced Pradhan Mantri Kisan Samman Nidhi scheme. This is a historic decision.
Our government has initiated the World's largest behavioral change movement with the Swachh Bharat Mission. India has achieved 98 percent rural sanitation coverage and as many as 5.45 lakh villages have been declared ODF
14:09 PM
The budget has met the expectations of farmers, labourers and middle class. By bearing a cost of Rs 75,000 crore,the govt will implement Pradhan Mantri Kisan Samman Nidhi scheme. This scheme will also benefit those farmers who do not take loans: BJP Chief Amit Shah
14:08 PM
It's a historic budget, and all the sections of the society will benefit from it, said Union Home Minister Rajnath Singh
14:00 PM
Leader of Congress in Lok Sabha Mallikarjun Kharge Friday termed the Union Budget as BJP's "election manifesto" and accused the ruling dispensation of bribing voters ahead of the Lok Sabha polls
12:45 PM
FM Piyush Goyal ends Budget speech with major sops for farmers and salaried class
12:42 PM
This is not just an Interim Budget, this is a vehicle for the developmental transformation of the nation, says Goyal
12:42 PM
Benefits under Sec 80 (I) BA being extended for one more year, for all housing projects approved till end of 2019-2020
12:42 PM
Benefit of rollover of capital tax gains to be increased from investment in one residential house to that in two residential houses, for a taxpayer having capital gains up to Rs 2 crore. It can be exercised once in a lifetime
12:39 PM
TDS threshold on rental income raised from Rs 1.8 lakh to Rs 2.4 lakh
12:39 PM
Individuals with gross income up to 6.5 lakh rupees will not need to pay any tax if they make investments in provident funds and prescribed equities, Goyal explains
12:38 PM
TDS threshold on interest on bank and post office deposits raised from Rs 10,000 to Rs 40,000
12:37 PM
Standard deduction for salaried class raised from Rs 40,000 to Rs 50,00
12:34 PM
Individual taxpayers having annual income upto Rs 5 lakhs will get full tax rebate. Individuals with gross income up to 6.5 lakh rupees will not need to pay any tax if they make investments in provident funds and prescribed equities :FM Piyush Goyal#Budget2019#BudgetForNewIndia pic.twitter.com/4LgxrCK9u3

— PIB India (@PIB_India) February 1, 2019
Individuals with income of upto Rs 5 lakh per year will get full rebate on Income Tax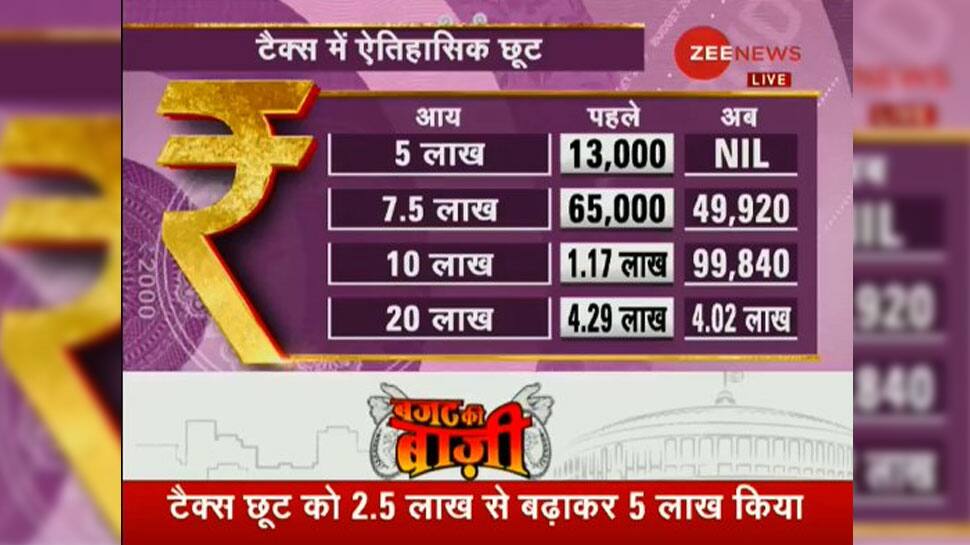 12:27 PM
The fiscal deficit as a proportion of GDP- 3.4 percent for the coming year, as there is a need to provide for income support for farmers
12:25 PM
Capital expenditure at Rs 3.36,292 lakh crore. FM announces higher allocation for MNREGA for rural job creation
12:24 PM
Goyal on Economic growth in times ahead
We are poised to become a 5 trillion dollar economy in the next five years, we aspire to become a 10 trillion dollar economy in the next eight years
The government is committed to eliminating the ills of black money; anti-blackmoney measures taken have brought undisclosed income of about Rs 1.30 lakh crore to the surface. Rs 3.38 lakh shell companies were deregistered
Goyal highlights 10 Dimensions of government's vision 2030 for India
1) Physical & Social Infra
2) DigitalIndia
3) Clean & Green India
4) Rural Industrialization
5) Clean Rivers
6) Oceans & Coastline
7) Space
8) Self-sufficiency in Food Production
9) Health
10) Minimum Government Maximum Governance
12:10 PM
14 percent growth in state tax collections was guaranteed and underwritten by Government of India
12:09 PM
GST collections in January 2019 has crossed Rs 1 lakh crore. Businesses with less than Rs 5 crore annual turnover, comprising over 90 percent of GST payers, will be allowed to return quarterly returns
12:08 PM
Single window clearance for filmmaking to be made available to Indian filmmakers, anit-camcording provision to be introduced to Cinematography Act to combat film privacy
12:04 PM
GST has been continuously reduced, resulting in relief of Rs 80,000 crore to consumers. Most items of daily use for poor and middle class are now in the 0 percent -5 percent tax bracket
12:02 PM
Within almost two years, almost all assessment and verification of IT returns will be done electronically by an anonymized tax system without any intervention by tax officials
12:02 PM
Within almost two years, almost all assessment and verification of IT returns will be done electronically by an anonymized tax system without any intervention by tax officials
12:00 PM
Simplification of direct tax system will benefit taxpayers. Direct tax reduced and tax interface made simpler and faceless to make life easier, resulting in increase in tax collections and return filings
Direct tax collections from Rs 6.38 lakh crore rupees in 2013-14 to almost 12 lakh crore rupees. Tax base up from Rs 3.79 crore to Rs 6.85 crore
11:59 AM
Direct tax collection at Rs 12 lakh crore in FY'19 from 6.38 lakh crore in 2014
11:59 AM
Jan Dhan Yojana accounts opened in last five years. Aadhaar almost universally implemented; ensuring poor and middle class receive government benefits directly
11:58 AM
Cost of data and voice calls in India is now possibly the lowest in the world. Mobile and mobile part manufacturing companies have increased from 2 to 268
11:55 AM
Announcement on Rail Budget: 
Today there is not a single unmanned railway crossing on the broad gauge in India. Allocation for North Eastern Region proposed to be increased to Rs 58,166 crore in this year, a 21 perent rise over previous year
Vande Bharat Express, indigenously developed semi high speed will give Indian passengers world class experience
Capital expenditure programme for will be at an all-time high of Rs 1.58 lakh crore in the next fiscal
11:55 AM
Government has gone beyond incremental growth in infra, to attain transformative achievements. India is the fastest highway developer in the whole world. 27 kms of highways are being built each day. Government has completed projects that were being stuck for decades. Sagar Mala will help faster handling of import and export cars
11:47 AM
Rs 35,000 crore already disbursed under OROP by this government. Defence budget hiked to more than Rs 3 lakh crore for the first time. If necessary additional funds will also be provided, says Goyal
11:46 AM
To ensure cleaner fuel and health assurance, we embarked upon Pradhan Mantri Ujjwala Yojana, a programme to give 8 crore free LPG connections to rural households, 6 crore connections have been given already
11:40 AM
75 percent of woman beneficiaries under PM Mudra Yojana. 26 weeks of maternity leave and Pradhan Mantri Matritva Yojana, are all empowering women
11:40 AM
Mega Pension Yojana, namely Pradhan Mantri Shram Yogi Mandhan, to provide assured monthly pension of Rs 3000 per month, with contribution of Rs 100 per month, for workers in unorganized sector after 60 years of age
This become the world's biggest pension scheme for unorganized sector in five years, benefitting 10 crore workers in unorganized sector
11:34 AM
Gratuity limit increased from Rs 10 lakh to Rs 20 lakh, Goyal announces
Shipli Agarwal, Partner, TASS Advisors believes Increase in gratuity limit is quite encouraging and provides a relief to salaried class. It will result in tax saving up to 300,000 at the time of retirement. 3 percent tax benefit on women owmed MSMEs which indicates strong movement towards women empowerment.
11:33 AM
In place of rescheduling of crop loans, all farmers severely affected by severe natural calamities will get 2 percent interest subvention and additional 3 percent interest subvention upon timely repayment
11:31 AM
Interest subvention of 2 percent to farmers pursuing animal husbandry and fisheries
11:30 AM
Increased allocation for Rashtriya Gokul Mission to Rs 750 crore in current year for preservation of cows
11:29 AM
Slogans of Jai Kisaan raised in Lok Sabha immediately after announcement of PM Kisan Samman Nidhi package
11:27 AM
PM Kisan Samman Nidhi to be rolled out from December 1,2018 (retrospective). Government will bear the burden of Rs 75,000 crore for this package
11:26 AM
Farmers owning upto 2 hectres of land to get Rs 6,000 per year. This income support will be transferred to beneficiaries in three installments. 12 crore farmers and their families will be directly benefitted.
11:25 AM
Ayushman Bharat the world's largest healthcare programme was launched to provide medical care to almost 50 crore people, resulting in 3,000 crore savings by poor families
11:23 AM
For doubling farmers income, government decided to increase MSP by 1.5 times the production cost for all 22 crops
11:22 AM
India is solidly back on track and marching towards growth and prosperity. During 2014-18, 1.53 crore houses have been constructed under PM Awas Yojana. Pace of construction of rural roads has been tripled under our tenure
11:21 AM
Rs 1.70 lakh crore spent for bringing food at affordable rates to poor people. Rs 60,000 crore has been allocated for Mahatma Gandhi National Rural Employment Guarantee Act (MGNREGA) in the Budget Estimate of 2019-20
11:19 AM
As a tribute to Mahatma Gandhi, world's largest behavioural change movement Swachh Bharat initiated has achieved more than 98 percent rural sanitation coverage. More than 5.45 lakh villages declared ODF
11:19 AM
Efforts taken to bring full representation for economically weak backward classes, by giving them reservation in jobs and education
11:15 AM
We are confident that given the pace of reforms in banking sector, other banks too will recover. Close to 3 lakh crore already recovered in favour of banks and creditors, big defaulters too not spared by our government
11:13 AM
Recapitalization of banks amounting to 2.6 lakh crore has been done
11:10 AM
Inflation is a hidden and unfair tax. From from 10.1 percent during 2009-14, we have broken the back of back-breaking inflation
11:09 AM
Government has taken Goods and Services Tax and several other transformational reforms in the several financial sectors
11:08 AM
Current Account Deficit will be 2.5 percent of GDP this year. We contained the fiscal deficit. Revised fiscal deficit for 2018-19 to 3.4 percent
11:07 AM
Government has made several transformational reforms since coming to power
11:06 AM
Indian economy has logged 8.2 percent and 7.1 percent growth rates in the first and second quarters of fiscal year 2018-19 respectively
11:05 AM
We are the fastest growing Big economy. We have posted highest growth rate in the last five years post liberalisation
11:03 AM
We are marching towards a New India. By 2022, when we celebrate India's 75th Independence India will be a nation where everyone has a house, electricity. India is marching towards growth and prosperity
11:03 AM
Finance Minister Piyush Goyal rises to present the Interim Budget 2019
10:45 AM
Atul Gupta, Senior Director, Deloitte India has the following customs duty expectations from FM's Budget:
1. Increase in Customs duty on consumer goods to promote domestic manufacturing'
2. Decrease in critical raw materials import duties to encourage domestic production and manufacturing
3. Customs Law amendments for allowing the utilization of MEIS & SEIS scrips towards the payment of GST on imports and domestic procurements
4. Related party imports valuation process to be made simpler – doing away with Extra Duty Deposit
10:32 AM
Union Cabinet approves the interim Budget 2019
10:30 AM
Basic exemption limit may be raised from Rs 2.5 lakh to Rs 5 lakh for salaried individuals, Zee Media sources had earlier said. Also women taxpayers may get higher basic exemption of Rs 3.25 lakh
10:30 AM
Goyal, who stepped in as interim finance minister after Arun Jaitley had to fly to New York for medical treatment, is widely expected to raise income tax exemption thresholds.
10:21 AM
Prime Minister Narendra Modi arrives at Parliament. Cabinet meeting ahead of presentation of Budget to start shortly
10:20 AM
Prime Minister Narendra Modi arrives at Parliament. Cabinet meeting ahead of presentation of Budget to start shortly
10:16 AM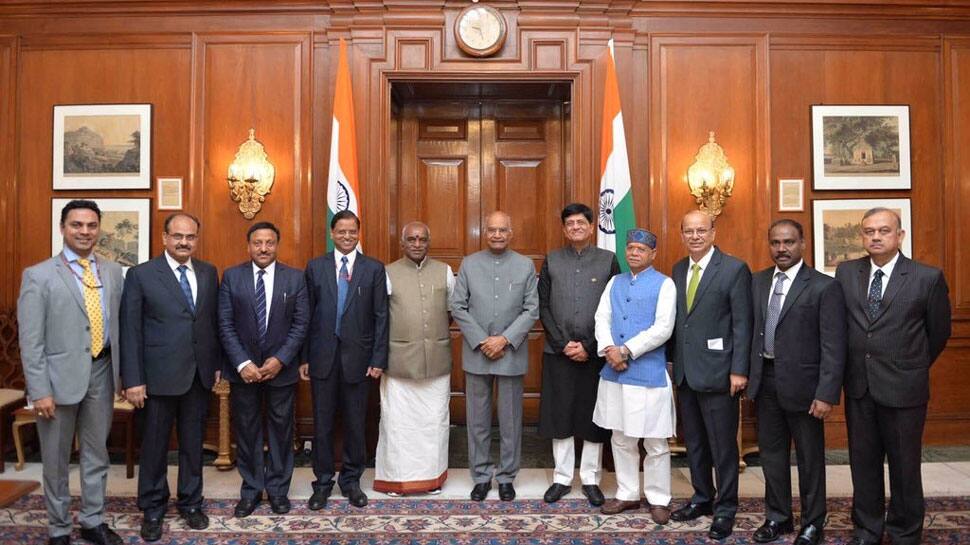 10:13 AM
Finance Minister Goyal calls on President Ram Nath Kovind at Rashtrapati Bhavan before presenting the Budget. The Finance Minister shook hands with President Kovind and held a brief meeting with him at Rashtrapati Bhavan.
10:05 AM
Income tax concessions for individuals, a farm relief package, support for small businesses and other spending measures may be part of the Budget that FM Piyush Goyal will present at 11 am
09:57 AM
Finance Minister Piyush Goyal will rise to present the Interim Budget 2019 at 11 am. Goyal, also the Railway Minister, examined the final copy of the document on Thursday evening