Union Budget 2019 live: 3% increase in Income tax for those earning Rs 2-5 cr, 7% for income above 5 cr
Expectations are high from the Union Budget 2019, given that PM Modi came back to power following a bigger mandate than his first term. As such, Finance Minister Nirmala Sitharaman will have to do a tough balancing act, as she aims to boost growth.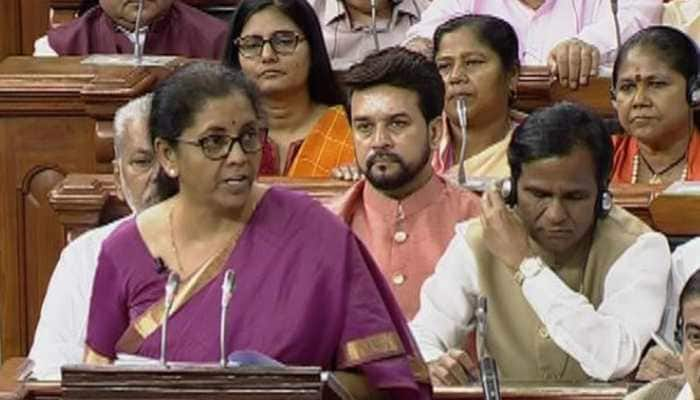 LIVE Blog
Finance Minister Nirmala Sitharaman will present her maiden Budget on Friday, becoming only the second woman, after Indira Gandhi, to do so. FM will present the Union Budget 2019 amidst wide expectations given that Prime Minister Narendra Modi came back to power following a bigger mandate than his first term.
Sitharaman's budget team comprises Minister of State for Finance Anurag Singh Thakur and Chief Economic Advisor Krishnamurthy Subramanian. The official team is led by Finance Secretary Subhash Chandra Garg, Expenditure Secretary Girish Chandra Murmu, Revenue Secretary Ajay Bhushan Pandey, DIPAM Secretary Atanu Chakraborty, and Financial Services Secretary Rajiv Kumar.
15:10 PM
Non Banking Financial Companies(NBFC) are a critical component of our banking system. The Government has adopted a comprehensive approach for NBFC financing
15:00 PM
The emphasis was very clearly on the overall development of economy. We looked at rural initiatives, all of which will give certain dynamic to the rural areas. Similarly, we looked at how urban living can be better, says FM
14:50 PM
The Budget has been presented with a 10-year vision in mind, says Sitharaman after presentation of her maiden Budget
13:56 PM
Gold prices increased after hike in custom duty in Union Budget 2019, crosses Rs 35,000 per 10 gram. The Finance Minister has proposed to increase custom duty on gold and other precious metals from 10 percent to 12.5 percent.
13:56 PM
This is the Budget to set the country towards path of prosperity and empower the poor. This is also the Budget to ensure a better future for the youth: Modi
13:55 PM
Prime Minister Narendra Modi hails Union Budget 2019, says this is the budget of hope and expectation.
13:15 PM
Markets fall after FM Sitharaman finishes her maiden Budget speech. The BSE Sensex is down 330.21 points or 0.83 percent to 39,577.85 while the NSE Nifty is down 109.60 points or 0.83 percent to 11,837.15 at 1.18 pm.
13:10 PM
Import duty on gold and other precious metals increased from 10% to 12.5%
13:09 PM
Special additional excise duty of Rs 1 per litre to be levied on petrol and diesel for road and infra
13:02 PM
Taxpayers with annual turnover of less than Rs 5 crore will only file quarterly GST returns
12:57 PM
As I stated earlier, we have taken a slew of measures to ease burden on small and medium earners. Those having annual income up to Rs 5 lakhs are not required to pay any income tax. We are thankful to tax payers who play an important role in nation building. Income tax increases by 3% for those earning between Rs 2-5 crore and 7% for those with income above Rs 5 crore
12:53 PM
FM proposes to levy TDS of 2 percent of cash withdrawal exceeding Rs 1 crore in a year from a bank account to discourage cash transactions for business deals
12:51 PM
FM proposes to make PAN and Aadhaar inter-changeable for filing ITR
12:48 PM
Additional Rs 1.5 lakh deduction on interest paid for affordable housing loans till March 2020
12:45 PM
Relax some of conditions of carry forward losses to start ups. At present startups are not required to justify fair market value of their shares issued to certain investors including category 1 alternative investment funds. I propose to extend this benefit to category 2 alternative investment funds also.
12:43 PM
Additional income tax deduction of Rs 1.5 lakh on interest paid on loans for electric vehicles
12:40 PM
All companies having annual turnover of 400 crores, will now be under the bracket of 25%.  Earlier lower corporate tax rate of 25 percent was applicable only to companies with annual turnover up to 250 crores. This will cover 99.3% of all the companies. This include 99.3 percent of all companies. 0.7 percent companies will remain outside of this rate.
12:36 PM
In last five years, DTC significantly increased from Rs 6.38 lakh crore to Rs 11.37 lakh crore in FY 2018
12:32 PM
I begin by thanking our taxpayers who as responsible citizens perform their duties by paying taxes. My appreciation for the honest tax payers, says FM
12:28 PM
Will undertake strategic sale of PSUs. Government sets disinvestment target Rs 1.05 lakh crore for FY 2020, says FM
12:27 PM
Steps to be taken to removing NPS stress from PFRDA
12:25 PM
Regulation of Housing Finance Companies to move to RBI from NHB
12:23 PM
For purchase of high-rated pooled assets of financially sound Non Banking Finance Companies amounting to 1 lakh crore rupees during 2019-20, one-time six-month partial credit guarantee to be given to PSBs. Public sector banks to be provided 70,000 crore rupees to boost capital and improve credit
12:21 PM
Non-performing asset (NPAs) recovery of Rs 4 lakh crore over the last four years. NPAs down by Rs 1 lakh crore in the last one year
12:14 PM
FM propose to issue Aadhaar card to NRI with Indian passport after the arrival in India without waiting for the mandatory 180 days
12:05 PM
I draw attention to the women of India, 'Naari tu Narayaani'. This Government believes that we can progress, with greater women participation. Every verified woman SHG member having a Jan Dhan account, an overdraft of 5000 rupees will be allowed. One woman in every SHG will be made eligible for loan upto 1 lakh under the Mudra scheme
12:04 PM
Government to streamline all labour laws into 4 labour codes
12:00 PM
Exclusive TV programme exclusively for start-ups to be started, channel will be designed and executed by startups themselves
12:00 PM
5 years back no Indian institution was in top 200 international educational institutions. Now there are 3 higher educational institutions in top 200, says Sitharaman
11:59 AM
Government will bring a New Education Policy to bring education to the international level, focus on research and innovation. National Research Foundation will be formed to ensure the strengthening of the research ecosystem in the country, funds of all ministries will be merged for the foundation. FM proposes to allocate Rs 400 cr for world-class higher education institutions in FY20
11:56 AM
Ease of doing business and easing of living should apply to farmers too. Need to go back to 'zero budget farming' which will help doubling farmers income. FM proposes to set up 10,000 new farmer producer organisations.
80 Livelihood business incubators and 20 technology business incubators to be set up in 2019-20 under ASPIRE to develop 75,000 skilled entrepreneurs in agro-rural industries
11:55 AM
Gandhipedia being development by National Science Museum to sensitise the youth about Gandhian thoughts and philosophy
11:51 AM
Time for completion of houses under PMAY reduced from 314 days in 2015-16 to 114 days in 2017-18, enabling the scale of achievement in PMAY. 1.95 cr houses to be constructed under PMAY from FY20-22, says FM
11:49 AM
With the changing economic scenario it's important to upgrade roads connecting villages to rural markets. For this Pradhan Mantri Gram Sadak Yojana phase 3 is envisaged to upgrade 1,25,000 km of road length over the next 5 years. Government to invest Rs 80,250 cr for upgradation of roads under PM Gram Sadak Yojana: FM
11:48 AM
In second phase of PMAY-Gramin, 1.95 crore houses to be provided to eligible beneficiaries. During 2019-20 to 2021-22 they will have amenities such as LPG, electricity and toilets
11:47 AM
The newly set up Jal Shakti Ministry will look at the mgmt of our water resources & water supply in an integrated & holistic manner and will work with states to ensure 'Har Ghar Jal', to all rural households by 2024 under 'Jal Jeevan Mission', says FM
11:45 AM
We will go back to basics. Zero Budget farming: We need to replicate this innovative model. Steps such as this can help doubling up farmers' income.
11:44 AM
To deepen corporate tri-party repo market in corporate debt securities, govt will work with regulators RBI & SEBI to enable stock exchanges to allow AA rated bonds as collaterals. User friendliness of trading platforms for corporate bonds will be reviewed, including issues arising out of capping of International Securities Identification Number. It's right time to consider increasing minimum public shareholding in the listed companies, I have asked SEBI to consider raising the current threshold of 25 percent to 35 percent
11:43 AM
1.25 lakh km of roads to be upgraded under PM Gram Sadak Yojana: FM
11:40 AM
Annual Global Investors' Meet to be organized in India, using NIIF as the anchor to get key sets of global players to come and invest in India
11:38 AM
1.9 crore houses will be provided to citizens of the country by 2022, says Sitharaman
11:37 AM
Interoperability of RBI depositories and SEBI depositories necessary for seamlesss transfer of treasury bills. Government will take necessary measures in this regard in consultation with RBI and SEBI
11:37 AM
Credit Guarantee Enhancement Corporation will be set up in 2019-20, action plan to deepen markets for long-term bonds with specific focus on infra sector to be put in place
11:36 AM
Existing Know Your Customer norms for Foreign Portfolio Investors to be rationalized and simplified, to make it more investor-friendly
11:33 AM
FM proposes to merge NRI Portfolio Investment Scheme with Foreign Portfolio Investment Scheme for greater investment in the country
11:29 AM
Further opening up of FDI in aviation, media, animation AVGC and insurance to be examined, in consultation with stakeholders; 100% FDI to be permitted for insurance intermediaries. Local sourcing norms for FDI to be eased for single-brand retailing sector
11:25 AM
FM proposes to create Electronic Fundraising Platform, a social stock exchange, to list social enterprises and voluntary organizations working for social welfare objectives under sebi
11:23 AM
Pension benefit to be extended to around 3 crore retail traders and shopkeepers with an annual turnover less than 1.5 crores under Pradhan Mantri Karam Yogi Man Dhan Scheme
11:22 AM
Comprehensive restructuring of National Highways Programme to be done, to ensure creation of National Highways Grid of desirable capacity. Government envisions using rivers for cargo transportation, which will also decongest roads and railways. Railway infra would need an investment of 50 lakh crores between 2018 and 2030; PPP to be used to unleash faster development and delivery of passenger freight services
11:20 AM
Several reforms would be undertaken to promote rental housing, current rental laws are archaic as they do not address lessor-lessee relationships fairly. Modern tenancy law will be finalised and circulated
11:19 AM
657 km of metro rail network has become operational in the country. Railway infra would need an investment of 50 lakh crores between 2018 and 2030; PPP to be used to unleash faster development and delivery of passenger freight services
11:16 AM
Schemes such as BharatMala, Sagarmala and UDAN are bridging rural urban divide and improving our transport infrastructure. For providing an enabling ecosystem for Maintenance, Repair and Overhaul, suitable policy interventions will be adopted.
11:15 AM
India Inc, our job creators, are the nation's wealth creators. Together, we can prosper. India Inc has understood I wish to propose number of reforms to kickstart virtuous cycle of growth. India Inc understands 'Make In India': FM
11:11 AM
When we aspire to reach 5 trillion dollars, many wonder whether it is possible. The target is eminently achievable, given our citizens' desire and the leadership of the government. The common man was served even as major transformational reforms were brought about, says FM
11:09 AM
From 1.85 trillion dollars economy in 2014, the Indian economy has reached 2.7 trillion US dollars. We can very well reach 5 trillion dollars in the next few years. The Indian economy will grow to become a 3 trillion dollar economy this year itself, says FM Sitharaman
11:08 AM
Last mile delivery stood out, citizens in every nook and corner of the country felt the difference. Our objective was and continues to be Mazbooth Desh Ke Liye Mazbooth Nagarik, says FM
11:07 AM
The recent election was charged with brimming home and desire for a bright and stable New India, says FM
11:06 AM
FM reads urdu couplet: Yaqeen ho to koi raasta nikalta hai hawa ki oat bhee le kar chirag jalta hai
11:02 AM
Like never before India celebrated by coming out and voting. People validated true gals of national security and economic growth. Have shown that reform , perform and transform can. Have set the ball rolling for a new India, says FM
11:01 AM
Finance Minister Nirmala Sitharaman rises to present Union Budget 2019 speech
10:54 AM
Cabinet approves Union Budget 2019. Finance Minister Nirmala Sitharaman to start her speech at Lok Sabha shortly.
10:54 AM
Finance Minister Nirmala Sitharaman's mother Savitri Sitharaman and father Narayanan Sitharaman arrive at the Parliament. She start her maiden Budget speech at 11 AM in Lok Sabha.
#WATCH Delhi: Parents of Finance Minister Nirmala Sitharaman - Savitri and Narayanan Sitharaman - arrive at the Parliament. She will present her maiden Budget at 11 AM in Lok Sabha. #Budget2019 pic.twitter.com/Wp3INz7ifN

— ANI (@ANI) July 5, 2019
10:30 AM
Copies of Budget 2019 have been brought to the Parliament. Finance Minister Nirmala Sitharaman start her Budget in Lok Sabha shortly
10:30 AM
PM Narendra Modi reaches Parliament for Budget 2019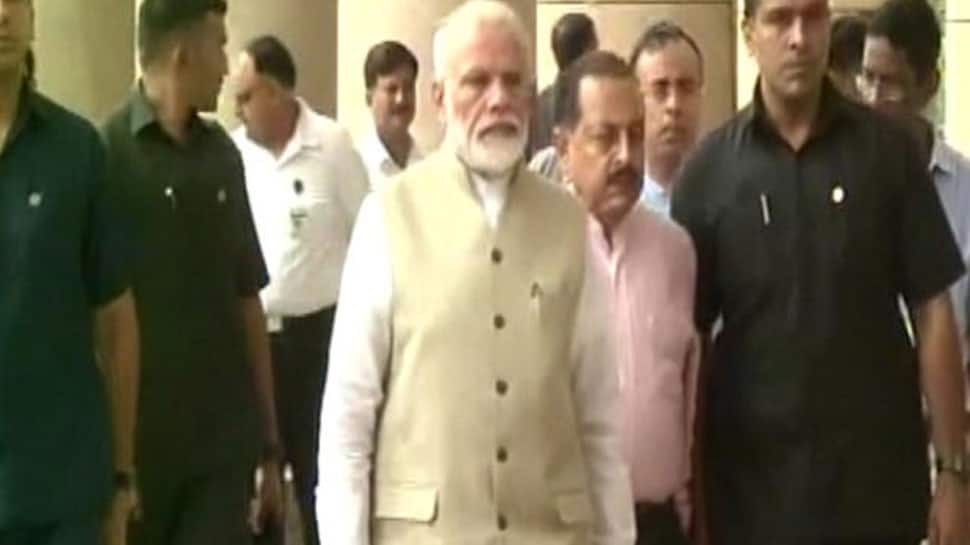 10:29 AM
Cabinet Meeting underway ahead of Budget 2019 presentation
10:29 AM
Finance Minister Nirmala Sitharaman, MoS Finance Anurag Thakur and Union Minister Ravi Shankar Prasad arrive at Parliament. Budget speech to start at 11 am.
10:17 AM
As per tradition, Finance Minister Nirmala Sitharaman calls on President Ram Nath Kovind at Rashtrapati Bhavan before presenting the Union Budget
09:40 AM
This year, it is not the traditional leather bag, from which the word Budget originated. FM Sitharaman instead replaces Budget briefcase with four-fold red cloth. Chief Economic Advisor Krishnamurthy Subramanian on FM Nirmala Sitharaman keeping budget documents in four fold red cloth instead of a briefcase said, it is in Indian tradition. It symbolizes our departure from slavery of Western thought. It is not a budget but a 'bahi khata' (ledger)
09:22 AM
Market opens higher ahead of the Union Budget presentation. Sensex jumps 112.43 points or 0.28 percent to 40,020.49 in early trade, Nifty edges higher by 30.15 points or 0.25 percent to 11,976.90.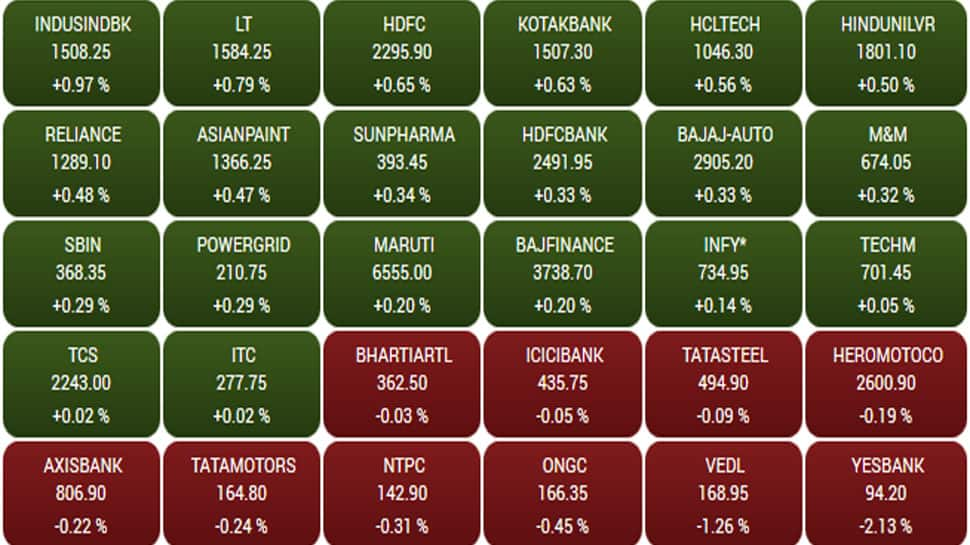 09:18 AM
Finance Minister Nirmala Sitharaman, MoS Finance Anurag Thakur, Finance Secretary S C Garg, Chief Economic Advisor Krishnamurthy Subramanian and other officials outside Finance Ministry before presentation of Union Budget 2019 in Lok Sabha today.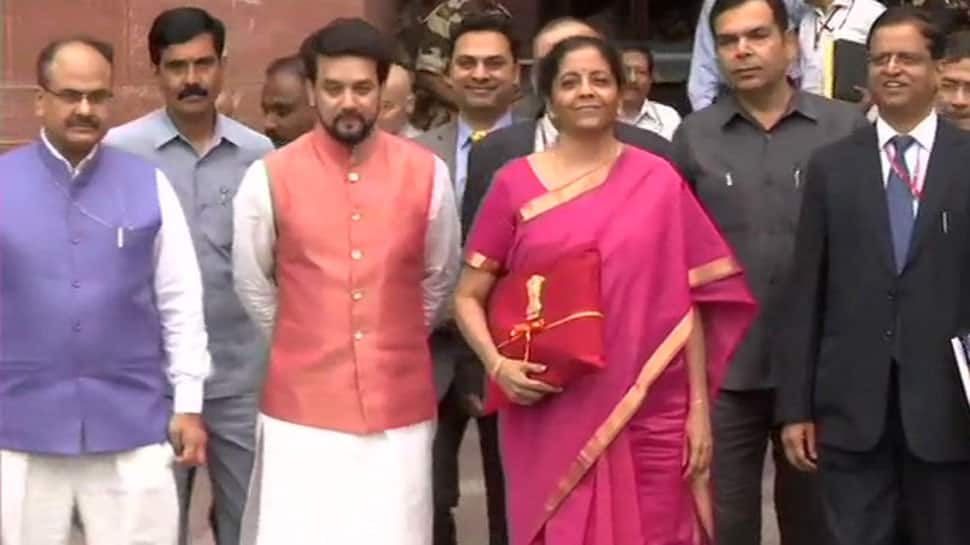 09:08 AM
Finance Minister Nirmala Sitharaman arrives at Ministry of Finance. She will present the Budget 2019 today at 11 am in Lok Sabha.
09:07 AM
MoS Finance Anurag Thakur offers prayers ahead of Budget 2019.
09:07 AM
It is widely expected that the Union Budget will have a slew of measures which will support growth both in the short-term and the long-term. It may be noted that economic expansion during last fiscal has slowed down to a five-year low of 6.8 percent, with growth for the running fiscal (2019-20) pegged down substantially by the Reserve Bank of India.
09:06 AM
The budget is an annual financial statement of a government, detailing its revenue and expenditure in the past, as well as estimated spending and projections for the coming year.