Mumbai: Reliance Jio has come up with a newer version of its popular JioPhone naming JioPhone 2. The phone was launched on Thursday at RIL's 41st Annual General Meeting held in Mumbai.
JioPhone 2 was unveiled by Reliance chairman Mukesh Ambani's son Akash and daughter Isha. As per Reliance, the unveiling of JioPhone 2 is meant to cater to the demand for a phone with a full keypad.
The phone comes with some significant improvements over the first-generation JioPhone, which is priced at Rs 1,500.
The next-generation feature phone is meant to carry on the philosophy of the original JioPhone, offering entry-level and first-time users a richer feature phone experience when using the Jio 4G network.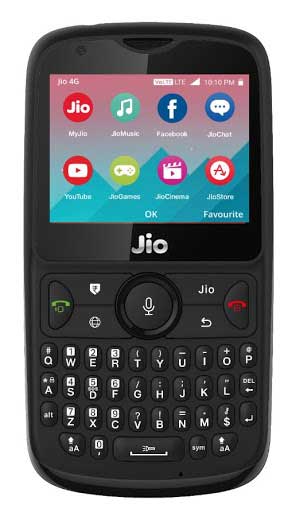 Check out the features of JioPhone 2:
* The JioPhone 2 will be priced at Rs 2,999, and will go on sale on August 15
* JioPhone 2 supports a physical QWERTY keypad and has a 2.4-inch QVGA screen
* The device is larger than the first JioPhone and closely resembles the Blackberry phones from a few years ago
* The phone runs only on 4G and will be SIM-locked to the Jio network with VoLTE and VoWiFi connectivity for placing voice calls
* The JioPhone 2 runs on KaiOS and comes with dual-SIM connectivity
* It also sports a 2,000mAh battery, support for storage expansion through a micro-SD card, a 2-megapixel rear camera, VGA front camera and a mono speaker
* You also get 512MB of RAM, 4GB of internal storage, FM, Bluetooth, Wi-Fi, GPS and NFC connectivity
* Jio has also announced support for WhatsApp and YouTube for the JioPhone KaiOS platform, and Facebook is supported as well
* Apart from these apps, Jio has its own suite of apps and services available for the platform, including JioTV, JioExpress Music and other content services that enhance functionality on the phone
Reliance Jio has crossed 200 million users in India and is currently the third-largest mobile network operator in the country by subscribers.
(With inputs from BGR)